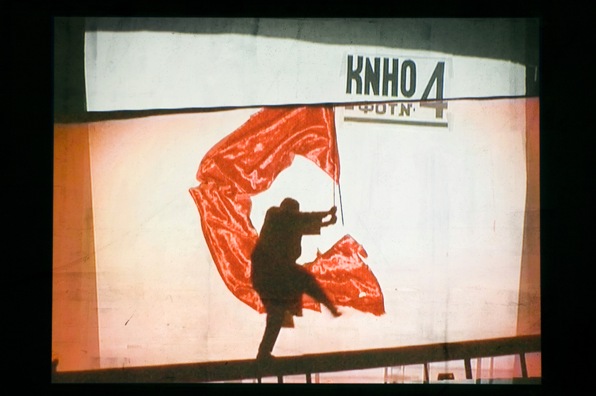 [PRESS RELEASE] The Israel Museum, Jerusalem, announces the joint acquisition of William Kentridge's remarkable video installation I am not me, the horse is not mine (2008), together with the Tate Gallery, London, in conjunction with the closing of the successful Kentridge survey exhibition at the Israel Museum. The work is a gift from Wendy Fischer, London, and was acquired with the assistance of Goodman Gallery, Johannesburg. It joins the four Soho Eckstein films by Kentridge already in the Israel Museum collection: Johannesburg – Second Greatest City in the World (1989), Monument (1990), Mine (1991), and Sobriety, Obesity and Growing Old (1991). On display through July 30, the exhibition William Kentridge: Five Themes has drawn nearly 200,000 visitors and garnered extensive praise in the media.
I am not me, the horse is not mine (2008), is a room-size installation of projected films that use Nikolai Gogol's absurdist short story The Nose (1836) as the basis for examining Russian modernism and the suppression of the Russian avant-garde in the 1920s and 1930s. Gogol's story concerns a Saint Petersburg official whose nose disappears one morning, only to turn up as a higher-ranking official who refuses to return to his face. Kentridge created I am not me, the horse is not mine  in preparation for his staged production of Dmitri Shostakovich's opera The Nose (1930) for the Metropolitan Opera, which premiered in New York in the spring of 2010.
William Kentridge: Five Themes
This major traveling survey of recent work by the renowned South African artist William Kentridge spans the 1980s to the present, with particular emphasis on projects completed since 2000. The presentation features nearly 100 works in a variety of mediums—including drawing, print, animation, theatrical design, books, and sculpture—and is structured around five primary themes that have engaged Kentridge over the course of his career, tracing the development of his subject matter from a specifically South African context to the exploration of more universal subjects. William Kentridge: Five Themes has been shown in a number of venues worldwide, including the Museum of Modern Art in New York, Jeu de Paume in Paris, and the Albertina in Vienna. Following its presentation at the Israel Museum, the exhibition travels to Moscow and Melbourne.