Lebowski Fest Israel 2012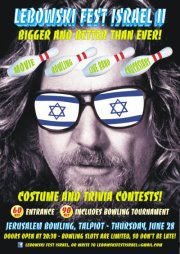 Get ready for the Lebowski Fest Israel this coming Thursday, June 28th at the Jerusalem Bowling Alley.
Here's the info from the facebook event page – sounds like fun!
If you will it, Dude, it is no dream! Join your fellow achievers at the Jerusalem Bowling Alley for the second annual Lebowski Fest – including Big Lebowski screening, bowling tournament, trivia and costume contests, live Creedence and plenty of White Russians at the bar!
Cost: 60NIS gets you into the party, including the movie, live band and contests. 90NIS includes participation in the bowling tournament.
We learned from our mistakes last year, and this time we're going to keep it simple – ticket sales at the door, bowling tickets first-come-first serve until we fill the lanes, trophy to the best team score. Doors open at 8:30, bowling and movie start at 9:00, so if you want to bowl, get here on time! Also, we cannot afford to do free White Russians this year (we lost money on that!) – but we will keep them cheap, compared to any bar in town. And we want to see more costumes this year! See you there!