The Musical Offering to Maria Teresa Agnesi – Conference & Concert
Asked to name three contemporary Israeli women composers, my guess is that most people, and this writer is no exception, would be stumped. One does not often encounter concerts that feature the works of women composers. 'The Musical Offering to Maria Teresa Agnesi' – a one day conference and concert presented by The Israeli Women Composers Forum on Wednesday, July 4, 2012, sounds like an excellent way to become better acquainted with this body of work. The event will take place at the Felicja Blumenthal Music Centre from 17:30 – 22:30.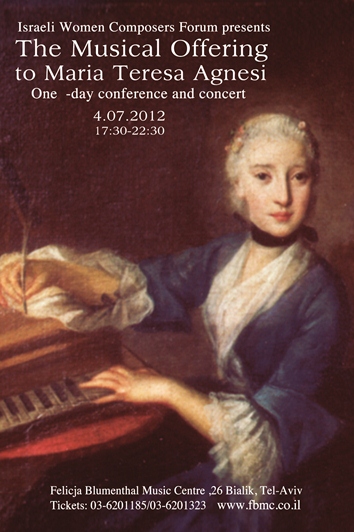 The panel discussion "Female Perspective of Post Modernism" is free and open to the public, as is Prof. Pinuccia Carrer's lecture on "Donna Teresa Agnesi, her life and work." The concert will feature compositions by Maria Teresa Agnesi (ca 1748) as well as contemporary women composers. To order tickets for the concert, call: 03-6201185/6201323.
The full program:
17.30:   Reception
18.00:   Opening of the conference
Lily Boulanger 'Matin du printemps', Yoel Culiner(flute),Tal-Haim  Samnon (piano)
in collaboration with Buchmann- Mehta School of Music
'Female perspective of postmodernism', panel led by Dr. Ronit Seter (Israel-USA) with  participation of Dr. Gila Carcas(Israel), Dr. Hagar Kadima(Israel), Prof. Pinuccia Carrer (Italy)
19.30: Lecture: 'Donna Teresa Agnesi, her life and work' , Prof. Pinuccia Carrer
21.00: 'The musical offering to Maria Teresa Agnesi'
Program:
Maria Teresa  Agnesi 'Non Piangete, amati  rai', (ca 1748)  transcription for soprano, recorder, violin,  cello and  cembalo
Eva Lopszyc (Argentina) 'Nuove voci nel corso del tempo' (2012) for recorder, violin and cembalo
Hila Ostrover-Tamir,  ' Ra'ad ' (2012) for recorder solo
Florie Namir 'Her beloved eyes' (2012) for recorder, violin, cello and cembalo
Alona Epshtein 'Canon perpetum e trio' (2012) for recorder, violin, cello and cembalo
Adaya Godlevsky 'Aria' (2012) for soprano, recorder,  violin ,  cello and cembalo
Dina Smorgonskaya 'Suite in Baroque   Style' (2006) for   recorder, cello and cembalo
Anna Bon,   Sonata in Bb major  op2/2  (1757) for cembalo solo
Anat Pick 'Dabri, dabri' for voice solo (2012)
Dganit Elyakim 'Variation on nuclear   threat'   for laptop solo (2012)
Maria Teresa Agnesi 'Non piangete, amati  rai' for soprano, recorder, violin, cello and cembalo
Performers:
Tal Ganor (soprano), Natalia Wieseltier (soprano), Prof. Evgenia  Epshtein  (violin),
Dr. Marina Minkin(cembalo),Inbar Solomon(recorder), Dan Weinstein (cello),
Anat Pick (voice artist),Dganit Elyakim (laptop), Taum Karni (conductor and rehearsals  director)
Producer:  Alona Epshtein
Felicja Blumenthal Music Centre ,26 Bialik, Tel-Aviv
Tickets: 03-6201185/03-6201323
For more information/to support projects of Israeli Women Composers Forum, they may be contacted via the Felicja Blumenthal Music Centre: 03-6201185 or  www.fbmc.co.il