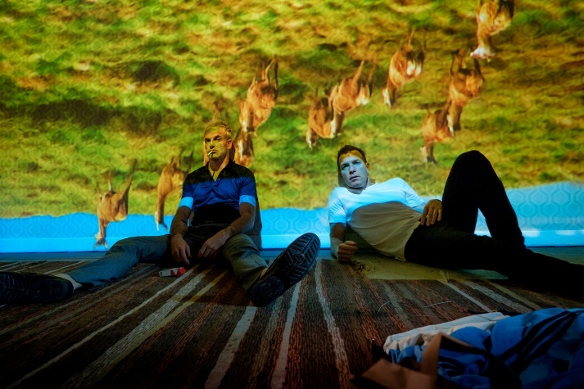 The colors are just as vivid, if darker, the frenetic energy and emotional urgency of the original remains undiminished, one of the best scenes takes place in a toilet, and T2 Trainspotting still speaks in the voice of its generation. Director Danny Boyle's sequel to the eviscerating, exhilarating, shocker that was Trainspotting takes up with Mark Renton (Ewan McGregor) twenty years after we last saw him leaving his "so-called mates" behind, walking toward the future, smiling, with nothing to weigh him down but a bag of money, saying: "I'm going to change…I'm going to be just like you."
Where is 46-year-old Mark going? He's going back to Edinburgh, where perhaps the real shocker – given their way of life – is that his old mates and enemies are still alive, if not quite well. Simon (Jonny Lee Miller), aka Sick Boy, who manages a failing pub while pursuing other nefarious schemes on the side, has neither forgotten nor forgiven Mark's betrayal. Then again, what could Mark have expected after running off with the cash? Spud (Ewen Bremner) with his perpetually fearful and bewildered expression, seems baffled by life, and still in the hold of the needle. Begbie (Robert Carlyle) is in jail, violent and ready to rage as ever.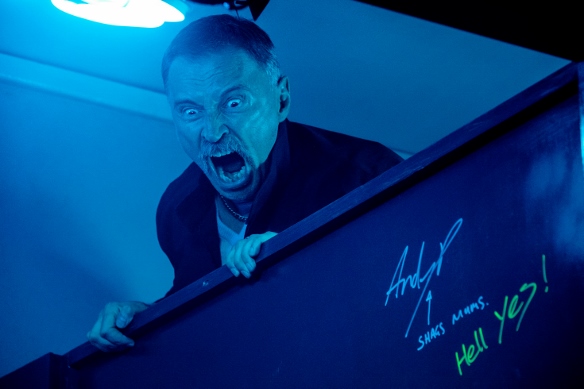 T2 Trainspotting is a film that engages with the past, and the lasting impact of past choices in the present lives of its characters and their relationships. Brief glimpses of Mark and the others when they were boys flash by in vintage grain and color, as well as fleeting images from, and references to the first film. If Trainspotting conveyed the surreal highs and raw, abrasive reality of being young, addicted and poor, then the sequel deals in the fragility of any sense of well-being, confronting an emptiness at the center of it all.
One of the many classic scenes from Trainspotting is when Mark, while running, is struck by a car and rolls across the hood, standing up he looks stunned, then breaks into a laugh. The scene is referenced twice, in different ways, in the current film, and it might be an apt metaphor for Mark Renton's life. He's running away from, rather than towards something, and inevitably, he's going to get hit. What keeps him going, and makes him fascinating to watch, is that manic smile, that hunger for more, that lust for life.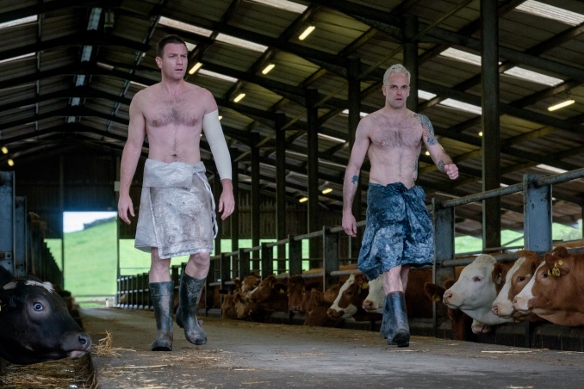 Whether exploring the gritty details that seem almost too bizarre to be really happening, or indulging in dreamy visuals, T2 Trainspotting is a fun, action-filled, stylized ride, much in the manner of its predecessor. Yet given that when we last saw him, Mark was saying, "I want to change," the question lingering at the back of my mind as I watched him inexorably drawn back to Edinburgh, Sick Boy and other shenanigans, is the question anyone would ask after a twenty-year interval: what has changed? He's kicked heroin, and that's close to miraculous. However, within the first few minutes of T2, the life that he has constructed falls apart, and he can think of nothing else to do but go home. Simon has not changed a whit, and Spud is also still floundering in addiction and its aftermath. Even in their glory days, despite the music and the thrills, Renton, Sick Boy, Spud and Begbie led lives of theft, casual betrayal, and random violence, led by self-absorption and selfish desires. "I'm 46 and fucked," Mark declares. Well, no wonder.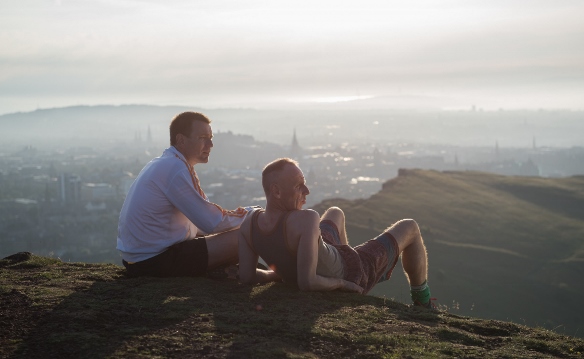 One of the most poignant moments in the film is when Mark riffs on "Choose Life," a bitter counterpoint to the upbeat finale of Trainspotting, updated to include treats like "facebook shaming" and more or less along the lines of "choose disappointment." The dark side of T2 is the acute awareness that much of what is considered to be a "life" is a mere shell, easily broken. T2 is a reflection on the long reach of past choices, our inextricable connection to the past, and an expression of longing for a time when it was all ahead of us. In Trainspotting, Mark said, "I'm going to be just like you," and the frightening aspect of T2, is that he is, in so many ways, just like us, stuck in the middle of his life without direction, meaning, or hope.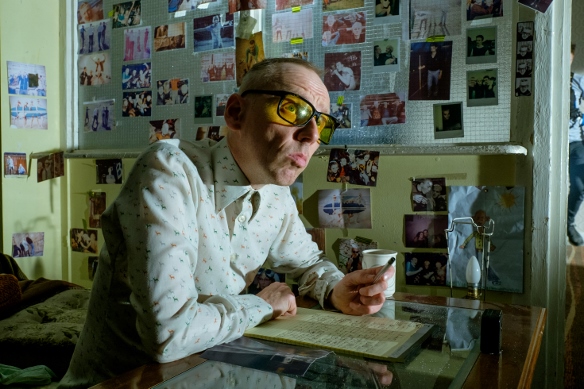 Yet T2 Trainspotting has its surprises, as well as suspense, great soundtrack, elegant visuals, and excellent performances. Robert Carlyle is a veritable mountain of rage and vengeance, and Jonny Lee Miller makes bad look very good. Yet it is the hapless Spud who caught my attention from the first, the only one of this crew who appears to have a thought for anyone other than himself. Ewen Bremner's body language is comic and endlessly expressive, making Spud's awkwardness very endearing as well as hilarious. Older, not a heck of a lot wiser, the stuff of their lives may not be great, but it's what they (we) have: live it and witness it, and Iggy Pop's Lust for Life still makes a great anthem.
T2 Trainspotting
Director: Danny Boyle; Screenplay: John Hodge, adapted from the novels Trainspotting and Porno by Irvine Welsh; Cinematography: Anthony Dod Mantle; Editor: Jon Harris; Cast: Ewan McGregor, Jonny Lee Miller, Robert Carlyle, Ewen Bremner, Anjela Nedyalkova, Kelly Macdonald, Shirley Handerson, James Cosmo.