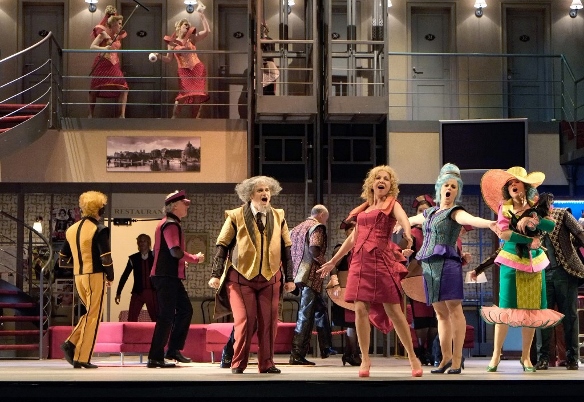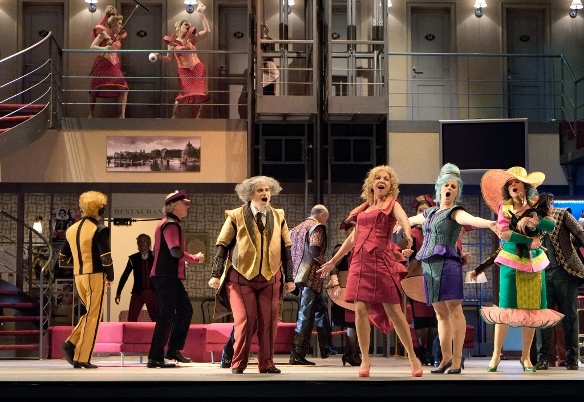 Long before the days of fake news, hashtags and Facebook, people were already becoming concerned about the effects of the press on their lives. In Rossini's 1816 opera La Gazzetta, or The Magazine, gives us a glimpse into the social media problems of yesteryear.
The story takes place in a hotel in Paris. Don Pomponio, in search of a suitable suitor for his daughter Lisetta, goes around putting ads in the newspapers. The result is a long line of very unsuitable suitors and a series of humiliations for poor Pomponio, while Lisetta escapes the unwanted attention with the help of her beau, Filippo. Meanwhile, Dolarice, another young girl staying at the hotel falls in love with Alberto, one of the other guests, even though her father thinks him quite inappropriate. Through many twists, turns, plots, costumes and mistaken identities, the two young couples finally triumph.
As Lisetta, the production brings us Shiri Hershkovitz, one of our favorite Israeli stars, and Cinzia Forte, who has recorded this role before:

As Alberto, we have tenors Daniele Zanfardino, last year's Ramiro in La Cenerentola, and Enrico Casari in his Israel Opera debut. Don Pomponio is sung by the Italian bass Enrico Maria Marabelli, last year's Mercutio in Romeo et Juliette. Belgian baritone Laurent Kubla portrays Filippo, and Julie Bailly sings the part of Dolarice.
Stefano Mazzonis di Pralafera returns to direct this new production from the Royal Opera of Wallonie in  Liege.
As usual, you can enjoy much more than the show itself, by attending backstage tours before the show and Q&A sessions ("Opera Talkback") afterwards.
Performances continue through April 8th. For details, visit www.israel-opera.co.il or call 03-692-7777.