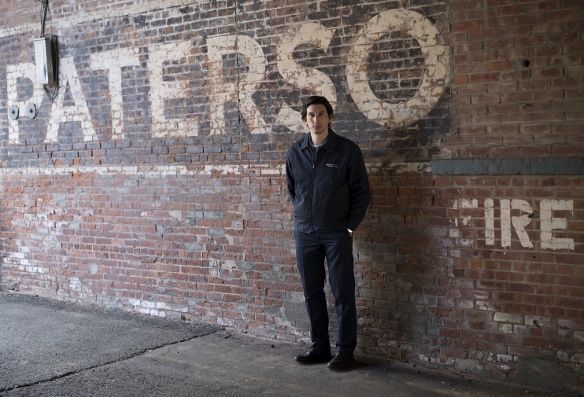 In Paterson, Jim Jarmusch creates a world where poetry happens, a world at once concrete and surreal. It's utterly captivating, the kind of film you can see over and over again. Beneath his calm, almost diffident demeanor, Paterson (Adam Driver), who leads a quiet, routine life as a bus driver in Paterson, New Jersey, has a secret, tumultuous existence, as words become poetry, emerging from the depths of his heart and mind. Eschewing the drama and sentimentality often associated with art films, Jarmusch opts instead for astute observation, small luminescent moments, and quirky humor.
The film is structured like a poem, setting up a pattern of Paterson's days, beginning on Monday morning, and setting up expectations, and surprise when the pattern is altered. Every morning, Paterson wakes up early to go to his job as a bus driver. There he greets fellow driver – "Morning Donny, everything OK?" and the beleaguered Donny always replies, "No, not really…" and recites his litany of woes. Paterson views the city of Paterson from the wide window of the bus, listening to the conversations happening within, sometimes smiling to himself. In every spare minute, before heading out on his route, during his lunch break – he writes poems in his notebook. In the evening, he returns home to his beautiful, vivacious wife Laura (Golshifteh Farahani), who believes he is a great poet. Laura is as extroverted as Paterson is introverted, bursting with ideas and energy, she chases eagerly after every new idea that blooms in her busy mind. Their relationship is a hilarious, and tender, balance of opposites, and lovely to watch as it unfolds.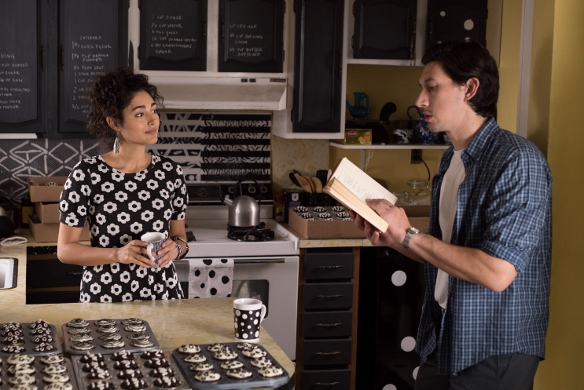 The name Paterson conjures a plethora of associations for poetry lovers. The poet William Carlos Williams (1883 – 1963) wrote a five-volume epic poem about the city, conveying not only the history, but the feel of the people and the place. Poet Allen Ginsberg (1926 – 1997), whom Williams quotes in Paterson, grew up there. The poetic perspective of Williams, who worked as a doctor, writing poems in the scraps of time between patients, is very much a presence in the film. "No ideas but in things," a recurring phrase in Paterson (the poem), might almost be the film's motto, as one follows Paterson through his days, eating his bowl of cheerios, driving through the town, taking Marvin the bulldog for a walk at the end of the day, and taking in a beer at Doc's bar. In his autobiography, William Carlos Williams wrote about the possibility of "a new art form itself – rooted in the locality which should give it fruit." That is the feeling evoked by the film, as one watches Paterson, always aware, observant, taking it all in, his dark eyes burning from within. He does not say much, but notices everything: the streets and buildings of Paterson, the people walking by, the conversations on the bus, the usual gang at the bar, the beauty of the waterfall, the mysteries of love. And it all becomes poetry.
Following Paterson so closely, the film lets the viewer see the world through his eyes, and much of it is very funny. Driver excels at saying little while conveying much, and imbues the character with a depth of feeling and wry humor. Walking the dog at night, a car of gangsters (wanna-be gangsters? Who knows…), music blaring, slows to a stop alongside him. Noting that Marvin is an English bulldog, the guy gives Paterson a friendly warning: "dog like that gets dog-jacked my g." "Well," says Paterson, "that gives me something to look forward to, I guess."
Not just for poets, Paterson will resonate with anyone whose external circumstances do not reveal the depth and richness of their inner life. It's very much about perceptions and identity, how we see ourselves and others, and how others see us. In one of my favorite scenes, Paterson sees a young girl writing in her notebook while waiting for her mother. Acknowledging the dangers that lurk in any big city, he offers to wait with her, and recognizing a kindred spirit, they talk about poetry. As she walks off to meet her mother, the girl calls out: "Awesome, a bus driver who likes Emily Dickinson."
Jim Jarmusch takes the scenic route through Paterson with his slow, meandering, pace. Should you choose to ride with him, it soon becomes apparent that there is a lot to see (heads-up Wes Anderson fans, there is a fleeting, fun reference to Moonrise Kingdom), and the view is marvelous!
Paterson
Written and directed by Jim Jarmusch; Cinematography: Frederick Elmes; Editor: Affonso Gonçaives; Cast: Adam Driver, Golshifteh Farahani, Chasten Harmon, Barry Shabaka Henley, William Jackson Harper, Rizwan Manji, Kara Hayward, Jared Gilman.