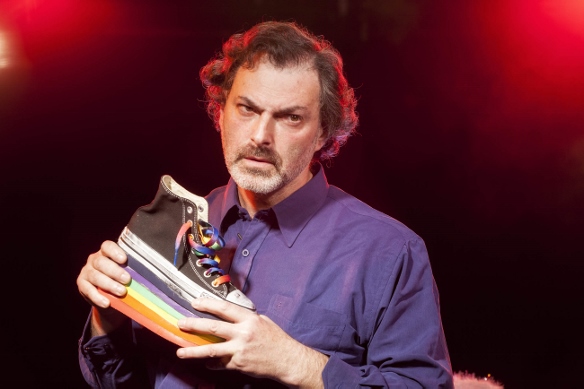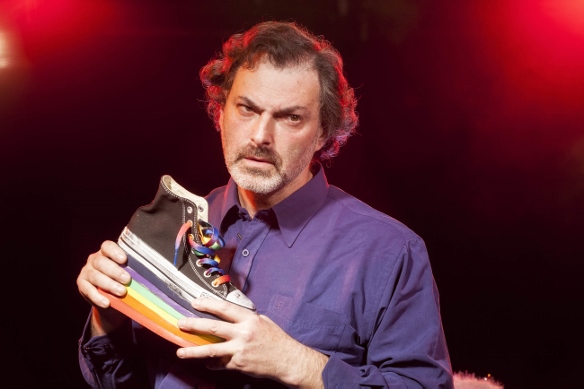 The 2017 Theatronetto festival of one-person plays was marked by excellent and intense performances. Viewers were plunged into a vortex of emotions, as this year's cohort of plays dealt with themes that included mental illness, terminal illness, death, hate crimes, divorce, eating disorders, and domestic violence; a virtual catalog of human suffering and resilience.
The award for Best Actor went to Raphael (Rafi) Weinstock for his performance in The Absolute Brightness of Leonard Pelkey by James Lecesne, directed by Avi Brecher, and translated by Hagar Raanan. The mercurial Weinstock portrayed a colorful cast of characters, from cynical detective Chuck DeSantis, investigating the disappearance of 14-year-old Leonard, to style maven Ellen Hertle, the boy's aunt, teenage Phoebe, his cousin, and several townsfolk, including a community theatre director, the loquacious Marion, a teenage bully, and a shop owner. A daunting challenge, which Weinstock met with panache, and without relying on props or costuming. My favorite was his spot-on portrayal of Phoebe, conveying the diffident/sarcastic façade as well as the awkwardness and insecurities of a teenage girl. It's quite a feat of acting to look at a bearded man and see a gawky girl. The play itself enfolds contradictions and contrasts in its demonstration that, as Chuck says, "evil is everywhere," yet at the same time, as through the different testimonies, the vibrant, courageous character of Leonard, a boldly out homosexual teen, who made himself rainbow high-tops and encouraged the women of the town to embrace LBDs, emerges, the play sends out a message of hope and light.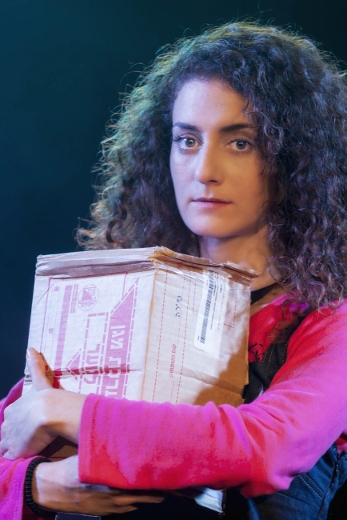 The panel of judges awarded an honorable mention to Irit Sopran for the play Sof A La Katino, which she wrote and performed, with directing and dramaturgy by Hannah Vazana Greenvald. Set in Bat Yam, a small city on the coast just south of Tel Aviv, around the time of the Gulf War, the play tells the story of Shiraz and her family, while vividly conveying a sense of the local culture and community, as well as the nuances of immigrant culture in Israel. Shiraz is an elementary-school student at the school where her mother, Leah, is an award-winning teacher who works with troubled children. Carrying the box with her gas mask slung over her shoulder (as all Israeli kids did at that time), Sopran gave a nuanced, precise, and moving rendition of a child's perspective and dawning awareness of violence in the home and its implications. The micro-culture of elementary school was rendered with humor and the ring of authenticity. In character as Shiraz recalling the humiliation of not only being sent to the principal's office for being late to class, but having to sit next to a 'problematic' kid, as the emphatic, all-powerful teacher Tehiya Hagbi who warns the students about the dreaded 'permanent record' or the classmate who asks – "why can't we ever go over to your house?" – Sopran brought a lively authenticity to the different voices and perspectives. Moreover, within the constraints of a one-person show, she succeeded in conveying the ambiguity of feelings Shiraz experiences, horrified by her father's actions, yet still loving that person who is her father. In the wider context of the play, the frustration and powerlessness of the man, an academic from Teheran who cannot find employment in Israel, elicits empathy for his plight, yet does not withhold judgement for the immorality of his response to the situation, inflicting pain and harm on those who are most vulnerable, his family.
The entire festival was marked by excellent performances (due to time constraints I was not able to see all the plays). Alexa Lerner gave a profoundly moving performance in Shfuya as Zohar, a young woman whose life has spun out of control, and Tal Blankenstein was charming as ten-year-old Anna in Do Fish Sleep. Pick My Kid Up, written by Nir Strauss and directed by Sara von Shwartze, touched on the contemporary issue of our relationship to time, from the perspective of a parent. Adi Gilat gave a complex and sensitive performance as Naomi, a motivational speaker lecturing on time and the possibility of 'conquering' time. Her impeccable appearance, radiating warmth and confidence, is ruptured by the intrusion of harsh truths, eloquently supported by shifts in lighting and sound. One is drawn in to her emotional journey, and its life-affirming resolution.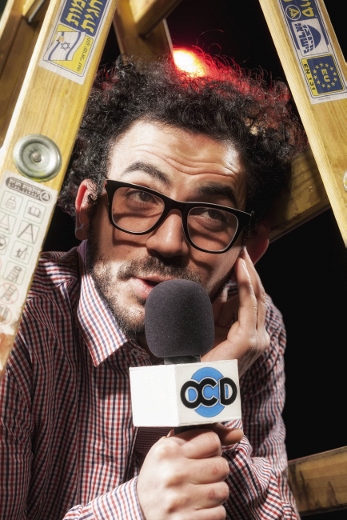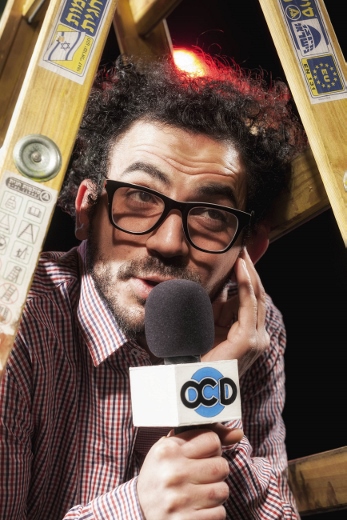 Obsession, written and performed by Sobhi Hosary and directed by Pnina Rintsler, stood out in the physicality of its expression and the vivacious intelligence of its humor. Suffering from symptoms of OCD (obsessive-compulsive disorder) and denied admittance to the psychiatric ward, Said stands on the hospital roof, threatening to jump. He perches on a small wooden ladder (which he has carefully wiped clean), because the roof is, of course, full of germs and filth. Hosary performs a wonderful balancing act, conveying Said's vulnerability and desperation, as well as the different characters of those who try to talk him down. There is a wry awareness of the particular difficulties of being an Arab in Israeli culture, as when the doctor can't quite be bothered to remember his name, addressing him as "Sabich… Salim… Shahid… something with a samech." The play is permeated with satiric humor and a vibrant sense of fun, while raising serious issues, asking the questions we all ask ourselves from time to time (am I normal?) and offering much food for thought.