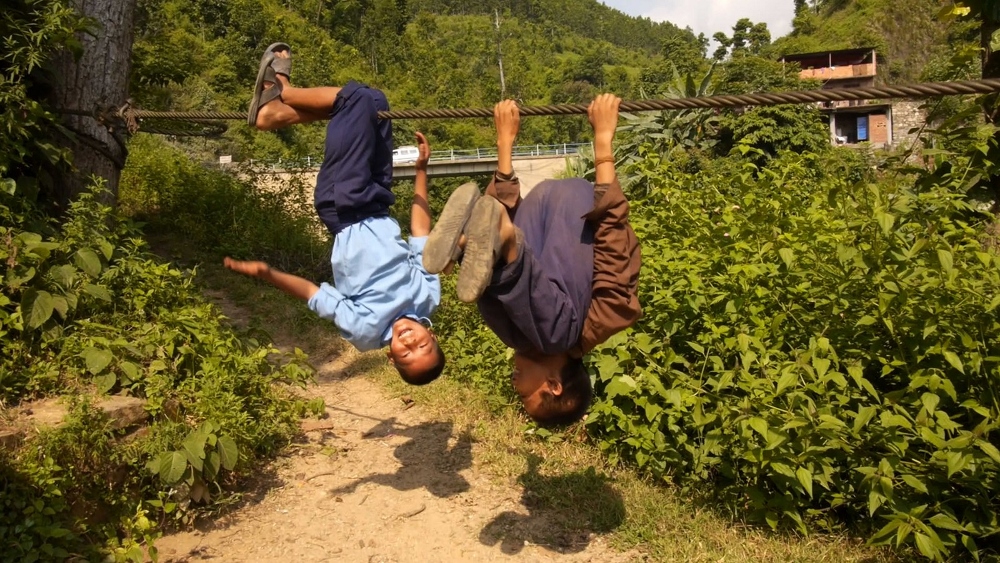 From rural China to Burkina Faso, encompassing the magical and the all too real, The Tel Aviv International Children and Youth Film Festival brings quality cinema with a focus on young people. Taking place at the Tel Aviv Cinematheque from July 18 – 22, 2017, the festival presents films that reveal the diversity, complexity, and wonder of children's lives, with both feature and documentary films. Opening the festival this year will be Sigrid Klausmann's Not Without Us, a documentary that works from a simple premise: following seven children from five continents as they go to school. Traveling by foot, bike, boat, bus, subway, donkey and skateboard, their individual lives and surrounding environments are as different as their means of transportation. In the spirit of the festival's respect for children and youth as full citizens of the earth, the film reveals the lives of these children as they are, with a frank honesty about their feelings and concerns, the dangers and hardships that they may encounter. The film is recommended for ages 8+.
One of the most moving and provocative films of the festival is Stonehead (Shi Tou), the debut film of director Zhao Xiang, which held its world premiere in the Generation Kplus program in Berlin. Sensitivity and a documentary-like candor, inform this tale of moral complexity, power struggles, the conflict between the individual and the social-political environment, and the joys and pains of friendship – all in a film about ten-year-old boys and a football. Stonehead (Zhu Hongbo) lives with his aged grandmother in rural China, while his father works long hours in a city far away. He and his best friend Pouchy (Cai Jiakun) can't always get into the group football game in the schoolyard, where leader of the pack Monkey (Deng Shuo) calls the shots. Serendipity puts a brand-new ball into Stonehead's hands, but this stroke of luck sets off an unexpected series of events that will challenge his courage, moral integrity, and the strength of his friendship with Pouchy. Trying to find his way through a difficult situation, Stonehead has no one to turn to. There is only one phone in the village, at the small grocery run by Uncle Three, so calling his father is not as simple as one accustomed to Western 24/7 connections might think. His teacher, while ostensibly providing the students with a moral compass and expecting them to live up to a high standard, excels at pontificating yet remains oblivious to the bullying that is taking place under his nose. Zhu Hongbo delivers a performance of astonishing emotional depth and nuance as Stonehead, with Cai Jiakun as Pouchy is the very picture of a faithful friend, and Deng Shuo portrays a Monkey who is just as quick and devious as the name implies. Recommended for ages 9 and up, this film reflects the loneliness of the individual in a harsh landscape, and the predicament of children who are, in effect, left to raise themselves. An excellent film, not to be missed! Stonehead will be shown on Wednesday, July 19th at 17:00.
8 films will participate in the International Film Competition: Not Without Us, directed by Sigrid Klausmann; Wallay, directed by Bernie Goldblat; Nelly's Adventure, directed by Dominik Wessely; Tesoros, directed by Maria Novaro; Asino Vola (Donkey Flies), directed by Paolo Tripodi and Marcello Fonte; Summer 1993, directed by Carla Simon; The Day My Father Became a Bush, directed by Nicole fan Kilsdonk; and Cloudboy, directed by Meikeminne Clinckspoor.
Nelly's Adventure takes a light-hearted look at the relationship between children and parents, vampires 'real' and figurative, as well as a meeting of two very different worlds.  13-year-old Nelly is less than thrilled about her parent's vacation plans in Romania, she'd much rather work on her bike tricks in Berlin. Still, they can always text on another. Things start to go wrong even before Nelly and her art-therapist mother and wind turbine builder father arrive at their destination. Their plane makes a forced landing almost 200 kilometers away, but luckily, they manage to get a ride from some friendly Gypsies, who are perhaps a bit too eager to help. As it turns out, Nelly's parents haven't been completely honest with her about this trip, and when she discovers the truth, she responds like any normal 13-year-old, with expletives and an impulsive action that has potentially serious consequences. Nelly does indeed have quite an adventure! Along the way there is a consideration of environmental issues and the different approaches to solving energy problems, as well as a closer look at the lives of the Gypsies in Romania. There is some explicit language and serious themes are discussed in an open and frank manner, yet the overall mood of the film is light and the outlook hopeful. Recommended for ages 10+. Nelly's Adventure will be shown on Wednesday, July 19th at 12:30, and Friday, July 21st at 12:00.
Wallay, directed by Berni Goldblat, portrays an encounter between two very different cultures – that of street-wise teenagers in France, and the family life in a village in Southern Burkina Faso – through the experiences of 13-year-old Ady. Young Makan Nathan Diarra gives an excellent performance as Ady, who suddenly finds himself in an utterly foreign environment, the homeland he has only heard of in stories. One learns little of Ady's life in France beyond the basics: he is a savvy consumer of coveted teen accessories and adept at finding ways to acquire them. His father, who seems to be raising Ady on his own, doesn't know how to deal with him, and decides that spending some time with his cultural roots and family will do the boy some good.  Ady is dispatched to Burkina Faso for what he happily believes is a vacation in the homeland, but is actually an indefinite sojourn under the stern rule of Uncle Amadou (Hamadoun Kassogué). Life in the village is revealed to the viewer through Ady's eyes, and his bewilderment at learning that there is no electricity in the home during the day, and he is expected to use only one bucket of water for bathing. For his part, Uncle Amadou, who is accustomed to a long-established hierarchy of patriarchy, is equally confused by Ady's rebelliousness. Wallay is a portrait of village life in West Africa, as well as an honest and moving coming of age story of a boy growing up between two cultures. Recommended for ages 13+. Wallay will be shown on Wednesday, July 19th at 14:30, and Saturday, July 22nd at 14:30.
In addition to the international competition, and a pitching competition for filmmakers, there will be screenings of Israeli films; films for the very young with live dubbing to Hebrew; workshops on dubbing, screenwriting, special effects, and more; a meeting with filmmaker Dvorit Shargal, and outdoor performances. The full program and ticket information is available on the Tel Aviv Cinematheque website in Hebrew.