While all eyes are on the newly opened exhibition featuring King Herod's newly discovered tomb, visitors to the Israel Museum should take time out to visit The Great Wide Open, New and Old in the Collection an appealing selection of 60 works by Israeli and international artists, many of them recently acquired by the museum. Taken together, these paintings, sculpture and video installations possess a yearning for the sublime as found in the wildness of Nature. Seascapes and desert landscapes are connecting themes.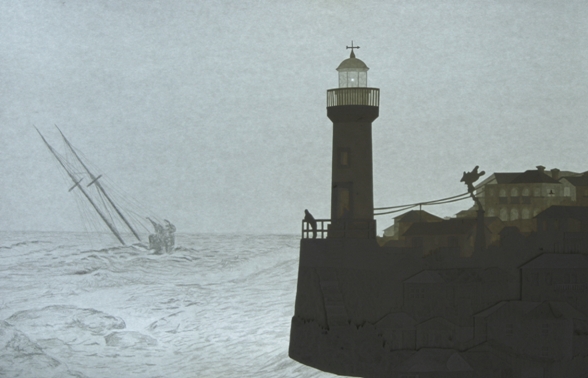 Many pieces make a magical impression. Among them is Liat Livni's Lighthouse Stories, comprising 40 layers of white paper glued one on top of another, with an internal light fixture exposing the materials' transparency. As in other exhibits in this show there is a nostalgic element to her work, since it features a lighthouse whose usefulness to guide boats to a safe harbor has been superseded by electronic surveillance equipment. In Livni's scenario, a ship founders in stormy waters. High above a lighthouse sends out a weak signal, but is evidently powerless to avert a catastrophe.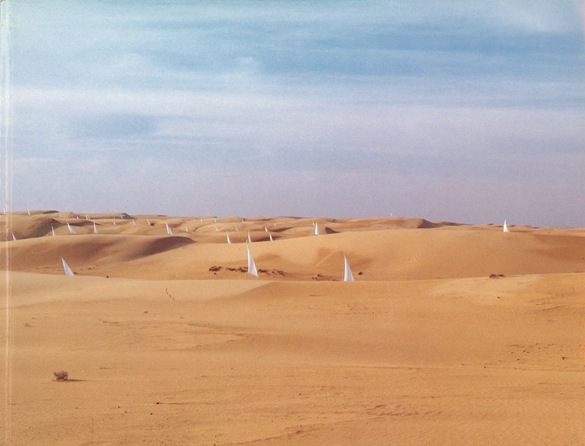 Among a variety of photos of the desert Ezra Orion's Sails in the Sinai Sands, March 20, 1982 is of particular interest.   Documenting one of the many projects undertaken  by this noted environmental sculptor, it serves to remind us  that he has for decades conducted a dialog with the sublime aspects of Nature, whether in the desert, on a Himalayan mountain top, or by way of a project developed with NASA to places stones on Mars by means of a robot.
The desert is the subject of several sculptural installations. Notable among them is Michal Helfman's large scale wall construction that effectively suggests the ability of plant life to survive even in the harshest of surroundings.  Constructed from plastic coated Styrofoam, it features an arid Wadi with a tree with (lighted) branches  apparently flourishing within a confined space.  Here, too, is a work that looks back, at least in one aspect, to the past.  Carved in relief, its style recalls that of the many stone memorials set up around the country following the War of Independence.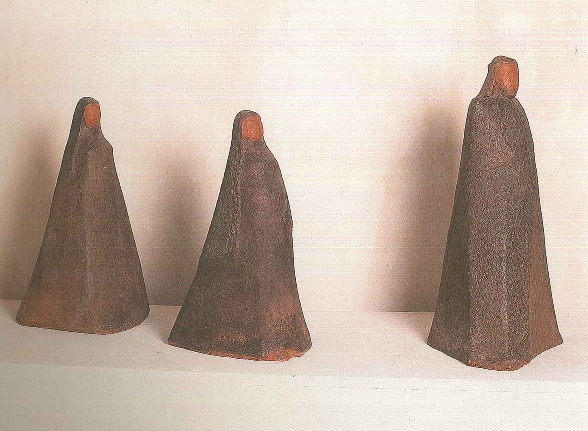 If Orion's photo reminds us of his importance as one of Israel's first environmental artists, then a set of three clay figures representing Bedouin women recalls an artist who laid the foundations of Israeli ceramics. She was Hedwig Grossman-Lehmann.  (1902-1995). Born in Germany, Lehmann indirectly absorbed Bauhaus values of simplicity of line and shape. Arriving in this country, she was the first artist to seek out and use local clays and to take inspiration from Arab pottery and archeology.
On the wall alongside these little figures, are some rare 19th century photos of the desert by French travel photographer Félix Bonfils. These also recall another era, another story, one of many associated with this fine presentation, curated by Amitai Mendlelsohn.
Israel Museum, Jerusalem.  Till April 2, 2013