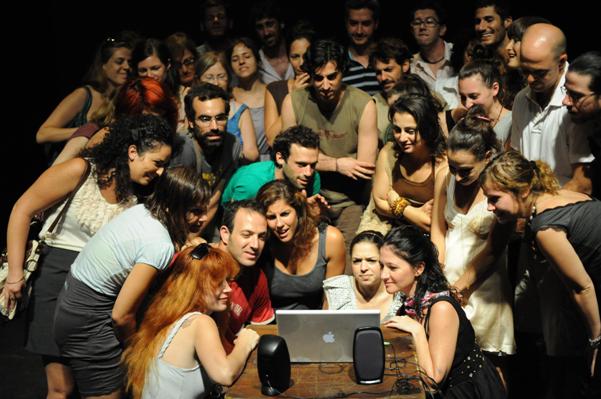 What are all these people looking at? The site that amuses, entertains, and swallows up time like a black hole; it's a reference library, an infinitely deep well of associations, an online reflection of the contemporary collective subconscious of our time: YouTube.
Taking "interactive" a step further, and in effect, internalizing it, choreographer Renana Raz has initiated a project – YouMakeRemake – Stage Responses to YouTube Clips. A wildly creative group of artists from different fields have created stage performances in response to YouTube clips, resulting in a kaleidoscopic of movement, color, fun and fascinating interpretations. The current program was first performed as part of the 2010 Intimadance Festival at Tmuna Theatre: concept – Renana Raz, artistic direction – Renana Raz and Ariel Efraim Ashbel.
Performances will take place February 17 – 19, 2011 in Studio Varda at the Suzanne Dellal Centre. Participating artists include: Uri Shafir, Hillel Kogan, Inbal Yaakobi, Ofer Amram, Tal Klai, Shani Ben-Haim, Inbar Nemirovsky, Renana Raz, Ofir Yudilevitch, Maya Dunitz, Ram Gabay, Olivia Court Mesa, Ilaya Shalit and Batel Azaria. The artists will perform in sequence, with each stage performance accompanied by the YouTube clip to which it responds – but the clip will either precede, follow or be shown simultaneously during the performance, depending on the context.
Sound interesting? It is.
Raz would like to expand the project, as an artistic exploration of the way in which we interact with YouTube. The current plan is to create a similar program once every four months. With that goal in mind, the current round of performances will also include a workshop for those who might be interested in getting up on stage next time around for YouMakeReMake #2. 
If you would like to take part in the workshop, write to: youmakeremake@gmail.com and send your CV, a link to the YouTube clip of your choice, and a short description of the stage response you would plan.
Performances:
February 17th at 21:00, February 18th at 14:00 & 22:00 and on the 19th at 21:00 (a discussion with Renana Raz will follow the performance).
The workshop will take place on the 18th from 9:30 – 12:30 in Studio Varda. Tickets are 100 NIS for the performance, 80 NIS for the workshop and 150 NIS for the performance + workshop combo. Discounted tickets at 75 NIS for students, soldiers, seniors, members and Ozen card. To order, call: 03-5105656. Read more about YouMakeReMake on their website.