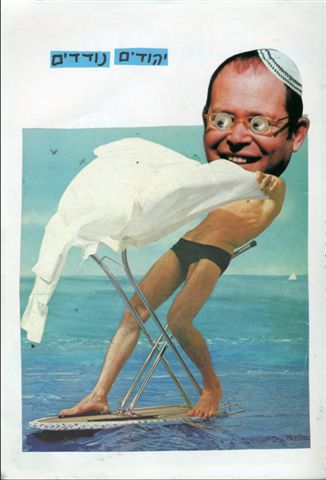 A new exhibit by one of Midnight East's favorite comic artists, Zeev Engelmayer will open at the Israeli Museum of Caricature and Comics in Holon from April 13 – July 30, 2011. Engelmayer's free-spirited playful style is immediately recognizable, appearing frequently in newspapers and magazines – both mainstream and alternative. 
In the exhibit The Wandering Jew, Engelmayer will present works in progress as well as two finished projects: the Passover Haggadah and the Song of Songs. The illustrations, thoughts, sketches, collages with the signature "Engelmayer" humor, are replete with quotations from the Jewish bookshelf.  Accompanying them will be original works created for the Haggadah – decorated ceramics, toys and additional works that have not yet been published.
The Engelmayer exhibit is part of a series at the museum, presenting the creative process of leading Israeli caricaturists and artists of comics. There will be a meeting with Zeev Engelmayer at the museum at 11:00 on April 15, 2011. The Israeli Museum of Caricature and Comics is located on 61 Weizmann Street in Holon, for further details call: 03- 6521849.