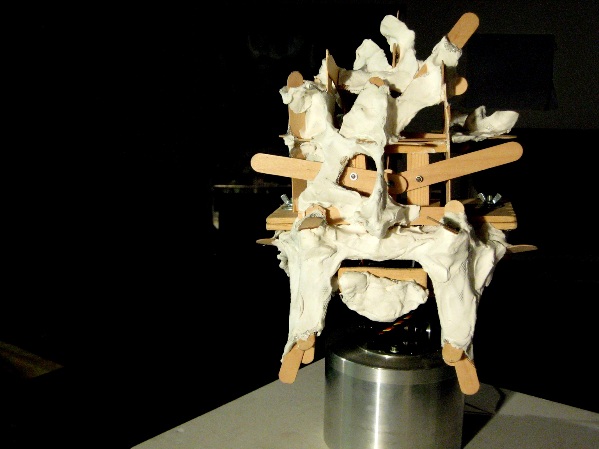 A psychoanalyst and two artists are sitting in a bar…and since we are in Tel Aviv, this is not a joke, but an intriguing and unusual artistic project created by Guy Bar Amotz, somewhere between installation and performance – and yes, it takes place in a bar, Rothschild 12.
A Working Machine Must Not Want to Play the Fiddle transforms the space at Rothschild 12 into a fictional bohemian bar, where a psychoanalyst-robot meets with his two artist-robot friends. One is successful in selling his art, the other is not. The three friends drink, talk, sing and dance at the bar, along with the other customers – the audience. Testing the borders of exhibit space, technology, theatre and interactive performance, this is the kind of experiment Midnight East likes to see.
The exhibit/performance will be constructed on the second floor of Rothschild 12, and the entrance is at the rear of the building. The project is produced and funded by Rothschild 12, with the support of the British Cultural Council and the Israel National Lottery. Rothschild 12 is an experimental, non-profit art space dedicated to the production and exhibition of contemporary artworks that challenge the limits of artistic discourse, while touching upon contemporary social, political and cultural concerns.
Guy Bar Amotz (b. 1967) has held solo exhibitions at the Israel Museum, the Tel Aviv Musuem of Art, Museum of Art, Ein Harod, Herzliya Museum of Contemporary Art, Tate Britain, Center for Contemporary Art of Geneva, and additional venues. He represented Israel at the Biennales of Korea and Sydney, and his works have been exhibited worldwide. Bar Amotz holds a BFA from the Bezalel Academy of Arts and Design in Jerusalem, and a MFA from Goldsmiths, University of London. He is the recipient of the Israel National Lottery's 2010 Prize for Artistic Excellency, and of the German Ludwig Gies Prize for Sculpture. He is also the recipient of prizes from The Israel Museum, the Rijksakademie in Holland, the British Council for Art, and additional foundations. Bar Amotz lives and works in London, where he also serves as a dramaturge for one of Europe's best-known dance companies.
A Working Machine Must Not Want to Play the Fiddle
A project by Guy Bar Amotz, Curator: Noam Segal
The project will open on April 14, 2011, at 20:00, Rothschild 12, Tel Aviv. Opening hours will be Tuesday – Thursday, 11:00 – 19:00, Friday – Saturday, 10:00 – 14:00, with performances taking place on the hour. For additional information, consult the website: www.rothschild69.co.il