DocAviv 2011 competition winners were announced tonight, May 17, 2011, at the Port of Tel Aviv.
International Competition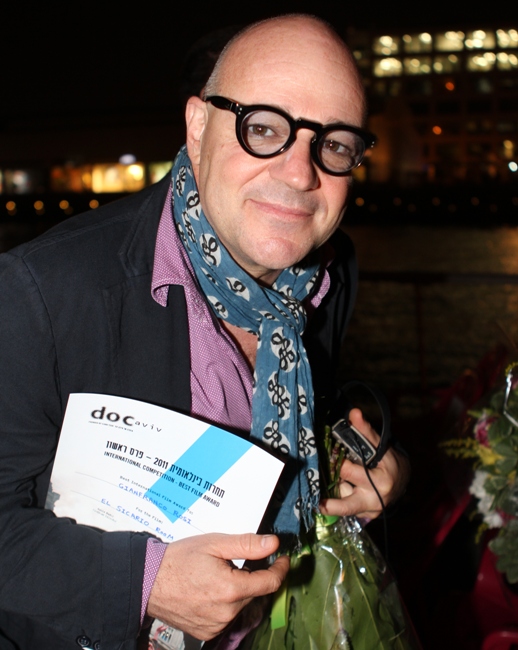 First Prize was awarded to "El Sicario Room 164," Director & Cinematography: Gianfranco Rosi; Production Company: Robofilms – Gianfranco Rosi / Les Films D'ici – Serge Lalou; Script: Gianfranco Rosi and Charles Bowden; Editing: Jacopo Quadri; Soundtrack: Dominique Vieillard; Music: Abraham Spector.
The jury's decision: "The Best International Documentary Award recognizes a film that displays courageous artistic choices, a unique treatment and minimalistic style. This haunting, brutal and unimaginable confession unfolds before our eyes in the most violent city in the world. We congratulate Gianfranco Rosi for reminding us of the value of maintaining a steadfast creative vision in this unforgettable film."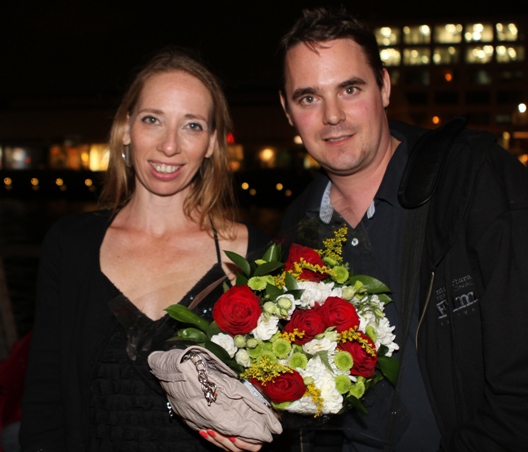 The Special Jury Mention was awarded to "Darwin", Director, Editing & Cinematography: Nick Brandestini; Production: Nick Brandestini, Sandra Ruch (co-producer), Taylor Segrest (co-producer); Script: Taylor Segrest; Music: Michael Brook.
The jury's decision: "In a field of stormy documentaries, the special Jury Mention Award gave us the opportunity to recognize a filmmaker who demonstrates creative promise, a compassionate sense of humor, and a keen eye for strong characters."
Israeli Competition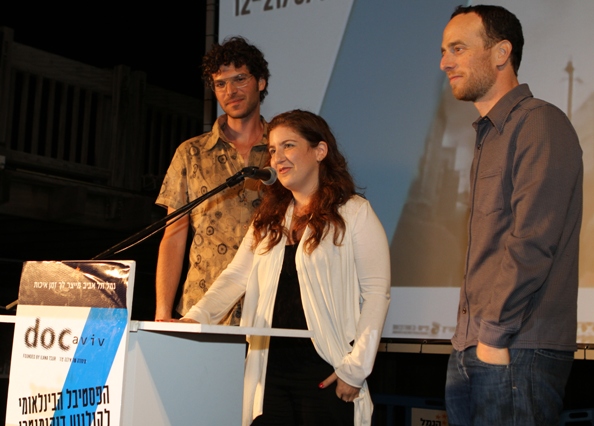 First Prize was awarded to "Life in Stills," Director and Script: Tamar Tal; Producer: Barak Heymann, Heymann Brothers Films; Co-producer: Tamar Tal; Cinematography: Daniel Kedem, Tamar Tal; Editing: Tal Shefi; Additional editing: Eyal Tsarfati; Music: Alberto Shwartz.
The jury's decision: "The winner was a story movingly and sensitively told, which managed to combine a strong sense of comedy with powerful insight. It managed to combine the strengths of its characters with a strong story, and noticeably entranced its audience."
Ben Weissenstein, whose joint struggle with his grandmother Miriam to save the PhotoHouse was documented by Tamar Tal, joined the filmmaker at the podium as she accepted the award, and said, "The film is the greatest gift that I or my family could hope to receive in this lifetime." Tal first participated in DocAviv four years ago, with the student film that was the initial spark for "Life In Stills."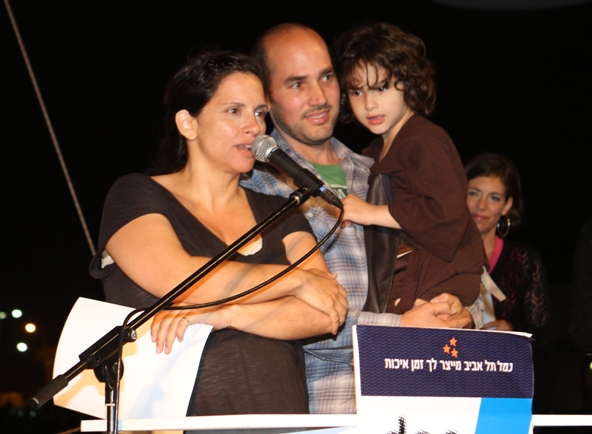 Second Prize was awarded to "The Collaborator and His Family", Directors and Script: Ruthie Shatz, Adi Barash; Production: Adi Barash, Ruthie Shatz, Ross Kauffman; Production Company: Yulari Films, Fig Films Red, Light Films; Editing: Janus Billeskov Jansen; Cinematography: Adi Barash; Research: Ruthie Shatz; Soundtrack: Erez Eini Shavit; Music: Uri Frost.
The jury's decision: "This was a film that managed to engage the audience by bringing a level of intimacy and empathy into a complex and charming family. The filmmaker overcame the challenges of many characters, and constantly changing situations, to craft a film that challenged both the political brain and the human heart."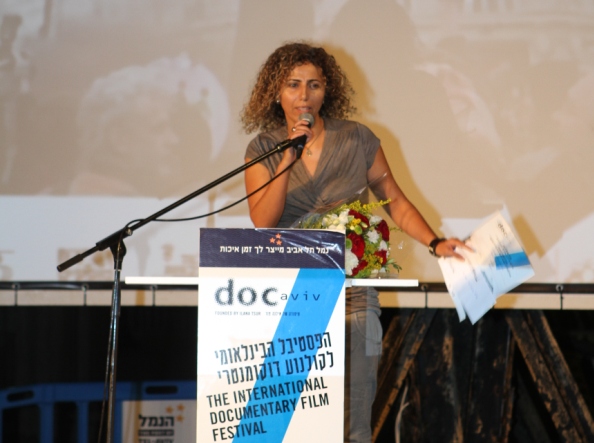 The Tel Aviv Mayor's Prize for a First Film was awarded to "A Place of Her Own", Director, Cinematography and Research: Sigal Emmanuel; Production: Dikla Barkai; Production Company: Abot Barkai; Script & Editing: Ayala Bengad; Soundtrack: Itay Halevi; Music: Dikla.
The jury's decision: "The jury felt that 'A Place of Her Own' was an impressively accomplished film which demonstrated both a resilient and tenacious filmmaker, and ability to comprehensibly craft a complex and challenging narrative."
Honorable Mention was awarded to "Tami and Jacob – My Parents," Director, Cinematography & Research: Nir Horvitz; Production, Production Company & Editing: Tali Shemesh; Script: Tali Shemesh, Nir Horvitz.
The jury's decision: "A small and optimistic film about people who chose life, showing that even in the most despairing moments of existence- we can still find compassion and grace."
Best Cinematography was awarded to Daniel Kedem for his work in "Under the Rug." The jury's decision: "This was a film that combined considered and insightful observational footage, with a level of skillful and carefully constructed artistic elements."
Tal Shefi received the award for Best Editing for her work in "Life in Stills." The jury's decision: "A masterly grasp of narrative combined with the ability to subtly detail a profound and beautiful   relationship with both humor and poignancy is what set this film apart."
Ruthie Shatz and Adi Barash received the award for Best Research for their work on "The Collaborator and His Family." The jury's decision: "The ability to find a family whose members are so distinctively unique, powerful and self sufficient, facing adversity with pride and courage is admirable achievement in research."
Additional screenings of the winning films will take place on May 20th & 21st:
Friday, May 20, 2011
12:00 Life in Stills Cinematheque 1
12:00 Darwin Cinematheque 2
14:00 El Sicario Room 164 Cinematheque 1
16:00 Under the Rug ZOA Meyerhof
18:00 The Collaborator and His Family ZOA Meyerhof
Saturday, May 21, 2011
14:00 A Place of Her Own ZOA Meyerhof
16:30 Life in Stills ZOA Meyerhof
22:00 Tami and Jacob – My Parents ZOA Meyerhof
Jury for the International Competition:
Arik Lahav Leibovitch, feature and documentary film editor, whose work includes "Lebanon" (Golden Lion Award Venice Film Festival), "The Band's Visit", "Loving Sophia" (DocAviv 2010 Editing Award), and "Teacher Irena" (DocAviv 2010 Editing Award) among other films.
Ibtisam Mara'ana, independent director and producer for cinema and television. Her films include: "Paradise Lost", "Badal" (winner of Hot Docs 2006), "Three Times Divorced" (Best Documentary – DocAviv 2007) "Lady Kul el-Arab (IDFA Special Jury Award, 2008) and "77 Steps".
Chris McDonald, Executive Director of Hot Docs Festival in Toronto, North America's largest documentary festival.
Hila Medalia, director/producer whose films include: "After the Storm" (Crystal Heart Award), "To Die in Jerusalem" and "Happy You're Alive." She was senior producer of "39 Pounds of Love" (HBO Cinema, winner of the Ophir Award).
Brian Newman, founder of Sub-Genre Consulting, was recently CEO of the Tribeca Film Institute, and the executive director of RenewMedia and IMAGE Film & Video Center.
Jury for the Israeli Competition:
Andrea Hock (Austria), Director of TV Sales at Autlook Filmsales, a worldwide sales agency for powerful, daring and acclaimed docs.
Tabitha Jackson (UK), Channel 4's Commissioning Editor for Arts.
Greg Sanderson (UK), Executive Producer of Arts for the BBC, and Editor of the BBC's flagship cultural program, 'The Review Show'. From 2006-2010 he was Executive Producer of Storyville, the world renowned feature documentary strand, where he was responsible for notable successes such as 'The English Surgeon', 'Roman Polanski: Wanted and Desired', 'Marathon Boy' and Steve James' latest film 'The Interrupters'. He is on the Advisory Boards of Sheffield Doc Fest and Edinburgh International TV Festival, and has been an assessor for ITVS, IDFA, Sheffield Doc Fest and Documentary Campus.
Itai Valdman, Time Out Tel Aviv magazine editor. Currently working as scriptwriter for the feature film "The Launch" directed by Elad Zakai, produced by Gal Uchovsky.
Anat Zuria, An independent film director of documentary films and cultural critic.Her films trilogy: Purity, Sentenced to Marriage, and Black Bus, won Israeli and many International awards.