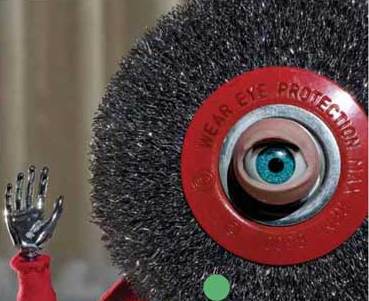 Asif 2011 opened the Animix festivities at the Tel Aviv Cinematheque yesterday, August 16, 2011. Asif means harvest in Hebrew, and the Israeli chapter of Asifa (Association Internationale du Film d'Animation) presented an eclectic and exciting harvest of animated films with diverse themes, approaches and technique in both personal and commercial projects. The experience of seeing animated films on a large screen is exhilarating, and Midnight East applauds the decision to screen all nominated films. A condensed version of the screening will take place today, Wednesday, August 17, 2011 at 14:30.
Asif Awards 2011:
The Asif Award for Best Independent Film and the Gross Prize for Excellence in Animation were both awarded to Yuval and Merav Nathan for Lose This Child, a stop-motion animated film created for the Eatliz band song. Tender, thought-provoking and exquisitely rendered, the video has long been a Midnight East favorite.
The Asifa competition committee recognized the film Loom by Saleh Diab and Yoni Gueta for an honorable mention. A stop-motion animated film that creates a world entirely mechanical and yet endearingly human, all centered on a fantastical loom and its intricate operations. Ibrahim Khatib composed the music for the film, which opens on a black screen, where beads of light slowly shimmer, weaving a symbolic layer into this work which invites reflection on the mechanics of relationships, and the bittersweet comedy of working out the knots.
Loom – stopMotion film from yoni gueta on Vimeo.
Diab and Gueta met at Bezalel, embarking on this joint project around their third year, and ultimately setting their studies aside in order to concentrate of making the film, which took roughly three years. Diab told Midnight East that the experience was very intense. The film was made in a series of rented apartments with both Diab and Gueta working non-stop, with meals, encouragement and financial support coming in – first from his parents, then the Cinema Project (supported by the Rabinovich Foundation, Recanati Foundation, Tel Aviv Cinematheque, Israeli Ministry of Science,Culture and Sport, and the Israel Film Council). The film was screened at the 2010 Haifa International Film Festival, and received a special mention award at the Split International Film Festival 2010.
The prize for Best Student Film, in memory of Tal Yakobson, was awarded to Natalie Bettelheim and Sharon Michaeli from the Bezalel Academy of Arts and Design, Jerusalem, for Howl, a haunting short film about a mother and small child, classically animated and beautifully rendered in black and white drawings. Suspended between reality and fantasy, Howl evokes the isolation, uncertainty, and feelings of a parent raising a child who is different.
Howl from Natalie Bettelheim on Vimeo.
Honorable mention in this category was awarded to an entirely different kind of film by Dudi Rubin and Daniel Sasson, from Bezalel, with the ubiquitous pink canned precooked meat product in the starring role of this wildly irreverent action short.

LOOF from Daniel Sasson on Vimeo.
The Arigent Prize for Encouraging Creativity was awarded to Soslan Bitarov, a student at Shenkar, for Galani, his humorous retelling via cut out of his experiences as a soldier in the IDF (Zahal). The emotional journey from solitary outsider, misunderstanding and misunderstood, to feeling a sense of camaraderie and solidarity, accompanies the chronology from boot camp to squad commander.
Galani from Soslan Bitarov on Vimeo.
Snowball Studio's film for the Kibbutz Seminar won Best Commissioned Film, with its lively representation of the snakes and chameleons of the professional world. Asaf Mizrahi won Best Animation for Children for his film Shlosha Dagim (Three Fish), and Sharon Gazit won honorable mention for Gal Yalda Shel Yam (Galya is a child of the sea).
Gilat Pereg is the Artistic Director for Asif 2011, and the event is produced by Nuny Tal. Animix 2011 Artistic Director is Nissim Hezkiyahu, Curator of Animation is Dudu Shalita, and the event is produced by Galit Berksy.
Animix 2011 continues at the Tel Aviv Cinematheque through August 20, 2011.