"It's a journey, you must see it to comprehend," says Ruben Garcia of the play "Alma" – a co-production of Alma Theaterproduction Vienna and the Cameri Theatre Tel Aviv, which opens October 5 in an unusual venue: the Underground Prisoners Museum in Jerusalem. Garcia's own journey, from the small town of Lagos in Portugal to Jerusalem, is one of passion, contradictions and poetry – just like Alma herself.
Alma Mahler-Gropius-Werfel (the name almost says it all) had the distinction of marrying three men who made an impact on the world: composer Gustav Mahler, architect Walter Gropius and writer Franz Werfel. Before, during and after these marriages she was involved with several other men, among them the painters Gustav Klimt and Oscar Kokoschka. The latter so enamored of Alma that he had a doll created as an exact duplicate, with which he lived, travelled and painted her portrait. Playwright Joshua Sobol has created a polydrama, directed by Paulus Manker based on her life that has been performed in cities where Alma has lived or visited. There are four Almas in the play, each with her own narrative that takes place simultaneously in different areas throughout the museum. The audience can follow whichever storyline they choose, each person creating his or her own drama. The play will be performed by actors from the Vienna cast alongside Israeli actors, in two languages: English and Hebrew.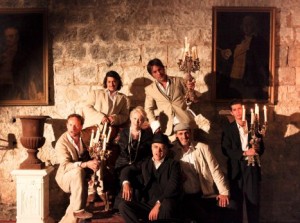 Garcia found his way to the cast of Alma when they performed in Lisbon in 2003, but it was a tortuous path that led him there. Growing up in a small Portuguese village, he was always conscious of a desire to explore and express his inner feelings. When he was just four years old, he accompanied his older sister to her ballet class. The teacher noticed that he was doing everything and said, "He can dance!" He studied dance until the age of 10, when social pressure compelled him to quit. "I suffered a lot," he recalled in an interview, curling into himself, saying, "I was like this… dressing not to show my body." At age 14 he began performing in amateur theatre but "felt that I wanted more." Torn between his love for the familiarity and intimacy of his home and a need to develop his craft, he went to acting school in Lisbon but felt that "it was too big for me." Garcia returned to the village thinking, "I will do my poems in my room for myself and my mother," but that was not to be his destiny.
After a stint working in his father's restaurant Garcia tried his luck in the big city once more, becoming one of 20 accepted to film school out of a pool of 500 applicants. It was there that director Paulus Manker saw his photo and asked Garcia's teacher to send the student to an audition. Not speaking any language other than Portuguese at the time, Garcia was hesitant. He had not heard of Manker, but Simone D'Olivera, a well known Portuguese actress was playing in Alma and he had seen the posters. Agreeing to go to the audition for his teacher's sake, Garcia made an unconventional choice of text – he recited a poem in Portuguese for Manker, José Régio's Cântico Negro.
The poem reflects the desire or rather need to venture far from loved ones and familiar scenes, to follow the yearnings of the soul, however far they may take one from home. Garcia, who movingly recited the poem for me, can well identify with this theme. Manker responded by immediately saying, "I don't have a part for you, but you will be in the production." Garcia, who has since performed in several productions of Alma, cites this as a turning point in his life. He calls Manker his mentor saying, "He believes in me, he gives me freedom. I think art is freedom."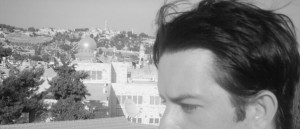 Garcia will be playing Gustav Klimt as well as Paul, young Jewish man Alma encounters when she visits [then] Palestine in 1924 with Franz Werfel. Paul is Alma's chauffeur who doesn't believe in love, until he meets Alma. Garcia says, "He has a very powerful scene with Alma. When he meets Alma, he sees his goal in her and says: I wanted so much to come to this country, to Eretz Israel…but he falls in love with Alma."
"Alma is like Jerusalem," says Garcia, who has been in Israel since August 4th, "everybody wants Alma. Jerusalem is a magic place; the prison has a good energy for the play. There is a feeling there, if you are sensitive you will feel it, it helps the play's energy." Garcia is enjoying Israel, saying that despite the fact that it is a very different culture, "I'm feeling at home here and have found a lot of similarities with Portugal." He has been enjoying exploring the differences as well, saying, "As an actor one needs a lot of experiences, it helps me a lot and influences me."
Performing in Alma is physically and emotionally exhausting, according to Garcia, "It's not like regular theatre. There cannot be any over-acting –people are right there next to you and if they want they can go see another scene." In accordance with Alma's passionate life, the play originally contained explicit language and nudity, which were not deemed appropriate for the current venue, which is a memorial site. Therefore, the version which will be performed in Israel will be a bit more restrained.
Underground Prisoners Museum Jerusalem
In addition to touring with Alma, Garcia has performed in theatre and short movies in Portugal. His first major movie will open there this year, and he is also participating in a tv series. Full of energy, dreams and desires, he would like to create a monodrama based on his life experiences, lived and imaginary. For this project he is asking people he meets (any takers?) to write texts for him to perform, based on how they perceive him. He says, "I want to do several characters – who I am, who I can be. I have lots of ideas. Look at me, what do you think I could be? A womanizer in a cabaret, singing…maybe." Garcia has clearly found inspiration in the museum, creating a short video which he filmed and edited. If the clip is any indication, then one would be inclined to agree with Garcia that there is a special energy and atmosphere in the place, or perhaps it is Garcia himself?
Alma
October 5, 7-8, 13-15, 17-19, 21-22, 24-26, and 28 at 20:00
Tickets: 054-9407392/tickets@alma-mahler.com
03-6060960/booking@cameri.co.il
250 NIS include drinks and dinner, discounts for students, seniors, and Cameri members.
Underground Prisoners Museum Jerusalem
The Russian Compound, 1 Misheol Hagvurah St. (above Shivtei Israel St.)
The cast includes members of the original Cameri Theatre production performed 12 years ago.