Turning the Tel Aviv Cinematheque into an inter-galactic multicultural playground, from October 3 – 10, SF fans, comics' devotees, role-players, LARPers and gamers, horror fans, the Goth community, anime enthusiasts, Trekkies, Star Wars fans and curious onlookers will make their annual pilgrimage to the Tel Aviv Cinematheque for ICON – Israel's Science Fiction, Fantasy and Role-Playing Festival. Movies, workshops, role-playing, and lectures offer a total immersion experience for the addicted and uninitiated alike. The festival includes so many different events that one could easily spend an entire week just going through the website – so here are some highlights:
Opening ceremonies on Sunday will be followed by a screening of "District 9" at 21:30, Peter Jackson's new film, directed by Neill Blomkamp. Later that night at 22:00, "The Fantasy Behind the Movie" Michael Gorodin presents the music of Star Wars, Superman, Indiana Jones, Lord of the Rings, Buffy the Vampire Slayer and more, conducted by Leon Cherniaev and performed by a symphonic chamber music orchestra (Eshkol 1).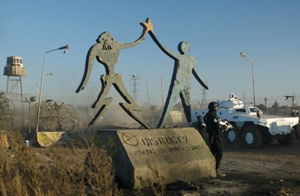 Famous guests from afar are an honored ICON tradition, and this year is no exception.
Bill Willingham, writer and artist of comics, winner of 7 Eisner Awards (including Best Writer for 2009) for his series of graphic novels – Fables, will be an honored and busy guest. Willingham will be actively involved in the festival program, conducting a workshop on writing comics from 14:00 – 16:00 (Eshkol 4) on Monday, October 5th, followed by a lecture on Folklore and Legend in the Modern Era from 21:00 – 23:00 (Eshkol 1). On Tuesday, he will conduct a workshop on literary writing from 16:00 – 18:00 (Eshkol 3). Later that day fans will have an opportunity to meet the writer and ask questions (20:30 – 22:00 Ehkol 1). The author will sign autographs on Wednesday at 16:00 and read from his new book from 18:30 – 20:30 (Eshkol 2). There will be another autograph signing op at the Kamikaze comic's store (co-sponsor with the US Embassy of Willingham's visit) at Dizengoff Centre, Friday at noon.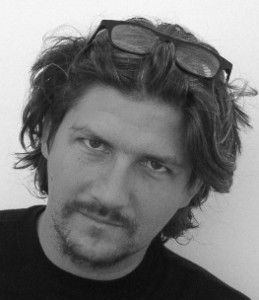 "Designer of the Future" – Christian Lorenz Scheurer, creator of concept art for the Matrix and architectural design for The Fifth Element, will present "Swiss Design in Hollywood," together with Patrick Gyger, Director of the "House of Elsewhere" Swiss Science Fiction Museum. On display in the cinematheque piazza, the exhibit provides an historical perspective on little known artistic techniques and practices and emphasizes the influence of individual designers on the aesthetics of film and video games. Scheurer will also conduct a workshop on "Creating a Hero" on Wednesday from 20:30 – 22:00 (Eshkol 2).
Metropolis the 1927 silent German Expressionist film by Fritz Lang (whose dispersed fragments were meticulously restored by the Murnau Foundation in 2001) set in a futuristic urban dystopia will be shown on Wednesday October 7, at 21:30  with live musical accompaniment by pianist and composer Matan Porat, recipient of the 2009 Prime Minister's Prize for Composition. Porat's opera "Animal Farm" was commissioned by the Tel Aviv Academy and performed there in 2008, his work "Kofadam" based on Kafka's "A Report to An Academy" is performed at the Cameri Theatre with Itay Tiran.
This year's theme of "Future Cities" will be explored in many aspects of the festival, including a two day academic conference on "City of the Future – Future of the City." Marking the 100 year anniversary of Tel Aviv, the conference is co-sponsored by the festival with Tel Aviv University and Bar Ilan University and will take place October 5 -6, from 12:00 – 20:00. Equal time will be given to cities on earth and in space, considering the realities of space tourism and the often surreal aspects of the cities we know.
In honor of 2009 (International Year of Astronomy) the festival will include an academic conference on astronomy on Wednesday, October 7, from 12:00 – 20:00 with Prof. Avshalom Elitzur, Prof. Elia Leibowitz, and Dr. Yigal Patel, chairman of the Israeli Astronomical Association. In keeping with the theme, an installation: Design of products for Space Tourism will be on display in the cinematheque foyer.
In a completely different vein, "Israeli Intelligence" will be screened on Thursday, October 8, at 23:30, preceded by a "Hipopotam Party" on a grand scale. The mayhem continues on Saturday at 14:00 with the Wacky Film Club session. A screening of "Top Secret" (1984) will be accompanied by a discussion of Zucker-Abrahams films and rare clips.
Workshops and role-playing opportunities abound. The less adventurous can suffice with sitting in a dark theatre and singing along (with lyrics written to the tune of popular Israeli songs) to "The Princess Bride." (Tuesday at 23:00, Eshkol 1)
Over 100 features and shorts will be shown at the festival, ranging from the child-friendly "Ponyo" to the somewhat less child appropriate "Lesbian Vampire Killers." Among the films to look forward to: the pre-distribution showing of "Gamer" and Israeli premiere of Ran Slavin's "Insomniac City Cycles." Closing the festival will be "Moon", the premiere feature of Duncan Jones, son of David Bowie.
While you wait for the festival to start, enjoy the ICON festival channel on youtube.
And don't forget to check the website for complete details: www.icon.org.il
Festival Steering Committee Chair Itay Greif
Festival director Uri Aviv
Festival Producer Elad Peleg
 The Festival is produced jointly with the Tel Aviv municipality and is supported by The Israeli Ministry of Foreign Affairs and The Israeli Ministry of Science, Culture and Sports.
 Events take place at the Tel Aviv Cinematheque on 2 Shprintzak Street (corner of  Shprintzak, Carlebach and HaArba'a) 
The entrance to Eshkol Payis and Ironi Aleph High School (just a two minute walk from the cinematheque) is from HaArba'a Street