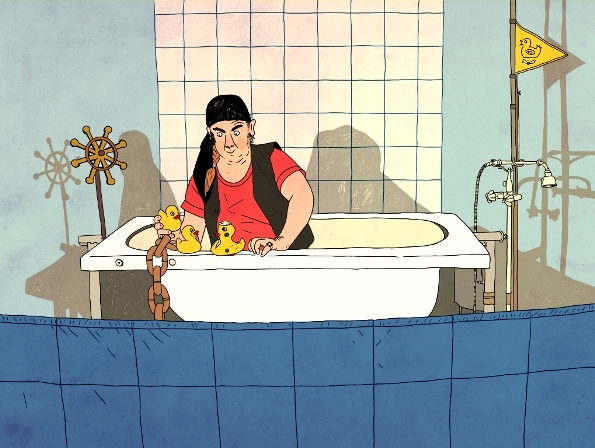 Purim pirate fun at the Train Theater – March 8 – 10, 2012. The Train Theatre presents a new play for Purim: Pirate in the Bath. Family holiday fun includes a performance, workshop and photo session at "Studio Hagigit" with a fantasy pirate set as background.
Pirate in the Bath is a new show for the whole family, recommended for age 3 and up. Smi is a pirate who sails in his bath with his beloved ducks. One day, he receives a surprising call from the representative of the International Union of Pirates. She informs him that in order to receive a qualified pirate certificate, he needs to start to behave like a pirate. Smi tries, but he finds out that it is much more difficult than he thought…
Performance times are listed on the Train Theater website in English.
Hagigit Studio was founded by graduates of the Musrara Photography School in Jerusalem. They are active creatively and socially in multi-disciplinary art projects in Jerusalem: street exhibits, working with artists in other disciplines and with the community.
Come in costume, have your picture taken at Hagigit Studio and make yourself a passport in the workshop. Tickets are 55 NIS per child (photo included), 45 NIS if purchased through the Train Theater, call 02-5618514 for details. Gan Pa'amon HaDror, 1 Jabotinsky Street (corner of King David Street), Jerusalem.
Pirate in the Bath
Created by Tzipor Frumkin and Miryam Salzberg
Direction: Tzipor Frumkin
Acting, manipulation and design: Miryam Salzberg
Artistic consultation: Marit BenIsrael
Music: Asaf Matityhu
Lighting design: Schahar Marom
Planning and building of the construction: Mario Kaizman