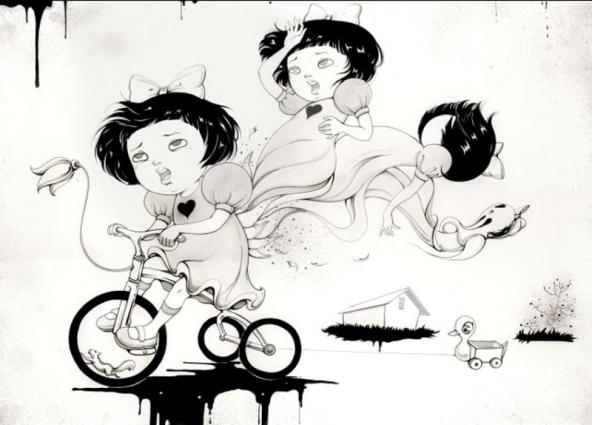 Eatliz – the exciting Tel Aviv indie rock group will tour China for the first time in March 2012, performing at the JUE Music + Art Festival in Beijing and Shanghai, and an extensive tour through major cities in China, including Hong Kong, Hangzhou, Guangzhou, Nanjing, Wuhan and Changsha.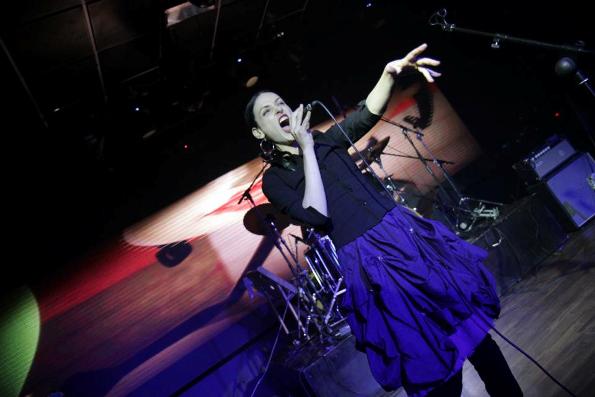 Viscerally thrilling and visually enticing live performances complement a repertoire of songs that range from hard rock to delicate ballads. Eatliz is powered by: Guy Ben Shetrit – guitars, Lee Triffon – lead vocals, Or Bahir – guitars, Omer Hershman – guitars, Omry Hanegby – drums, Hadar Green – bass.
Art and visuals are central to Eatliz both onstage and in the cutting edge videos to songs like "Hey," "Lose This Child," and "Attractive." In addition to their music, the Eatliz tour is creating an artistic dialogue between Israel and China: promising young Chinese artist Yan Wei has permitted the band to use her artwork for the Eatliz tour flyers.
The JUE Music + Art Festival is the biggest urban music and art festival in China. Now in its fourth year it celebrates the growing art scene of Beijing and Shanghai. The organizers of JUE were impressed from Eatliz unique music and art and invited the band to take part in 2 special concerts titled Jue Hear + See, which will be multimedia concerts combining music, video art and animation.

With several albums under their belt and tours in Israel, Europe and North America, Eatliz has an ever-growing following of fans. The band has won many awards for their animated videos, including the Babelgum Online Film Festival's "Spike Lee Award", granted by the renowned director at the New York Tribeca Film Festival, "Best Foreign Video" at the 11th Sichuan TV Festival "Gold Panda" Awards, "Best Experimental Foreign Short Film" at the China Xiamen International Animation Festival and the Special Jury Prize for TV Animation at the China International Animation and Digital Arts Festival Golden Dinosaur Awards, plus screenings before the film "Avatar" at cinemas across America.
If you are in China – join the tour and experience Eatliz live!
Everyone else – follow the tour on the Eatliz facebook page!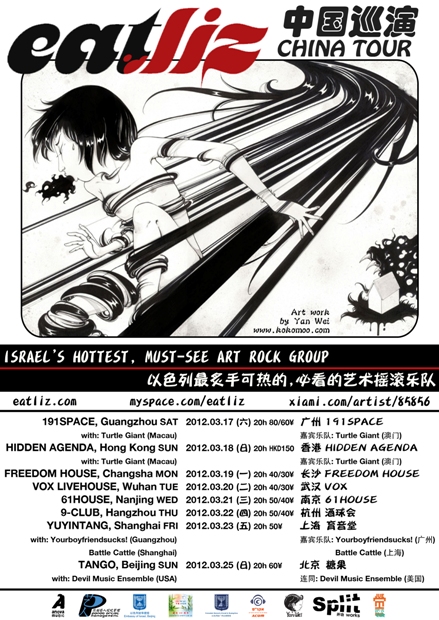 China Tour Dates:
17.3 Guangzhou @ 191space, with: Turtle Giant (Macau)
18.3    Hong Kong    @    Hidden Agenda, with: Turtle Giant (Macau)
19.3    Changsha    @    Freedom House
20.3    Wuhan    @    Vox 21.3    Nanjing    @    61House
22.3    Hangzhou    @    9-Club
23.3    Shanghai    @    JUE | Music + Art Festival, Yuyintang, with: Yourboyfriendsucks! (Guangzhou), Battle Cattle (Shanghai)
24.3 Beijing    Music Video and Animation Screening and Q&A @ The Hutong
25.3    Beijing    @    JUE | Music + Art Festival, Tango, with: Devil Music Ensemble (USA)
Links:
Official website – http://www.eatliz.com
Myspace: http://www.myspace.com/eatliz
YouTube – http://www.youtube.com/user/eatlizband
Facebook – http://www.facebook.com/Eatlizmusic
Bandcamp – http://eatliz.bandcamp.com