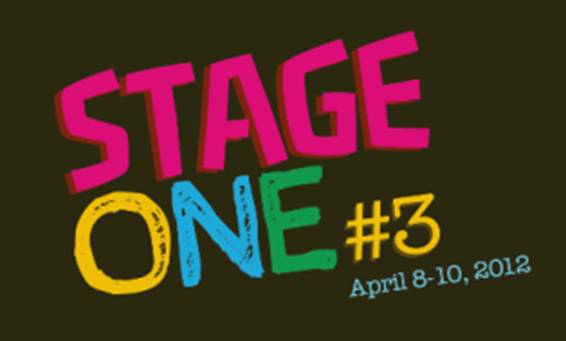 Stage One English Speaking Theater Festival is back with a marathon of performances that reflect the energy, diversity and talents of the many theater groups dedicated to keeping the English language alive & kicking onstage in Israel. Beit Avi Chai is hosting the festival for the third year in a row, from April 8 – 10, 2012 during the Passover holiday.
Information on the festival and tickets can be found on the Stage One Theater Festival facebook event page, and the Beit Avi Chai website. Rafi Poch is the Artistic Director of the Festival, and the Producer is Tamar Akov.
The festival will also host music performances, from traditional folk to jazz & more.
Theatre performances will include:
Talk
A Winnipeg Jewish Theater Production
Finalist of Canada Council for the Arts, Governor General's Literary Award
Can friendship survive politics? The lifelong friends Gordon and Josh unwittingly step into territory as yet uncharted in their friendship, and find themselves in a passionate and divisive debate that puts their relationship to the ultimate test.
Playwright and director: Michael Nathanson
Sunday, April 8, 8:00 PM
Monday, April 9, 6 PM
The Tenth Man
J.E.S.T
An old man decides to hold a Jewish exorcism in a synagogue. Convincing a young man who happens to be passing by to complete the required minyan, causes an unusual romance…
.
Playwright: Paddy Chayefsky
Director:Jeremy Man Saltan
Monday, April 9, 8:30 PM
The Last Five Years
Way Off Productions
Winner of the 'Drama Desk' Award 2002
A musical about two New Yorkers in their twenties who fall in and out of love over the course of five years.
Playwright: Jason Robert Brown
Director: Sara Halevi
*includes language that some parents might not find suitable for young children
Monday, April 9, 6 PM
Passion Killer
An English premiere
A funny and daring one woman show that deals with feminine weaknesses and powers from the days of the bible until today.
Written by: Hadar Galron and Aharon Feuerstein
Director: Shmuel Vilozni
Monday, April 9, 8:30 PM
Tuesday, April 10, 10:00 PM
The Grand Tour
Encore! Educational Theatre Company
Excerpts from a musical based on S. N. Behrman's play, "Jacobowsky and the Colonel". Fleeing the Nazis who are overrunning France, Jewish refugee S. L. Jacobowsky has a car he cannot drive, while anti-Semitic Polish Colonel Stjerbinsky knows how to drive but has no car. This unlikely pair agrees to join forces in order to escape the enemy.
Playwright: Michael Stewart and Mark Bramble
Music and Lyrics: Jerry Herman
Director: Robert Binder
Sunday, April 8, 9 PM
Can I really date a guy who wears a Yarmulka?
AACI's J – Town Playhouse
A romantic comedy about Eleanor, a smart, savvy, New Yorker, whose secular brand of Judaism might include latke but does not include God. Aaron is Dr. Right – He's got the brains, the looks, but he also got a serious case of religion. Can Eleanor see past his yarmulka to find love?
Playwright: Amy Holson-Schwartz
Director: Rafi Poch
Sunday, April 8, 6 PM
Daniel Ortega and Those Yom Kippur Blues
The Last Request of Eddie Carmichael Cohen
Two One-Act plays
Haifa English Theater
On the evening of Yom Kippur services Arthur asks Luis why should he atone for things he hasn't done?
Edward Carmichael, a Catholic, lies in his hospital bed, awaiting the end. He announces that he is really Jewish. Rabbi Murray Schecter must decide whether to accede to the wishes of a dying man who may not be truthful.
Playwright: Bruce J. Bloom
Director: Bertha Cafrey
Tuesday, April 10, 6 PM and
Tuesday, April 10, 8 PM
Chareidi Women Speak
A Premiere
7 characters, 7 true stories, 7 monologues featuring unorthodox Orthodox Jewish women. Each woman shares her diverse, and sometimes controversial, view on life, family and the community in which she lives.
Written based on true stories, and directed by: Shula Rosen
Sunday, April 8, 6 PM