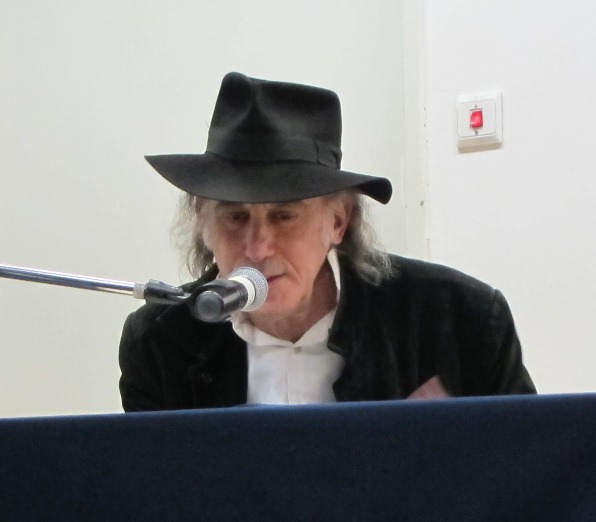 "I thought I'd be a painter," said cinematographer, director and producer Ed Lachman, in a workshop at the Screen Based Arts Department of the Bezalel Academy of Arts and Design Jerusalem last Wednesday, April 18, 2012, when he visited Israel for the first time as the guest of Bezalel and the Sam Spiegel School of Film and Television Jerusalem.
Lachman studied art history and painting, but soon found his way into films. "I always liked the idea of the collaborative nature of filmmaking," said Lachman, a preference demonstrated by his many memorable collaborations over a 40-year career, with prominent directors including: Wim Wenders (Tokyo-Ga), Mira Nair (Mississippi Masala), Steven Soderbergh (Erin Brockovich), Robert Altman (A Praire Home Companion), David Byrne (True Stories), Sofia Coppola (The Virgin Suicides), Todd Solondz (Life During Wartime).
In his conversation with students at Bezalel, much of the focus was on his work with director Todd Haynes over the past decade, on Far From Heaven (2002 – for which Lachman was nominated for an Oscar) and I'm Not There (2007) an artistic take on the elusive Bob Dylan, and the award-winning television series, Mildred Pierce.
"I've always looked at cinema as an art form," said Lachman, who recalled that he was originally drawn to film as an expression of his interest in the Dada and Surrealist concept of the found image. He began "making my own little films" – these soon attracted the attention of directors who wanted him to come aboard as cinematographer on their films.
"Where does our vision take us? Are images in our mind or what we see outside ourselves?" –the philosophical and pragmatic are interwoven in Lachman's work and approach. Always engaging with wider issues and considerations – artistic, historic, political or philosophical, he emphasized, "It's important to see what's in front of us." To illustrate his approach, Lachman described a scene filmed in a kitchen with students at Sam Spiegel. The room was lit with two light bulbs. Surveying the scene, Lachman had felt that the existing lighting would work well for filming, and told the Bezalel audience, "It's almost what you don't do that creates your images."
Saying that "fancy angles and shots kinda leave me cold," Lachman also commented, "I'm very much opposed to using hand hold to say 'this is a real moment with the actors' – I think that's been over-used. I feel like it's just another device that doesn't forward our connection with the story." Yet he emphasized that the choices involved in positioning the camera play an significant role in conveying the film's point of view, as he said, ""Where you place the camera says a lot about what you're looking at."
Lachman showed scenes from his films with Todd Haynes, I'm Not There and Far From Heaven, discussing the process and choices involved in the filming. Far From Heaven was made in the style of Douglas Sirk films of the 1950s. Sirk (1897 – 1987), was a Danish-German director whose Hollywood melodramas of the 1950s – Magnificent Obsession (1954), All That Heaven Allows (1955), Written on the Wind (1956), and Imitation of Life (1959) – were popular at the box office but disdained by critics. Long after Sirk abandoned Hollywood, his films were rediscovered by critics and appreciated for their subtle critique of American middle-class values.
Lachman studied Sirk's style, noting his use of a moving camera for wide shots in a manner that "embodied a Brechtian sense of distance," shots in which people were framed by a doorway or bannister "trapped by the world they are part of." One of the ways that Lachman created the atmosphere of the film was through the colors, working with two color palettes – autumnal browns and oranges, a warm natural palette and an artificial, cold palette based on magenta and green – reflecting the characters' different emotional realms. One scene, showing a movie theatre and usherette, is a reference to the painter Edward Hopper (1882 – 1967), and his depiction of American life. Although Hopper is considered a realistic painter, Lachman said, "Those locations didn't really exist, 99% were manufactured. He didn't paint totally realistic, he was going for something more psychological."
The thought of Hopper's manufactured scenes and their relationship to film sparked an idea – recreating a Hopper painting as a studio set. That idea will become a reality as Lachman will recreate the painting "Morning Sun," a girl sitting on a bed and looking out the window, at the Thyssen-Bornemisza Museum  in Madrid.
Lachman's work spans the range of film, from feature films to commercial work and documentaries. In his discussion of the different projects, he made it clear that even in a commercial project, there are significant creative choices that the cinematographer can make. Lachman concluded the workshop by showing Life for a Child, a documentary he filmed in the Congo and Nepal on the treatment of Juvenile Diabetes. Commissioned by the pharmaceutical company Eli Lilly, Lachman was able to enter and film in the Congo in places where film crews usually would not be allowed. Lachman visited the treatment clinics, meeting and talking with families to select those he wished to interview for the film. Once he chose the families, he spent a week living with each family, "to capture their world and their story." The result is a warm and intimate look at the lives of the people and country, and the film has developed its own trajectory, becoming far more than a promotional film for a pharmaceutical company. In working on the film in New York, Lachman found a translator, a woman who was a refugee from the Congo. Moved by what she saw, she asked Lachman if she could invite a friend to see it. The friend turned out to be a member of the government in exile, who is making use of the film to show people what is happening in the Congo. As Lachman sums it up, "the film ends up being about faith."