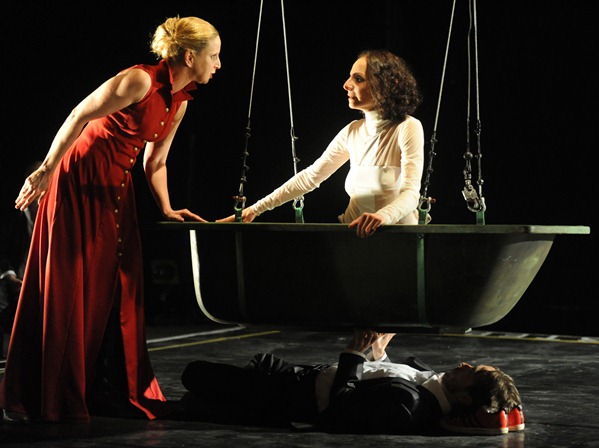 Political, gender and sexual power play receive an enjoyable and provocative treatment in Ira Avenri's adaptation of Mary Stuart. Set in1587, Freidrich Schiller's play revolves around last days of Mary, Queen of Scots, and the relationship between Mary and her cousin Queen Elizabeth. Translated by Yotam Benshalom, adapted and directed by Ira Avneri, the staging of the play catapults it from a period piece to contemporary theatre.
A red barrier band smartly opens and shuts to emphasize entrances and exists as an able cast (some taking on more than one role) plays political musical chairs to the groovy 60s soundtrack overseen by Ehud Weissbrod. A semi-transparent shower curtain becomes part of the intrigue and drama (with the aid of lighting design), Marks & Sparks shopping bags adorn the set and "Mind the Step" marks the perimeter, setting the tone for fun and frolic.
Elizabeth (Shiri Golan) in a blood red dress reigns from a white executive chair on wheels, and Mary (Michal Weinberg) is imprisoned in a tin bathtub, hoisted aloft, viewing much of the play's action from her perch up on high. It is perhaps a tad obvious to dress Mary in white, but the red/white color scheme works well visually.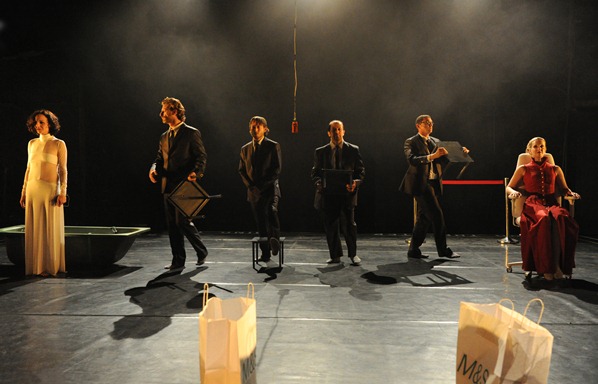 Fringe theatre can afford the luxury of taking on plays such as this one, with verbal and intellectual density. The soundtrack provides easy access to the plot and an ironic subtext to the dialogue, coming in with Nancy Sinatra singing "These Boots are made for Walking" (1966) as the cast enters and dons the appropriate accessories to their roles – and you can guess who is wearing the boots – with Blood, Sweat and Tears' "Spinning Wheel" (1969), Beatles' "Daytripper" (1966),  Monkees "Daydream Believer" (1967), Rolling Stones' "Paint it Black" (1966), and more to follow.
Elizabeth is literally surrounded by men in suits, a jovial men's club perhaps best represented by Burgleigh (Dudu Yaniv). Maintaining his cool composure and masculine façade to the very end, with subtle nuances of controlled emotion, one could easily imagine him in the upper echelons of any contemporary business or government. Shiri Golan's Elizabeth is regal and vulnerable, determined to win as she plays a game in which the rules were all written by men. Golan portrays a woman of intelligence, humor, and strength, willing to make any sacrifice necessary to maintain power, yet plagued by insecurities and uncertainty, living in constant fear of betrayal.
Mary's path is clear and unswerving: as a prisoner she seeks her freedom, as a Queen and a Catholic, she remains true to her stature and her faith. The play has a very dense text, with which Michal Weinberg had some difficulty the night I saw the play, stumbling on her lines a few times, which diminished the effect. Yet she remains a strong foil to Elizabeth, maintaining her integrity in crucial encounters, reflecting Mary's choice to remain true to her convictions, even as she is aware of the terrible cost.
The play offers insight into the intrigue of politics and the emotional price exacted from those who desire power, absolute power. As Elizabeth says, "Oh! servitude of popularity!…Oh! when/    Shall I once more be free upon this throne?/ I must respect the people's voice, and strive/  To win the favor of the multitude,/And please the fancies of a mob, whom naught/ But jugglers' tricks delight." As one contemplates Elizabeth upon her throne with wheels that can turn any which way, the thought occurs that a leader should guide rather than please the mob, but that is another story.
Mary Stuart, by Friedrich Schiller, translated by Yotam Benshalom, adapted and directed by Ira Avneri
Artistic consultation: Yagil Eliraz; Environment design and costumes: Dina Conson; Lighting design: Shahar Verchzon; Soundtrack design consultation: Ehud Weissberg, Assistant director: Idan Schwartz; Planning and building: Yaniv Suissa, Y Circus; Costume maker: Galina Golzman, Cast: Shiri Golan, Michal Weinberg, Dudu Yaniv, Elhai Levit, David Levinsky, Benny Eldar.
Future performances: June 6 & 8 at Tmuna Theatre, 8 Soncino St., Tel Aviv. For tickets, call: 03-5611211.