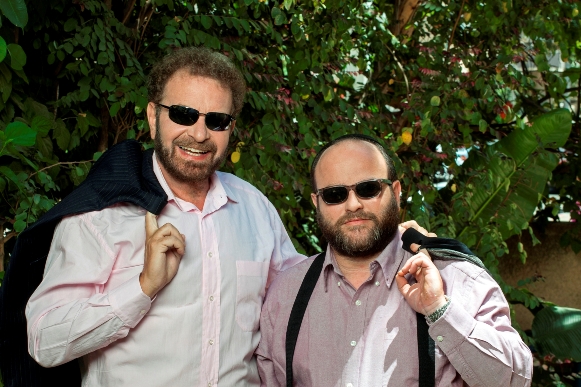 Dudu Fisher and Kobi Arieli are the stars of Yiddishpitz –  The Yiddishpiel  Theatre's latest adventure, an evening of entertainment that combines Jewish humor with song. Just in time for the summer season, Yiddishpitz will premiere on August 12th and the show will tour Israel, with performances in Tel Aviv, Beer Sheva, Haifa and other cities.
The Yiddishpiel is known for the musical quality of their performances, as well as their humor, and Yiddishpitz will combine the best of both worlds. Dudu Fisher is perhaps best known for his performance as Jean Valjean in Les Mis, but his roots are deep in the world of Jewish tradition. Fisher studied privately with some of the leading cantors, and at the tender age of 22 was invited to become the cantor of the Great Synagogue in Tel Aviv. Beyond the world of musicals, Fisher's repertoire embraces Hassidic, Yiddish and cantorial music, bringing the traditional music to audiences worldwide.
Past and present, Jewish and Israeli culture will connect onstage as Kobi Arieli shares Yiddish humor through folktales and the stories of Agnon, Itzik Manger and Droyanov. "Yiddish song and Jewish humor are one and the same to me," says Arieli, "both belong to the wonderful world of Jewish heritage, and both have been revived in a new Israeli version." The performance will be in Yiddish, with surtitles in Hebrew and Russian.
Yiddishpitz – editing & text: Kobi Arieli, musical arrangement: Shay Bachar.
Performance dates and times are available on the Yiddishpiel Theater website, to order tickets call: 03-5254660  ext. 1/2