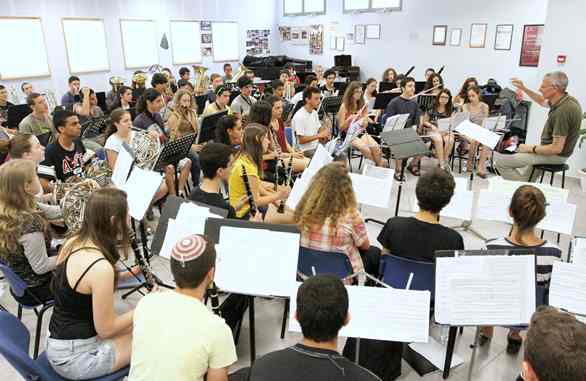 How better to start your weekend than by showing support for musical education in Israel? This Thursday at 8PM, the National Youth Wind Orchestra will be giving a concert at the Tel Aviv Museum. The national youth wind orchestra is comprised of top students from Ministry of Education-supervised musical conservatories across the country.
The National Youth Wind Orchestra, which is backed by the Ministry of Education, is comprised of two age groups: a young orchestra for ages 12-16, and an advanced orchestra for ages 16-18. The concert this Thursday will be given by the latter age group, and is planned as the culmination of two weeks of intense rehearsals at the Nordia youth village.
Among the orchestra instructors are leading Israeli musicians including Yigal Meltzer, first trumpeter for the Israeli Philharmonic; Micha Davis, first trombonist for the Philharmonic, and other top wind musicians. The musical repertoire of the concert is particularly diverse: the orchestra will play pieces by Beethoven, by Australian composer Percy Grainger, as well as contemporary Israeli composers Josef Bardanashvili and Boris Pigovat.
National Youth Wind Orchestra. Thursday 16/8/12 at 20:00. Tel Aviv Museum, 27 Sderot Shaul Hamelech, Tel Aviv. For tickets: netta@sbpr.co.il