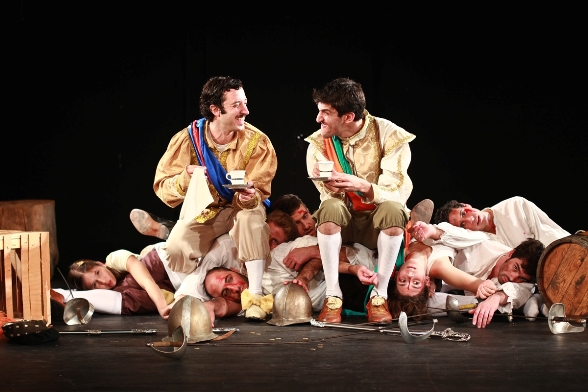 Nissan Nativ Acting Studio presents Carlo Goldoni's La Guerra (The Battlefield) this week in Jerusalem and Tel Aviv. The third year actors will perform the play, directed by Dor Zweigenbom with choreography by Aviv Eveguy.
Goldoni says of the play:
The principal action is the siege of a fortress, and the scene is sometimes in the camp of the besiegers, and sometimes in the place besieged. I named neither the place nor the belligerent powers, that I might avoid displeasing the nation which should suppose itself hardly treated by me.
Carlo Goldoni, Memoirs
The master satiric-comic writer's take on war and the impact of a siege on soldiers, sex and commerce as the waiting exposes the eternal internal battles of the human spirit.
Performances:
Jerusalem  -Nissan Nativ Acting Studio, 17 Elazar Hamodai Street
November 6, 7 & 8 at 20:30. Tickets: 40/50 NIS, call 02-6733414.
Tel Aviv – Tzavta Theatre, 30 Ibn Gvirol Street
Nov 9th at 12:00. Tickets: 40/50 NIS, call 03-6950156/7.