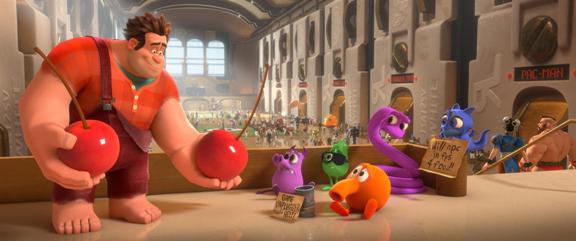 Wreck-it Ralph is the kind of bad guy I love to love, as if I needed any additional enticement to love a bad guy… but as it turns out, in the world of arcade games, and Disney, it's all very different. Not being a gamer myself, I came to Disney's new animated feature without any background knowledge other than some rudimentary joystick skills, and while I may have missed most of the myriad gaming references, watching Wreck-it Ralph was not only educational, but great fun!
Wreck-It Ralph really gets you into the game, the vividly rendered imagined world of the arcade game characters 'after-hours.' When the arcade closes, that is when the fun begins  – for everyone but Ralph (voice by John C. Reilly). As the bad guy within his game, Ralph is excluded from the cheerful camaraderie of Fix-It Felix and the gang. He's never even tasted cake.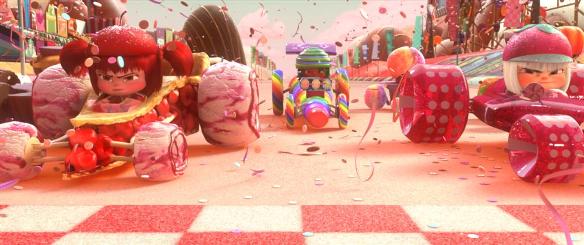 Determined to overcome his 'bad guy' rep, Ralph sets out to become a hero. Happily for the viewer, there are many obstacles and surprises along the way, not the least of which is Ralph and his huge, hulking clumsy bulk. Directed by Rich Moore, with a screenplay by Phil Johnston and Jennifer Lee, the film is full of puns and gaming in-jokes, but it's most definitely not for gamers only! It's a great movie for any age & situation: grandparents can take their grandchildren and it's a good date movie too.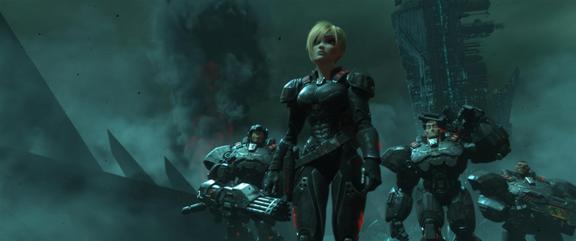 Opening in Israeli theatres on November 29, 2012, the film will be screened in two versions: 3D dubbed into Hebrew, and English with Hebrew subtitles in 2D. I watched the 2D version, from the classic primary color game world of Felix and Ralph, to the dark "When did video games get so violent and scary?" realm of the far more contemporary Hero's Duty (yes, I assure you, the full potential of the name is fully plumbed) and a colorful, intoxicating trip to Sugar Rush – it's non-stop fun. The film might also inspire some lively discussion over the dichotomy of good and evil, perhaps over a nutritious snack – apples anyone?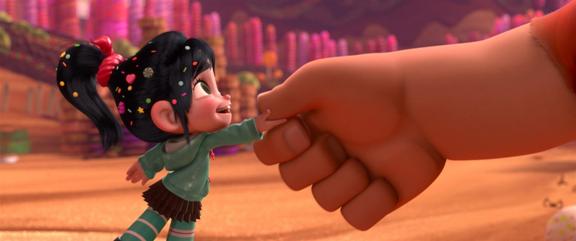 Among the many pleasures to enumerate in this film is Sarah Silverman who gives voice and sassy pizzazz to the character of Vanellope. What is the world coming to? Sarah Silverman on Disney – now there's a hero to emulate! She may be a little glitch, but she is adorable…