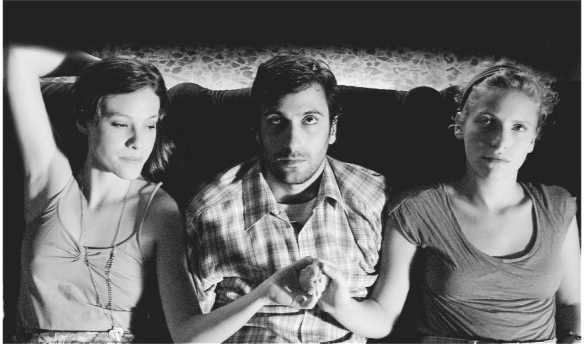 Rationally, nothing in this film makes sense; emotionally, Nony Geffen's Not In Tel Aviv not only makes perfect sense, but strikes a chord that continues to resonate long after the last frame. The film is very DIY – Geffen wrote, directed and starred in the film, which was shot in his hometown of Tivon, located somewhere just north of nowhere, Israel.
The film's protagonist, 29 year old Micha (Nony Geffen), is a rebel without a cause for the 21st century. Declaring its fictionality in bold black and white, the film sends this suburban cowboy on a journey of self-discovery to a soundtrack created by one of Israel's great rockers Uzi Ramirez, in this age of uncertainty, where thirty is the new sixteen.
No longer a teenager, yet clearly misunderstood and not really understanding what is going on with his life, Micha is a teeming mass of unresolved issues. Fired from his job as a high school history teacher due to downsizing, gun in hand, he kidnaps Anna (Yaara Pelzig), one of his students, and the madcap adventure begins.
Reflecting the sensibility of a town where time has not left much of an imprint, the kind of town where there is one high school and one pizza place where everyone hangs out after school… years after. The film and its quirky, charming and slightly desperate characters are most definitely not in Tel Aviv, but very much immersed in and commenting on  the culture of images, instant spiritual salves, the glittering aura of celebrity; a culture of moments in the present – no one looking forward, no one looking back. Yet Micha is a teacher of history, and apparently, a good one.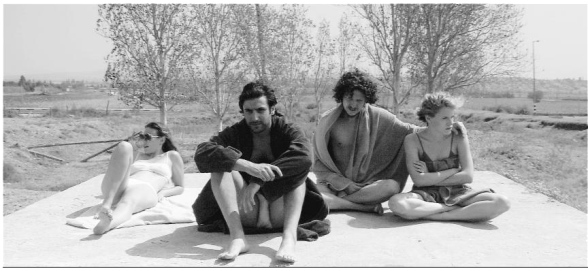 Micha sets out on a bizarre mission of rebellion, brandishing a gun and maintaining an odd sense of propriety with his student captive, while sort of trying to win the girl of his dreams. I admire a hero who doesn't know what the hell he is doing and does it with conviction. Unshaven and anxious, one might imagine him as a contemporary James Dean in an age when adolescence extends indeterminably  – still struggling with his parents, still figuring out his sexuality, yet surging with desires and believing, or wanting to believe, in something. In the strange relationships that evolve between Micha, his student Anna and Nony (Romi Abulafia), with all the impropriety, sexual tensions and titillation, they create a make-shift family reminiscent of the James Dean-Natalie Wood-Sal Mineo triangle and its temporary comfort.
The film deals with questions of identity – sexual and otherwise – in an oblique and somewhat bemused manner. Israelis have a slight edge when Ofer Shechter (Tal Friedman) is paraded as a victim of adulation, but ultimately all that is required to enjoy the joke is keeping your eyes and mind open. Feminists are hilariously dissed in the film, but so is just about everyone else, and the film's two very strong, assertive female leads – Anna & Nony – belie mere chauvinism. Suffice to say, in a film as intelligent as Not in Tel Aviv, it does invite contemplation that the elusive love interest in the film bears the same name as the main actor/screenwriter/director: Nony.
Music is at the heart of the film, with original music by Uzi Ramirez, Nony Geffen and Rotem Bar Or (The Angelcy). The theme song, Giant Heart (Rotem Bar Or), in its acknowledgment of the distance between desire and reality evokes for me, the possibility of hope the film offers, an anthem for our times: "I wish my heart was bigger." Much of the time our hero Micha is a real dick, and worse, but on the other hand, at least some of the time, he knows he's being a dick, and even tries to make amends, to let himself forgive and be forgiven.
Not In Tel Aviv was awarded the Special Jury Prize at the 2012 Locarno Film Festival, Best Feature at the 2012 Cinema South Festival, and will be released in Israeli Theatres on December 13, 2012.

Links: Not In Tel Aviv facebook page
Not In Tel Aviv (Israel, 82 min, Hebrew)
Director: Nony Geffen
Producer: Itai Tamir
Production Company: Laila Films
Script Writer: Nony Geffen
Camera: Ziv Berkovich
Editing: Tal Haik
Art: Sharon Eagle
Sound Design: Chen Harpaz
Original Music: Uzi Ramirez