New Year's Eve 2013 – let the partying begin! Yes, why not start now? Or at least on Friday, December 28th with Yod & CROWDPLEASER @ Deli,   47 Allenby Street Doors open at 23:00, join the Yod facebook page for discounts , more details here.
Here's Yod (Yotam Avni) jamming with Bobby McFerrin

Along the way to 2013, take some time to enjoy The Angelcy at the Yellow Submarine in Jerusalem (read about the band here, event details here); the Alaev Family at Beit Avi Chai in Jerusalem (event details here), and Tzvika Force at the Ozen Bar in Tel Aviv (event details here) – all on Saturday, December 29th.
The Angelcy at InDNegev 2012

Contemporary composer Michael Barolsky will be featured at Hateiva on Sunday, December 30th – details here.
Now, all you sticklers for precision, come join the rest of us and pick the party of your choice for New Year's Eve – Monday, December 31!!!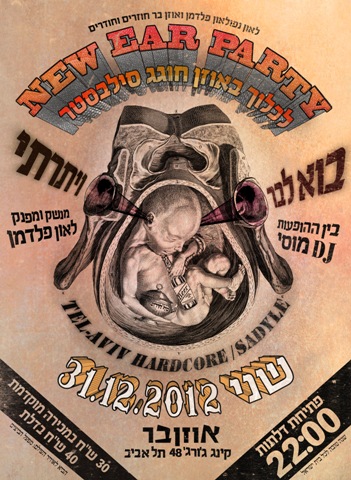 Leon Feldman will be bringing the dirt back to the Ozen Bar for one special night with his line of indie/alternative music Lichluch BaOzen featuring Vitarti, Bo La Bar and Tel Aviv Hardcore – Sadyle. 48 King George Street, Tel Aviv, 21:30. More details here.
Vitarti at the Zimmer

Los Caparos @ Levontin 7, Tel Aviv, 22:30. More details here.

Breakfast Club, 6 Rothschild Street, Tel Aviv. DJ Oren Sarig, DJ Sarit Baruch & DJ Avner Fridman. Doors open 22:30. More details here.
Shesek, 17 Lilienblum Street, Tel Aviv – the Final Countdown with Roy Dotan & Noam Vardi. 03-5169520.
The Squat 157 Salame, Tel Aviv (Central Bus Station Building). Pacotek and Roof Animals. Doors open at 22:30 – entrance free before midnight! More details here.
Radio E.P.G.B. 7 Shadal Street, Tel Aviv. DJ Eyal Rob & DJ Amir Perry. 03-5603636. Check back here for more details.
Bass & Vibes Party, Ravnitzky 7, (near Hamasger) Tel Aviv, 5th floor. DJ Berko (Matan) – Glitch, Bass & Boogie; DJ Itai M – Minimal Deepsco to Funky Bauhouse; Live show by Echo & Tito; Visuals by VJ Dioz. Doors open 22:00. More details here.
Party Country-Western style at Tmuna Theatre with Harochvim  singing new originals and covers from Idan Raichel to Dolly Parton. 8 Soncino Street, Tel Aviv, 03-5611211. Doors open at 22:00.

The Mark Rashkow Blues Band  will be performing at the Shablul Jazz Club, Hangar 13, Port of Tel Aviv. Doors open 21:30/show at 22:30. 03-5461891.
The Block – 1984 – Eurotrash, Europop, 80's Kitch & ItaloDisco night with DJ Tal Argaman, DJ Idan Gavrielle, DJ Keren Dotan & DJ Tsach Zimroni, Shimi Kuberski – Vintage Music. 157 Salame Street, Tel Aviv. Doors open at 22:30. More details here.
"Lose your identity lose your inhibitions" at the Big Bang Masquerade Party, Dizengof Club, Dizengof Square, Tel Aviv. More details here.
Jazz it up with the Trio Millionaires at Cafe Bialik – jazz tribute to Yonatan Geffen's HaKeves HaShisha Asar (the 16th Sheep). 2 Bialik Street, Tel Aviv, 03-6200832. More details here.
The Tziporela Ensemble will perform their hilarious show in a special edition for New Year's Eve at Smolarz Auditorium, Tel Aviv University, Ramat Aviv at 22:00. More details here.

Balkan Beat Box and Riff Cohen will perform at SOHO, 15 Moshe Becker, Rishon LeZion, 03-9658395. Doors open at 21:30, 25+. More details here.
The VIP room at YesPlanet Rishon LeZion  offer their special version of dinner and a movie, with a pre-movie buffet and screenings of The Hobbit (20:15), Life of Pi (21:20), Silver Lining Payback (21:40) and Jack Reacher (21:00). Gather in the foyer at 11:45 for the countdown & champagne toast! 18+ only, plan to arrive 45 minutes before the screening time to enjoy the buffet dinner! 03-6286666.
Dance in the new year with the Jerusalem based  WaKaCHaKa crew whose reggae rhythms will groove at the Avram Bar , 97 Yaffo Street, Jerusalem, 077-445-0701. More details here.

Uganda  is always a venue to consider, they'll be celebrating with Vaadat Charigim, Lili Franko, Ryskinder, Modern Tapes and more. 4 Aristobolus Street, Jerusalem, 02-6236087. 21:30.