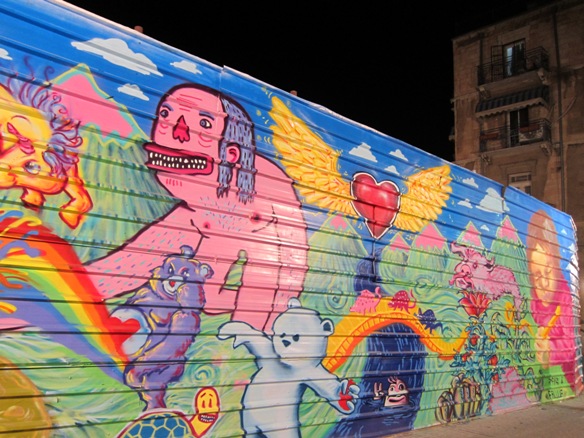 I confess, having spent several winters in Tel Aviv, despite a history of Midwestern winds and below freezing temperatures, I am utterly spoiled, and quite reluctant to leave the cozy warmth of my apartment on winter nights. One of the most endearing and heavily documented human characteristics is the extreme adaptability of the species, and I have become, at least in terms of preferred body temperature, a devout Mediterranean.
Throwing all caution to the wind, I ventured way out of my comfort zone and set off in good company to Jerusalem last Monday night, for the opening of Winter Noise/Shaon Horef – שאון חורף. (jump down to the bottom of page for a flash Hebrew lesson)
What is Shaof Horef?
Now in its second year, Shaon Horef is a project of the Jerusalem Municipality's Young People's Council bringing a new energy and vitality to Jerusalem nightlife during the coldest month of the year, bringing people out to the streets, bars, cafes and restaurants with art exhibitions, lectures, music and more. Taking place in a different neighborhood each Monday night, artistic directors Einat Gomel and Ido Levitt have found many ways to shake off those Monday blues.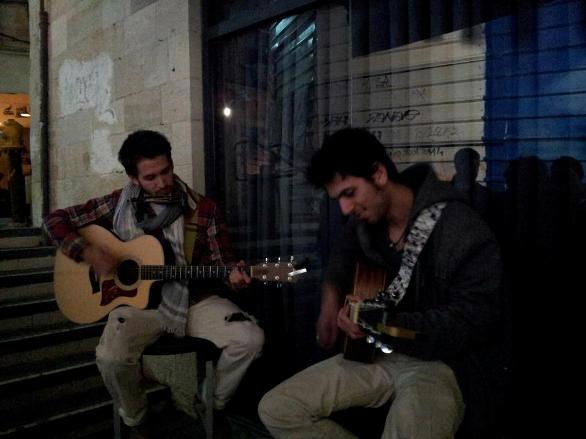 The full list of events is available on the Shaon Horef facebook page, although the information is only given in Hebrew, most events are concentrated in a well-defined area each Monday, (booklets with maps & events marked out are available at all the participating venues) so why not head out to the arena, walk around, see what's on and go with the mood of the moment.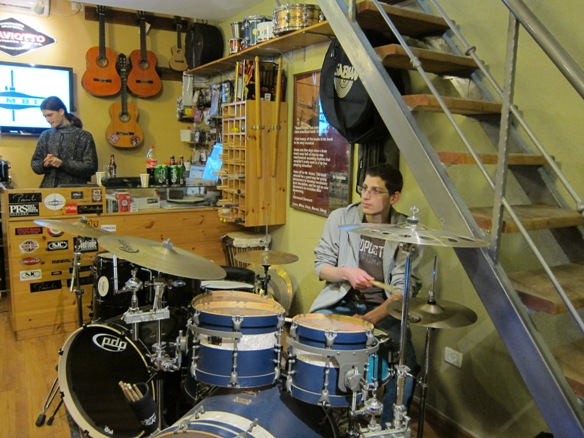 Last Monday's highlights included an intimate master class conducted by Avi Belleli, pre-election hijinks with larger than life projections of Tzipi Livni, Binyamin Netanyahu and Shelly Yechimovich on a wall – and microphones that anyone could use to put words in the politicians' mouths. Art exhibitions and murals colored the night and there was music everywhere – from a jam session at the Drumbite, to the wandering duo of Kali May and Amit Zangi, to Dr. Kaspar's hosting Efrat Gosh.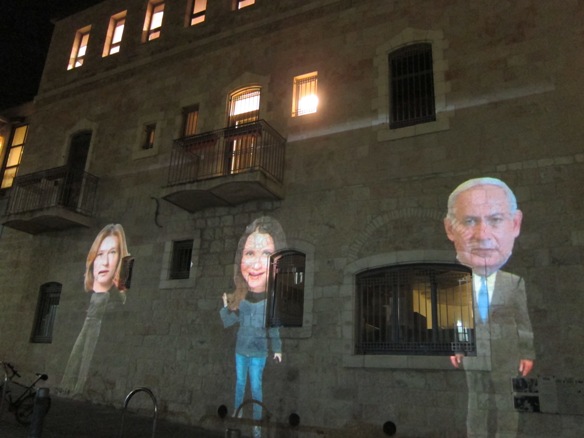 What's up next?
Monday, February 4th – Shlomzion. This Monday takes us to the terrific triangle bounded by Yaffo, Shlomzion and Shlomo HaMelech. Don't miss Bezalel/Yaffo23 with screenings of video art, animation, documentary and indie films, lectures and an exhibit opening; French songs of the 30s and wine on Yanai Street; poetry at Hamarakiya; Drag masterclass followed by a performance at Hamikveh on Shushan Street; and Michal Lotan at Haglen on Shlomzion.
Monday, February 11th – Hillel/Shamai. There'll be lots to see and do between Yoel Moshe Salomon and HaHistadrut. Hillel Street will come alive with street performers, musicians and general mayhem; Poetry Slam at Blaze; Shira Z. Carmel in an homage to Beyonce at Berta; and Geva Alon in a master class at Dublin.
Link to Shaon Horef facebook page here.
Flash Hebrew lesson: There's a nice play on words here, as שעון "Shaon" means clock in Hebrew, and שאון "Seon" means noise, din, hubub, as well as power, potency and other lovely qualities. So set your clocks to winter in Jerusalem and bring on the noise!