The rollicking music that heralds the entrance of Argan (Erez Shafrir), patriarch, miser and hypochondriac is a lively invitation: let the good times roll! And from the moment he rolls in on his fantastic bed – bed tray crowded with pills and elixirs galore, hidden compartments equipped with everything a malingerer's heart desires – the Khan Theatre production of Moliere's The Imaginary Invalid (Le Malade Imaginaire) directed by Udi Ben-Moshe is tremendous fun and a hilarious examination of the more amusing aspects of the human psyche and its maladies.
Obsessed with the minutiae of his health, yet reluctant to pay the bills that accumulate, Argan would like to acquire a doctor as a son-in-law. Written in the latter part of the 17th century, the play might easily describe a contemporary family – from the father who views his daughters as possessions, and blithely plans a marriage for the eldest to further his own comforts, to wife number two Belline (Carmit Mesilati-Kaplan) whose every move is calculated for monetary gain, and the so-called doctors eager to prey on Argan's self-absorption.  While convents and arranged marriages are usually not on the agenda these days, viewing offspring as a means for gratifying and glorifying one's own ego has yet to go out of style, and who among us has not been forced to suppress a laugh, while enduring yet another excruciating exposition from an acquaintance ever on the ready to regale with exquisite details of their ailments, treatments and solipsistic adventures in hypochondria?
Udi Ben-Moshe and Moliere make excellent partners in this romp. The visual and colorfully expressive adaptation makes excellent use of the humorous translation by Nissim Aloni, yet makes its own lively imprint on the play with hilarious and impeccably choreographed slapstick scenes that speak volumes without saying a word. The familiar structure of the comedy, with its distinction between high and low society over-turned as the servants are inevitably wiser than the masters, the misunderstandings and lacunas of knowledge (with the audience always knowing more than everyone on stage) allow everyone to feel comfortable and let out a belly-laugh while looking into the carnival mirror.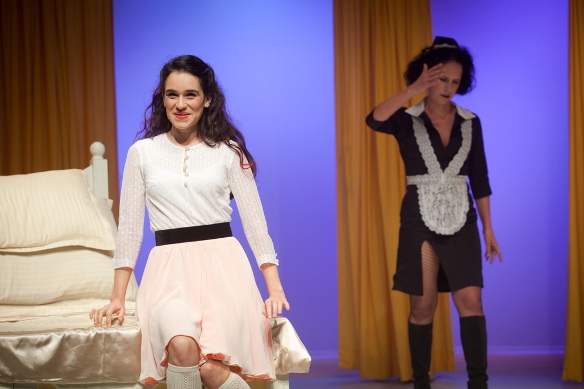 The simple yet effective set, designed by Svetlana Berger enhances the timeless feel of this production, augmented by the costumes designed by Dalia Penn Heller that mix it up deliciously from roaring twenties feel of Argan's silk bathrobe, Toinette's (Irit Pashtan) cheeky maid's uniform and the tailored matching tuxes of Diaforius pere (Nir Ron) and fils (Ariel Wolf), summoning a sense of affluence and aspirations respectively, to the wildly outlandish costumes of widow wanna-be Belline, and the punk-rasta-greaser look of true love Cléante (Itay Zvolon) – a perfect foil to good-girl Angélique (Tamar Alkan) in circa 50s pink circle skirt.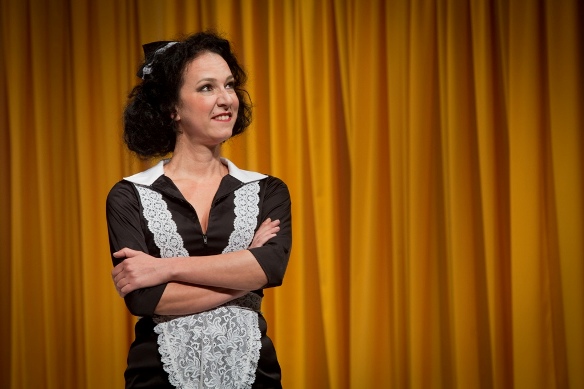 The entire cast is wonderful, yet one wants to take special note of Erez Shafrir who manages to make Argan loveable despite his numerous flaws; the pretentious, simpering perfection of  Nir Ron and Ariel Wolf; the clarity and restraint of Tamar Alkan whose innocence rings true and brings a delightful sweetness to this ingénue role; Gaia Shalita-Katz for her less than innocent and gleefully mischievous pantomime as kid sister Louison; and especially Irit Pashtan, superior servant par excellance, whose every word, look and gesture is pure pleasure.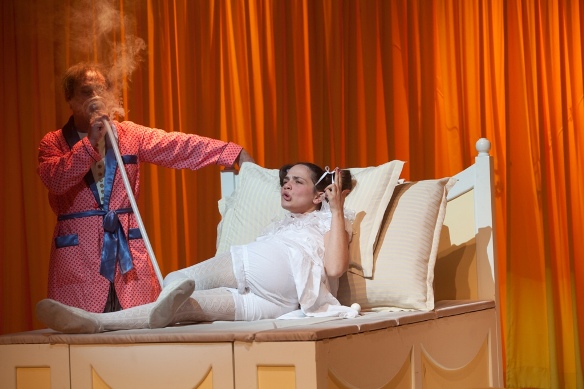 The Imaginary Invalid (Le Malade Imaginaire) by Moliere
Based on the translation by Nissim Aloni
Director: Udi Ben-Moshe
Set Design: Svetlana Berger
Costume Design: Dalia Penn Heller
Music: Ady Cohen
Lighting Design: Roni Cohen
Cast: Erez Shafir, Irit Pashtan, Tamak Alkan, Carmit Mesilati-Kaplan, Itay Zvolon, Nir Ron, Ariel Wolf, Galia Shalita-Katz, Yehoyachin Friedlander, Avi Pnini.