Given the over-representation of gloom and cynicism nowadays, one really shouldn't sneer at good-hearted film-making. But the trouble with good intentions is that they do, at times allow for  a loss of focus.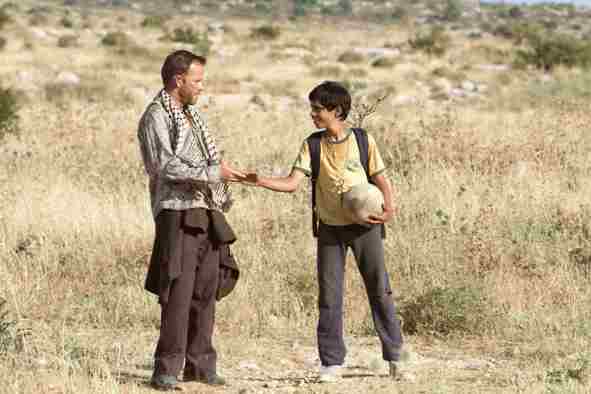 I feel the main problem with Eran Riklis' Zaytoun is one of balance. Not political, mind: Riklis, one of the more politically conscious directors in the Israeli mainstream today, is a scrupulously fair film-maker, and never shies away from exploring the more complicated facets of social and political life in this little corner of the Mediterranean. Rather, it is the question of narrative balance that comes to mind. Zaytoun is very much a film of two halves, which run alongside one another comfortably enough but seem to lack the intermediary force that will bring them together smoothly.
With halves and balance in mind, it's somewhat apt that we meet Zico in the first scenes of the movie. Or rather Fahed, a young Palestinian refugee in a Brazilian No10 shirt, bunking off school to sell chewing gum on the streets of Beirut. It's 1982, 7 years into the interminable civil war that ripped the country apart. Riklis does the right thing, I think, in declining to get bogged down in the geo-political complexities of the period, but concentrating on the immediate: Israeli air strikes, internecine brutality, a brutal matter-of-factness about the dreadful consequences of war.
Despite the unpleasantness of the moment, there is still a carefree insouciance about Fahed, played charmingly by the young Abdallah El Akal (also very effective in the recent Rock the Casbah). But the innocence of the moment is cut brutally short when his father is killed in a air strike. He is orphaned, left just with his grandfather, the olive sapling that his father had tenderly nurtured, and stories of a life that once was, across the border in the country that was once Palestine.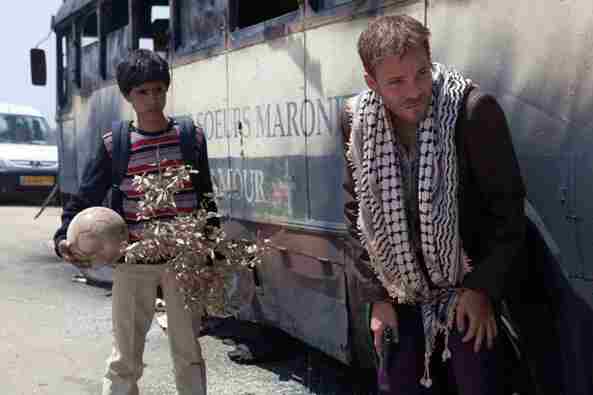 No surprise then that when Yoni, an Israeli pilot crashes his plane and is taken hostage in Fahed's refugee camp, the young boy has no empathy for the pilot's situation. Not that Yoni necessarily invites empathy: his stereotypical swagger isn't exactly designed to endear. The antipathy between the two is unforced: when Yoni uses Fahed as a tool to engineer his escape, the narrative feels authentic.
Here, the film makes the first of two unexpected turns. Fahed latches onto Yoni, much to the latter's displeasure. Whilst in captivity, Yoni spins a story for the young boy about taking him back to his ancestral lands if he would aid in his escape. Now Fahed decides to take him at his word. After trying and failing to make it to the American Embassy, Yoni decides to strike out for Home. But Fahed demands to be taken along to Israel, and to his father's village of Balad al-Sheikh; for his own personal safety as much as anything else, Yoni has no choice but to take him along.
Zaytoun fills the space between an action adventure and a road movie quite plausibly, the unifying factor being that individuals tend to find out more about themselves and their companions when under fire. The alliance between the two is an uneasy one shaped by necessity. But they are both likeable characters, and it is easy to engage with the essential goodness that shapes them and the way they engage with the world.
Zaytoun is not an explicitly political film, but oddly enough I think it is the better for this. Certainly, there is the feeling that even in his more accomplished films – The Syrian Bride, Lemon Tree – Riklis tried to engage with too many "issues" at the same time but couldn't quite do them all justice. That said, to borrow an aphorism from a different context, the personal is always political. The complications of Yoni's and Fahed's worlds are reflected in their guardedness towards one another, but do not define either. There is room for the personal engagement  that develops between the two.
But there is something missing. The second half of the film is a deeply felt meditation on the meaning of home and homeland, and in a different context might have had a deeper resonance. But it is a change in tone and tenor that just doesn't fit alongside the first half: neither better nor worse, just different. And it is in this difference that the film, as a whole, ultimately falls short of its mark.
This is not to say that it is a bad movie. There is much to recommend in it: El Akal is excellent, and Dorff more than credible (despite an Israeli accent that owes more to Johannesburg than Jerusalem). But I think that ultimately, Zaytoun is slightly undone by its good intentions, and to borrow a cliche, is very much a film of two halves. Mind you, one shouldn't gripe too much: flawed as it may be, it is far more palatable than any ideologically-driven alternative.
Zaytoun opens in Israeli theatres on Thursday, April 25, 2013.
Zaytoun/להשאר בחיים (Israel/UK/France, 2012, 110 min, English, Arabic and Hebrew with Hebrew and English subtitles) Directed by Eran Riklis; Produced by Gareth Unwin, Fred Ritzenberg; Starring Stephen Dorff, Abdallah El Akal, Alice Taglioni.