The 8th Tel Aviv International LGBT Film Festival (TLVFest), will open on June 8, 2013 with Snails in the Rain, the debut feature by director Yariv Mozer (The Invisible Men). Set in Tel Aviv of 1989, the film depicts the rupture created in the life of Boaz, a young man who receives obsessive love letters from an anonymous man, leading him to question his sexual identity. The film is based on a short story by Yossi Avni-Levy, first published in The Garden of Dead Trees, and stars Moran Rosenblatt (Lipstikka) and actor/model Yoav Reuveni. Admittance 18+ only.
TLV Fest will take place from June 8 – 17, 2013 at the Tel Aviv Cinematheque, The LGBT Community Center, and in Tel Hai College, with screenings of about 80 features and over 100 shorts.
Premiering at the festival are two documentaries revealing aspects of Israeli life that rarely receive attention onscreen:
Bear With Me, by Orly Buium, produced by Ari Davidovich, provides a closer look at the life of Tel Aviv bears (large and hairy gay men). The world premiere screening is in cooperation with YesDoco.
Undressing Israel: Gays in the Promised Land, a joint production of Yariv Mozer and American-Israeli filmmaker Michal Lucas will hold its national premiere at the festival. Lucas interviews famous Israelis, including Knesset member Nitzan Horowitz, singer/songwriter Ivri Lider, filmmaker Eytan Fox, and others, offering an insider perspective on the gay community in Israel.
Wakefield Poole, dancer, choreographer and pioneer in the gay porn film industry, will be the honored guest of the festival, receiving an award on opening night. Poole's debut film, Boys in the Sand (1971) was a landmark in film history, the first porn film to attract mainstream critical attention, preceding 1972's Deep Throat. The festival will show a retrospective of Poole's films from the 70′s, and a sneak preview of a documentary about Poole's life and work – I Always Said Yes: The Many Lives of Wakefield Poole, by Jim Tushinshinksi, who will be a guest of the festival.
In the spirit of open-minded inclusion, the festival will present a program of five films on straight sexuality (18+ only). The films selected were screened at major international film festivals, and include:
Longing for the Rain, an erotic drama with a social feminist message and daring sexual scenes, which was prohibited from screening by Chinese censors. In the film, a mysterious young man appears in a bored housewife's dreams and fulfills all of her desires.
Il Futuro, a film from Italy, is based on a novella by Roberto Bolaño. A young woman tries to seduce and gain the confidence of a lonely blind man who is a retired Mr. Universe.
Miss Lovely, from India, is an independent a daring film that describes the true and tragic story of the two brothers who made the first, and most famous, porn films in the history of India.
Sexual Chronicles of a French Family, by Pascal Arnold and Jean-Marc Barr depicts three generations of a bourgeois family, all occupied with sexual adventures, and all worried about the youngest son, who does not participate.
Something in the Way is a daring film from Muslim Indonesia. Ahmed is a taxi driver from Jakarta who is addicted to masturbating who falls in love with his prostitute neighbor. His visits to the mosque will lead him down a dangerous path from which he will not be able to return.
A focus on the LGBT community in Muslim countries will include:
Facing Mirrors, by Negar Azarbayjani, about a taxi driver who helps Eddie, a transgender man, to run away from his family. Mixed Kebab, by Guy Lee Thys, is about a Turkish man who falls in love with a Belgian man, despite the objections of his family and community.
Hide and Seek, by Saad Khan and Saadat Munir, was shot secretly in Pakistan and consists of intimate conversations with characters in the GLBT community, as well as dance performances that take place in secret parties at private homes.
Dutch director Chris Belloni, who will be a festival guest, will be represented by two films: I am Gay and Muslim, a documentary that was filmed in Morocco, shows young men who tell of their difficulties living in a country that resists accepting them as they are. Turkish Boat is about the LGBT Turkish community in the Netherland, which starts receiving death threats after they participate in the 2012 Pride parade.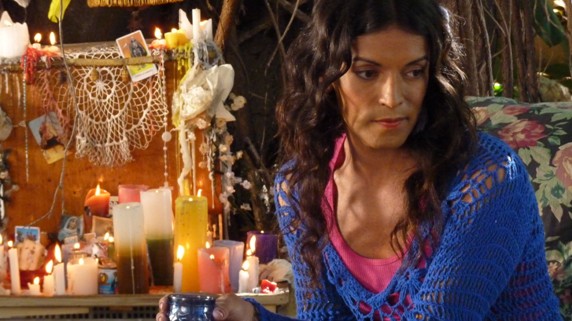 The festival's closing film will be Mia, by Javier Van De Couter, starring the transgender actress Camila Sosa Villada. Ale is a transgender woman who finds a secret diary that leads her to Julia, a girl who lost her mother and lives with her alcoholic father. The film, provides a positive portrayal of the transgender community in Buenos Aires. Mia will be part of the festival's focus on contemporary queer cinema from Argentina, with the cooperation of the Argentinean embassy.
Festival website: http://www.tlvfest.com