Lama Alpaka are four daring and talented actors – Yahav Gal, Amitay Millo, Yuval Cohen and Ilan Popko. Winning the Israeli Improvisation Championship twice in a row, they specialize in what seems to me the scariest kind of improvisation – long form – creating an entire play based on starting cues provided by the audience.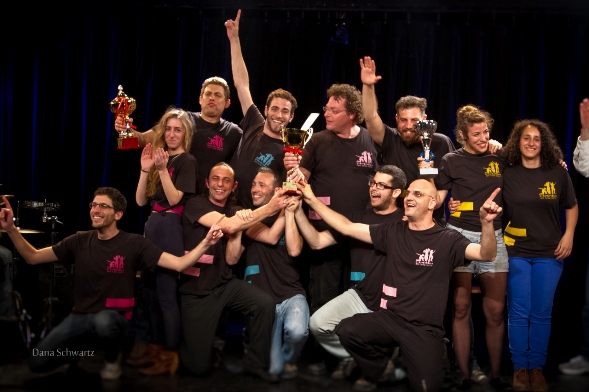 Viewing their full show for the first time at Tzavta on Saturday night, it fun was to see their warm-up crew: Beit Chechi (winners of the Israeli Improvisation Championship in the amateur category) and HaYetziah. These two trios served up snappy improv with a few fast and funny routines. My favorite was the "What Not To Do" series, looking at the possible peccadilloes of a first date, first kiss and the dreaded 'meeting the parents' (hint: don't French kiss your girlfriend's mom). I found the weirdly inappropriate babysitter character of the first sketch quite disturbingly amusing, but the guy who inflated a condom and pulled it over his head in preparation for a first kiss nearly made me fall off my chair.
Ready for Lama Alpaka to show their stuff, I was intrigued by the evening's theme: Erev Banot, or in English: Girl's Night. Ilan Popko played host, announcing their intention to "trust the universe" and ask the audience for key words on which to base their play. Now, I must confess a mild disappointment in the audience, here are their responses: name an annoying male trait – indifference; what excites you in a man – charisma; what does being a woman mean to you – silence; what does women's empowerment mean to you – freedom. Not awful, but not terribly imaginative either, and from this unlikely set of words,  Lama Alpaka commenced to create a play, with each actor to some extent represented by and inspired by one of these terms.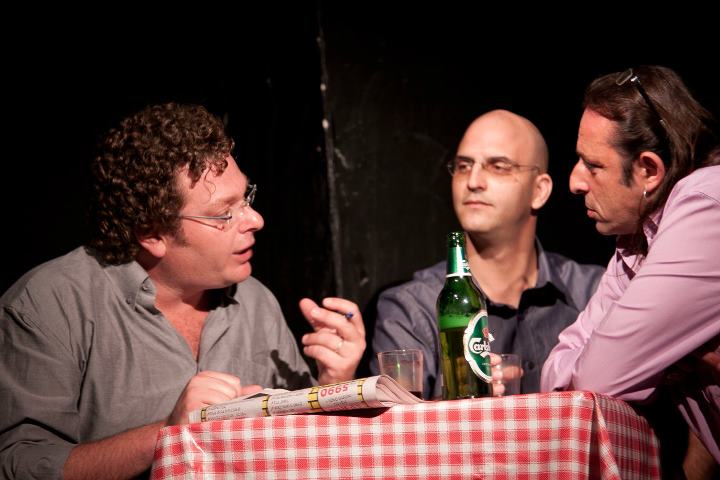 The four intrepid thespians sat around a small table onstage, in character as four friends shooting the breeze about their lives and relationships. It was very tame and I couldn't really see where it might lead, but then suddenly the scene shifted and new characters emerged out of thin air: Rafi (Amitay Millo), a nature enthusiast, and his somewhat dainty girlfriend Shani (Ilan Popko) in their little cabin somewhere in Crow River.
When Rafi peered into the distance with that dreamy look of nature nirvana in his eyes and said, "Look, there's a Znavnam!" it was not only a very funny moment, but the imaginary bird led into a surprisingly intricate plot-line, involving several characters, suspense, humor and sub-plots. The troupe's facial expressions and body language are hilarious and their speedy transitions from one character to another add to the fun. It's very impressive to see what this quartet can accomplish, given very little to go on, and all invented on-stage in real time.  Kudos are also in order for Boris Martzinovsky (music), Stav Ben Shahar (effects), and lighting crew, who all have to be speedy verging on psychic in their responses.
One of my favorite characters was Avivit, a park ranger of sorts who rode in on her motorcycle to serve the hapless Rafi with a fine for building a cabin without a permit and was a great champion of women's empowerment, singing to the very girly Shani: Don't sell yourself cheap. Rafi conspired with the Professor (Yuval Cohen), a rather formal guy  with a German accent who has a predilection for going incognito as a rabbit, to siphon off funds from another project to further their own research.
Meanwhile, secret agent Samsonov (Ilan Popko) tries to get ex-agent Benny (Yahav Gal) – who now devotes himself to air basketball with prowess worthy of a Harlem Globetrotter – to enlist in the cause. The plot thickened as the scene shifted to an army base, all through the power of words, intonation, and body language, with two commanders (Amitay Millo and Yuval Cohen) giving the troops their instructions.
To this crazy mix add three women lost in the great outdoors (Yahav Gal, Amitay Millo, Ilan Popko), looking for a Vipassana meditation workshop, enter the Professor incognito as a rabbit once more, and the heroically funny Avivit.
It was woman-power all the way as the three Vipassana seekers all got on Avivit's bike and rode to her secret hide-out. A few more plot twists and turns saw the story to its conclusion,  and the rare Znavnam was saved from extinction!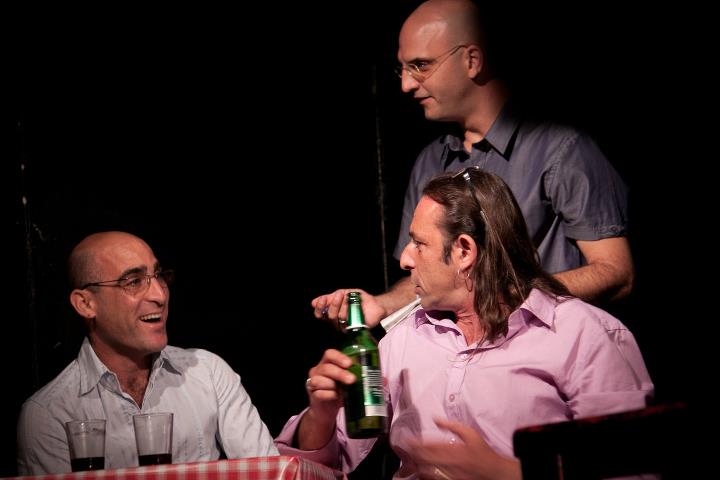 Lama Alpaka perform regularly at Tzavta, check their website and facebook page for future dates.
The photos by Dana Schwartz are not from the performance I saw, but reflect the table scene, which appears to be a regular element in the act, and possibly holds a key to the ultimate question: How do they do it?