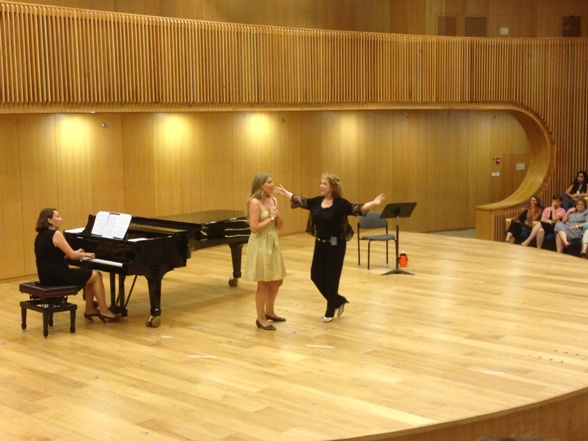 Over the past two weeks, Tel Aviv has become home to a handful of musicians who may soon become household names. Budding opera singers from around the world have assembled within the newly-renovated walls of the Tel Aviv Conservatory of Music, to learn the tricks of the trade from a talented staff of coaches, directors and musicians. Every evening they've given us, the audience, an intimate look into the process of creating an operatic performance. As of this week, you can come and see the finished product: three concerts and three operas, all performed by the young artists of the International Summer Opera Program.
Master classes are a serious business. In an industry no less competitive than that of Hollywood, every tiny detail counts. Even a relatively well-sung piece must be polished to perfection. Enter the staff of the International Vocal Arts Institute (IVAI): with patience and skill they will explain and practice each note of an aria or a scene until the singer can perform it flawlessly. A few comments here, a question or two there, and behold, a transformation – the singer becomes the character, the music and the words flow naturally, and even the most difficult notes are handled with ease.
Joan Dornemann has been training singers for decades; she's worked with the greatest stars of opera yesterday and today – Montserrat Caballé, Mirella Freni, and Sherrill Milnes are only some of the names on her résumé. A singer can deliver an aria well, but with Joan's advice it becomes world-class. Suddenly a note that was strained becomes smooth as silk, a phrase that left the singer breathless becomes easy to carry out, and a voice that seemed diminished shines. Characterization is important as well as technique: working with one soprano on the Jewel Song from Faust, Ms. Dornemann hands the soprano her own ring in order to emphasize and act out Marguerite's excitement. She also delves into the different approaches to the art of singing and to operatic history: one singer's performance brought on a discussion about the changing opinions on the use of portamento.
Hemdi Kfir hails from Tel Aviv and is now the language coach for both the Israel Opera and the Met. She worked with the singers on French, Italian and German diction – which becomes a much more difficult hurdle when you're also singing high notes – and also paid attention to the character being portrayed. Each singer had to explain the aria in his or her native tongue – we heard "Signore, ascolta" retold in Spanish and "Deh, vieni, non tardar" in Japanese.
In John Norris' master class, each singer delves into the depth of his or her character and breathes new life into the aria. Is Micaëla brave or afraid when she sings "Je dis que rien ne m'épouvante"? When does Macduff go from grief to rage in "Ah, la paterna mano"? What is Tamino thinking when he sings his Act I aria, "Dies Bildnis ist bezaubernd schön"? For Tamino, Norris transported Tamino into modern times and reimagined as a young man telling his best friend about Pamina's portrait – on his iPhone. In the recitative to "Smanie implacabili" (Mozart's Così fan tutte), Norris brings out the angry teenager in Dorabella: she kicks off her shoes and then throws herself to the floor in a temper tantrum.
Coming up next:
Two Mozart events are planned for the next half of the program. Tomorrow, July 16, will be a "Mozart Potpourri" concert featuring some of the composer's rare and lesser-known works. Discover a new side to the Mozart you love, and later this month, enjoy the classic comedy Le Nozze di Figaro, which will be performed July 21 and July 23.
Another concert, "Russian Romantics", hosted by soprano Ljuba Kazarnovskaya (who also gave an interesting master class this week) will be held on July 17, and a concert of love songs in several languages will take place the 18th.
At Joan Dornemann's master class on July 8th, we were treated to a short scene from Carlisle Floyd opera Susannah, to be performed later this month by the IVAI singers (July 20, July 22). This is considered the quintessential American opera: set in the 1950s, it is a retelling of the apocryphal story of Susannah and the Elders.
The last performance before the gala will be L'Enfant èt les Sortileges (The Child and the Spells), composed by Maurice Ravel with a libretto by Colette. It's a sweet story with complex music, which blends different styles in classical music history. This opera is considered difficult to stage and perform and is not performed often, but if the short preview given at Joan Dornemann's master class is any indication, it'll be a treat.
As every year, the program will conclude the season with a gala at the Tel Aviv Performing Arts Center, July 25. You'll see and hear the singers who will soon grace the stages of opera houses worldwide. They'll perform familiar and not-so-familiar works in a recital conducted by Paul Nadler, co-founder of IVAI.
The three concerts and three operas will be performed on the following dates:
16.7        20:00 Concert    Mozart Potpourri
17.7        20:00 Concert    Russian Romantics
18.7        20:00 Concert    Love makes the world go around
20.7, 22.7    21:00 Opera    Susannah –  Floyd
21.7, 23.7       20:00 Opera    Le Nozze di Figaro – Mozart
24.7        20:00 Opera    L'Enfant èt les Sortileges – Ravel
25.7        20:00 Concert    Gala Concert at TAPAC
For the complete schedule click here.
For ticket information click here.