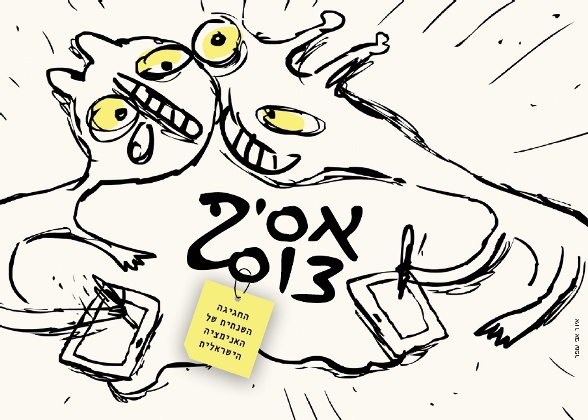 Asif 2013 – a day devoted to Israeli animation, took place on August 12, 2013, jointly presented by the Israeli chapter of Asifa (Association Internationale du Film d'Animation) and Animix, the International Animation, Comics and Caricature Festival. Asif means harvest in Hebrew, and the harvest of Israeli animated films reveals diverse themes, approaches and techniques in both personal and commercial projects.
It is also a day to recognize achievements, and following prizes were awarded:
The Gross Prize for Excellence in Animation 2013 was awarded to Mysh Rozonov
2013 Asif Award for Best Independent Film: Hollow Land by Michelle and Uri Kranot.
The jury commended the film for its "clear and original visual language, in which Michelle and Uri Kranot created a poetic film that is both humorous and sad. It is a very personal story, very Israeli, and yet cosmopolitan. Like its protagonists, the film itself began in development in Israel and set out to wander. The exceptional production quality, the original story and uncompromising visual force in an independent film – the jury has chosen to award Hollow Land first place in the independent film category."

Honorable mention was awarded to two films:
Feet in the Water, Head in the Movies by Avi Ofer

Feet in the Water, Head in the Movies by aviofer
Toranut Shmira (Guard Duty) by Ma'ayan Zuriel and Yasca Mayo for Beit Avi Chai

The Asif Award for Best Music Clip was awarded to Kingdom Crumbs – Evoking Spirits by Ori Toor
The Asif Award for Best Commissioned or Commercial Film was awarded to Merav and Yuval Natan for "Kidum – Hachi Mitkadmim BaPsychometri" (Yehoshua Advertising)
Honorable Mention was awarded to Nir ve Gali for Shana Tova
The Asif Award for Best Animation for Children was awarded to Milmulim by Sharon Gazit, Pil Animation for Channel One – Children and Youth Department
The Asif Award for Best Student Film, in memory of Tal Yacobson, was awarded to Slipping Away by Adi Brodsly, The School for Visual Theatre

Second Place was awarded to YES/NO by Ofer Winter, Bezalel

Honorable Mention was awarded to Reflections by Bosmat Agiuf and Alon Ziv, Bezalel and Cafe Babel by Michal Rabinovich and Dafna Ben Ami, Bezalel
The Asif jury for 2013: Ayala Sharot, Barak Drori, Noam Meshulam, Pablo Utin, Sara Hatucha. The Asif jury for student films 2013: Avi Ofer, Olga Goltzer, Yoni Shalmon, Yonatan Tzur, Anat Kosti.