It is what we have all experienced, and remains within us, inscribed in memory, its echoes reverberating in our daily lives, and yet remains so difficult to touch and convey, distorted by time, desire, nostalgia: childhood. A palimpsest of memory and forgetfulness, the elusive details repeated and reflected in multiple narratives, it is a landscape at once familiar and undiscovered, much explored, yet always somehow out of reach. The representation of childhood in literature, on stage and screen all too often offers up a false image, a pose or pretense of childhood. It is difficult to access the authentic experience, and it is dangerous.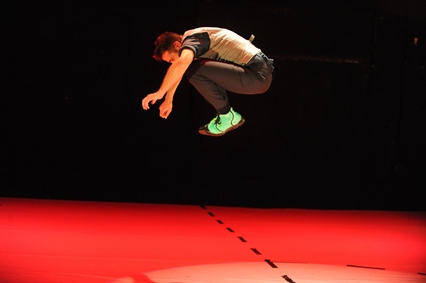 To remember fully would mean to venture into that realm unprotected, to risk losing some of our cherished assumptions, to relinquish the comforting illusions we have created. Yet when some brave individual dares undertake the journey, and describe it, becoming a guide to the paradise and inferno that is childhood, we are quick to recognize the place. Reading Harper Lee's To Kill a Mockingbird or Marilynne Robinson's Housekeeping, the narrative voice emerges from a place so familiar one might mistake it for one's own, a voice so true it cuts through layer upon layer of denial and illusion. The farther you go, the harder it gets. Few writers can recreate the sense of early childhood. Poetry, with its associations, images and wordplay, often works better than prose, and the stage presents the greatest challenge.
David Grossman is a writer who has listened closely to the voices of children, bringing news of that other land in his novels such as The Zig Zag Kid (1994), and Someone to Run With (2000), and speaking directly to children in his picture books. In Gan Riki, (translated as Riki's Playgroup) David Grossman presents two days in the life of a group of four year olds, a feat of the imagination that is transformed into a riveting emotional experience in the Theater Can production directed by Shlomo Plessner.
Gan Riki captures the feeling of the playground, a world of children in every sense, as Riki, the teacher-adult in charge, is significant in her absence. The entire play takes place over the course of two days, as the children talk, play, explore, fight and reveal the complex psychological geography of childhood. An adult actor playing a four year old is the ultimate test of suspension of disbelief: with the undeniable presence of the adult body before at all times, how can we believe in the child?  It helps if the script is as well-written and painfully precise as Grossman's, but the burden of proof is on the director and actors.
Few things are as annoying as watching an actor onstage "pretending" to be someone's notion of a child, and few things can as reliably make me lose my interest in a play. Gan Riki had my rapt attention from beginning to end, there was no question of belief: I was there. Plessner has made some very wise choices here, all supported by an able cast.
Play and performance would appear to work from the underlying assumption that children are humans, just like us. The costumes are not particularly child-like, resembling everyday clothes, which is what children wear these days. Yet evoking the feel of the ordinary, the nuances reflect character and hierarchy in the playgroup. Queen of this court Ifat (Odelia Segal) is knowing and regal in a princess blue dress, while significantly lower on the social scale Anat (Chantal Cohen) is carefully costumed in a skirt that is just a bit too full and long, a cardigan that looks like it belonged to someone else first.
The voice work is impeccable, quite unencumbered by pretense. It felt very natural, delivered in a neutral register that was accompanied by a body language (kudos here to Ronit Ziv) that embraced the freedom and energy of young children, to the rhythms of an original soundtrack composed by Alberto Shwartz. There is no pretense at creating an illusion of reality. The actors onstage at once acknowledge their presence as adults, and at the same time, were, without a doubt, four year olds. Living in the moment, a life in which body and mind work in unison, imagination and reality are so close as to be almost the same. It's a time in which everything is possible, as the heroic good boy Dan (Gal Pfertziger) calls out exultantly: "I'm the horse and the knight."  It's a time in which everything is determined from above, by parents and teachers, who define reality with its pleasures and pain, seemingly at their whim.
The close affinity of admiration and fear; the bartering for attention and affection; the sudden shifts of mood and balance of power; the significance attached to outward symbols of status – size, strength, and wardrobe; the palpable fear; the joys of invention and discovery; the physical exuberance: We have all been there, we recognize the place and the moment, we recognize ourselves.
Theater Can was founded by director Shlomo Plessner and playwright Ido Bornstein. Their production of Gan Riki was performed on Monday, October 7, 2013 as part of Tmuna Theatre's October Festival, showcasing the creative work of selected directors and choreographers, pushing boundaries and exploring new artistic directions.
Gan Riki by David Grossman; directed by Shlomo Plessner; artistic advisor: Ido Bornstein; choreography: Ronit Ziv; music: Alberto Shwartz; set and costumes: Aya Tzeiger; lighting: Keren Granek; assistant director: Danit Gold; line producer: Michal Noiman; cast: Shay Egozi, Talya Menashe, Esti Zackheim, Chantal Cohen, Hai Maor, Nadav Nir, Odelia Segal, Gal Pfertziger, Rami Kashi.