What begins in the mind of an individual as a dream, a musical phrase, image or story, is brought to life on the stage thanks to the collaboration of many people. At the Israeli Opera, Byeager Blackwell Seelig, Head of Productions, puts it all together and finds a way to make the dream come true, even if it involves finding a way to have child acrobats dance in mid-air, as will take place in The Child Dreams, a newly commissioned opera, premiering January 18th. The opera is based on the play by Hanoch Levin, directed by Omri Nitzan, composed by Gil Shohat, conducted by David Stern, the Israeli Opera's Music Director, with a libretto arranged by Nitzan and Shohat, set design and costumes by Gottfried Helnwein. In anticipation of The Child Dreams, Midnight East spoke with Seelig about the drama of the opera behind the opera.
Ayelet Dekel: A project like The Child Dreams, a newly commissioned opera, must be a very different undertaking.
Byeager Blackwell Seelig: It's extremely exciting to see something conceived from ground zero from the beginning. It's something that all the staff; everybody can get their hands into. And normally in newly conceived pieces there is truly a collaboration between the creators, the artistic team, the production team the technical team and I'm very fortunate to have a role that's right in the middle so I'm touching a little bit of everything.
Not to say that I don't have my paper work and my computer work but basically I have one of the only positions in the organization that you have a combination of both, you are an administrator plus very hands on and work very closely with the creators.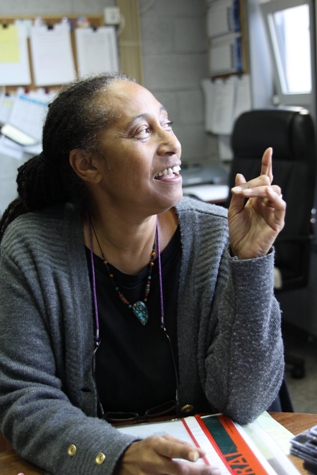 AD: This opera has been about 4 years in the making; at what stage are you involved in the process?
BBS: I came in around the second year, because by then Gil had at least a draft of the composition, there was a draft of the libretto, because at that point we need to put designers in place. In this particular case there is a key designer his name is Gottfried Helnwein, and Hana [Hana Munitz, General Director of the Israeli Opera] had a brilliant idea because of the types of work Gottfried does as a visual artist it seems as though he was a soul mate of Hanoch Levin. After I read The Child Dreams, I said – WOW, this is Gottfried, he says the same thing in his paintings.
Hana was deeply inside at that point. Hana and Michael [Michael Eisenstadt, Artistic Director of the Israeli Opera] were totally absorbed in it. Once the piece was starting to be composed, she was already thinking design wise.
Once a designer is in place I'm usually in place at that point. What I try to do, what I have to do, is immediately have Omri and Gottfried meet. I have to find a wonderful balance where these two people who live on opposite sides of the world – we have to get them to meet and start those initial conversations. Gottfried did have some initial ideas, but you never know, whether that collaboration will is going to be a complete marriage in the beginning. It's very difficult when one is in Israel and the other is in the US or anywhere else. They're not with each other 24 hours a day. But lucky for us, there was a marriage immediately. And they talked privately for a while and every now and then I'll pop in, I don't want to intrude because they do have to have that time to get to know each other to speak same artistic language.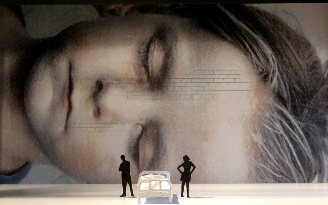 We brought Gottfried in the first time he spent about a week they just talked and talked and talked and Gottfried would draw little sketches as they talked. We knew that another meeting had to happen so we sent Omri to Gottfried, I did not join. We knew that Gottfried would have sketches so I sent someone who could do a miniature model while they speak.
I wasn't part of that meeting and it's usually a good thing. I was in touch by telephone. The assistant would call me periodically and say: You know they're thinking about hanging 50 children in the last act… and that's something that I need to know right away because I needed to talk with our technical director right away and see is this at all a possibility or should I tell them to stop, think again. Also we want to tour, so I knew tour-wise this may present a problem.
I remember I spoke with both Omri and Gottfried immediately and said, even if we can do this on our stage it presents a problem in the future of the piece and they both understood. And I said you have to start thinking of an alternative immediately.
But that's what's interesting, that's what's challenging about a newly commissioned piece, because you are going to have many different obstacles, I wouldn't even call it obstacles you have many ideas some you can implement, some you cannot. And some, like with the hanging children, it took us quite a few months to figure out how this could really happen. I love a process happening…
AD: Is it really going to happen?
 
BBS: these children are not just hanging, but, they will do acrobatic dance in the sky.
AD: Wow!
BBS: It should be a big wow actually if it turns out how we think… Ok, let's forget technicalities of hanging children, you want acrobatic dance in the sky, well, we knew we need a choreographer. So we went through a major search for a choreographer because a that time Omri said not only do I want these children to dance in the sky I want to have extras adults acrobats on the ground that will do things during the different scenes but in a choreographically acrobatic way. So this was a biggie and we had to think because it's not just choreography we had to use the skills of the acrobats. Gottfried had worked with this guy who is indeed an acrobatic choreographer so we brought him on board. 
By the way, we're not going to have 50 (children) because budgetarily we had to reduce. That's another thing on newly commissioned pieces on the artistic side, on the technical side – there have to be compromises because your imagination can go just completely wild.
Where will we rehearse these children all hanging at the same time? Ok, another piece of luck – The Holon Municipality has a sports association and they have trained children – gymnasts, acrobats, etc, who in fact have gone out to do world competitions and they've gotten awards and we had worked with these children in a past production of Pagliacci, so we had that contact. The Holon people were wonderful, they were more than interested.
We were concerned about well, children do not, they don't usually hang. They do their thing on the floor, and these children had to hang at least 20 – 25 minutes. And that's a difficult thing that means they have to have training before they even go into rehearsal.
It's a whole different ball game. They have to be trained to hang. We had to go through another step. Safety. So we had to have three engineers come in and say whether our system for hanging children was safe, would they sign off on it.
Well we finally came up with a solution for how they can hang. These things have to be produced, they have to be manufactured. They have to be all made, then taken to Holon and in their sports auditorium we have to help with reinforcing their grid system that has to be signed off with an engineer.
And we found out during that process that oh – we're probably talking about several rehearsal spaces because our space is not so very high. Omri discovered we need other little things. He knew that he needed an acting child as a soloist, not a singing soloist, but an actor for the piece because the child is actually played by professional singers.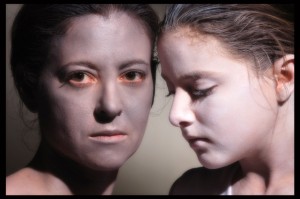 I'm an information base. When people need information, I'm their source.
I can help them know when things are needed, how they are needed, what is needed. Sometimes I have to even interpret for them what I understand the director or the designers really need. Sometimes I can also assess – it's merely an idea, don't jump on it yet, it's merely an idea. That's a gray area and I have to be very careful, that's what years of experience have taught me.
AD: You've been at the opera for many years, almost since the beginning.
BBS: The opera is in its 25th year, I've gone into my 20th year. I can smell when it's an idea, and I can smell when something is very, very important to the creator or director. Like I know that the hanging children that was an important element and I knew that  it was going to be difficult to put in place but that was something that I always pushed because I knew that it was going to be very important. It was one of their very first ideas, one of the ideas they both believed in immediately, and that's why I knew that I had to push it.
I had to go back to the libretto I have to justify things.
AD: You are a kind of advocate…
BBS: I'm an advocate on both sides. In the same breath I may not have believed in it.
Or the organization may not have believed in it and I would have had to convince both the director and the designer in any way possible that this was not a good idea. This happens more often than not, because of a budgetary question.
 
There was one point around the third meeting, while we were taking each scene apart and trying to cost it and see what it all meant and at that point I was thinking: this will not fly. But… as you take things apart and as you decide, this doesn't have to be 6 meters it can be 4 meters…
There's a ship in one of the scenes, and there's an island, a big rock. The ship changed its design several times; it changed what it could do. The rock became a different size, different configuration; it changed the materials that it would be made from.
AD: You can take The Child Dreams on the road in its current design?
BBS: Without children hanging  – in some places it could. And they do have an alternative, which I won't say what it is, for the hanging children.
We didn't even talk about lighting. Lighting comes so late so late in the game, it's last.
By the time we get to the stage – we know what's happening with the set, we know what's happening with the costumes, we've probably solved most of the problems in those areas, but here comes the lights and they start…[she laughs].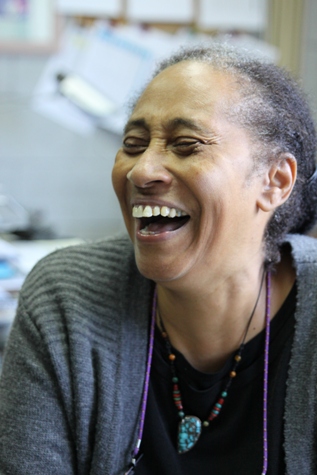 Sometimes I'm looking at things and thinking: I wish I could see what I'm looking at…its too dark. Lighting designers and directors – they love darkness on the stage. I don't get it. I don't have problems with the set designer or the costume designer because they want their things lit. But the director and the lighting designer – Don't they see the same thing that we see in the audience? We can't see!
We really have a thing in the opera now because we've done so many dark shows.
We want to see their faces we want to see what's going on.
AD: Do you see that as a trend? I've noticed it in dance, not in the opera; I've actually felt that you are very well lit…
BBS: Say that…
AD: In dance I've noticed a trend…
BBS: Yes, yes, yes, and that is annoying. It's fashionable but I just don't get it if you don't see it, if we can't understand what's happening, how the hell are we going to enjoy it? And I think if the choreographer is trying to make a statement – if we don't see it, if we don't understand what is going on, the statement was lost. Yes, it's a trend, an annoying one.
AD: What about outside production that come to the Israeli Opera?
BBS: You have to keep the same momentum; you have to keep the same energy. It's a different challenge; we have to make sure it looks good on our stage.
AD: How much leeway do you have to make changes?
BBS: Enough to make it presentable. And we are studying these productions in advance. I'm working two years in advance, Hannah's working 4 – 5 years in advance. She would love me to catch up with her, but I can't. I would feel wonderful if I could be three years up. I haven't gotten there yet.
AD: What kinds of changes have you had to introduce?
BBS: We had a production at Pesach and they there's a scene with bread on stage,
I think it was Rake's Progress. There was bread onstage; real bread and we knew we had to discuss that. The director said – but this is the piece…and we had to explain – this is Pesach. 
I was told even fake bread may be offensive because maybe everyone wouldn't realize it was fake bread, so we came up with matzah.
AD: What did it look like?
BBS: It took us a while to get it to look like bread. We knew it was matzah.
AD: That's a very bizarre Israeli situation.
BSS: I had situations here I guess I would never have anyplace else.
It's fabulous. I always said, work a few years in Israel and you can come up with solutions for anything. It's exciting.
[I have to tell directors] No we do not rehearse on Friday evening. They look at me like I'm crazy. And they used to say to me – but we work on Christmas in America.
AD: But the American religion is the work ethic.
BBS: You bury someone, you go back to work. What do you mean you won't be here!
You're going to be out for a week now. It's a different culture.
I did learn here that anything can wait, we didn't lose a beat. It's amazing how I thought so differently before. Nothing happened because we weren't here, or that the Israeli singer is not here for a week.
AD: Do you think there is something about working within constraints that fosters creativity?
BBS: I think it makes us absolutely more creative. Sometimes people get stuck and they say no before they say yes but once you have that conversation and they start thinking…the ideas that come out, you know?
There are directors who tell me that there are things that they have done here that they would never be able to do anywhere else. All directors want to come back to Israel because people rally to the cause and when we have to make exceptions to the rule, we make exceptions to the rule.
Boy, do I love it though…
The first day on stage when that orchestra begins… I love the staging of opera.
 
The Child Dreams
The Israeli Opera, 19 Shaul Hamelech Blvd., Tel Aviv
Performances:
January 18, 20, 23, 25 & 27 at 20:00
January 22 at 13:00
Information: 03-6927777, www.israel-opera.co.il
Towards Opening
Saturday, January 16 at 11:00
A selection of songs from "The Child Dreams" and discussion with some of the soloists and creators of the opera, presented by Michael Eisenstadt
Before the Show – back stage tours an hour before the performance
January 20, 23 and 25  at 19:00
Opera Talkback
Post-performance discussions with selected participants in the opera
January 20, 22, 23, 25 & 27
Pre-Show Lecture
There will be an introductory lecture one hour preceding each performance.