The Book Thief's Israeli premiere took place last night in the presence of director Brian Percival, producer Karen Rosenfelt and the film's bright young star Sophie Nélisse. Earlier in the day, the three took time out to chat with journalists in Tel Aviv, where the 13 year old Canadian actor not only charmed me with her poise, candor, intelligence and warmth, but also informed my perspective on the film.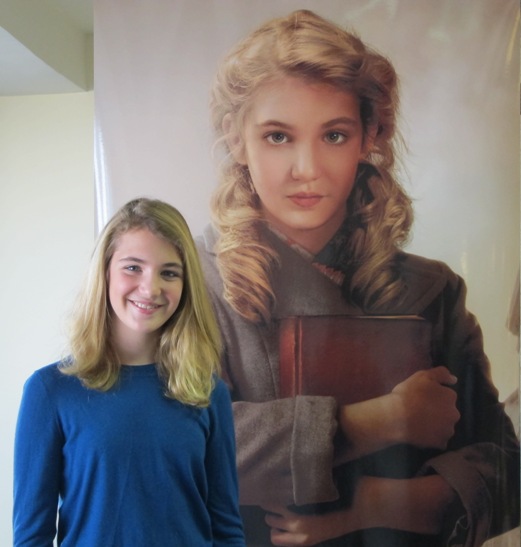 Based on the novel by Markus Zusak, The Book Thief follows the story of Liesel Meminger (Sophie Nélisse) through the turbulent war years in Germany. Liesel's destitute and desperate mother can no longer care for her, and she is sent to live with foster parents: Hans (Geoffrey Rush) Hubermann, a genial, mostly out of work painter, who plays the accordion, and Rosa (Emily Watson), a dour, sour, plain-spoken woman who supports the family by taking in laundry. Although she is about ten years old when she moves in with the Hubermanns on Himmel Street, she does not know how to read, and Hans takes on the task of teaching her. By the film's end, the feisty Liesel has learned much, and survived more than one would want a sixteen year old to have endured.
The Book Thief describes the experience of World War II from the perspective of working class Germans in a small town. Like the novel, it is narrated by Death (Roger Allman), yet the focus is always on Sophie, and in that sense, the point of view that is conveyed is closer to that of a young girl, imbued with a certain naiveté. Some of the harsher realities of WWII are beyond the scope of the film, and some events are portrayed in a gentler version. Despite the overwhelming sadness of it all, ultimately, I felt that the tone is one of optimism; perhaps too optimistic in relation to the historical events.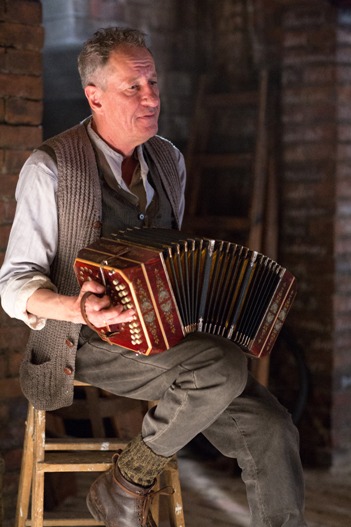 Yet, is this optimism such a terrible thing? I think it really depends on the audience. Director Brian Percival made it clear that in this film his intention is to address a young audience, one that is not necessarily informed by history.
"Quite unashamedly," said Percival at the press meeting, "I wanted the film to be populist and accessible because I felt that people who go and see films like Schindler's List and The Pianist already know what happened at that time. I wanted to make a film that was accessible to 13 year olds. I wanted to attract a younger audience and to make them aware of what went on… to allow the audience to discover what happened."
A 13 year old who likes movies and sports, Canadian actor Sophie Nélisse may be viewed as representing the film's target audience, although with roles in two feature films (Monsieur Lazhar 2011 ) to her credit, and one in the works (Pawn Sacrifice), perhaps more worldly-wise than most.
"I went to see the movie with my best friend, with my hockey team, with a lot of people," Sophie recalled, "and most of them during the whole movie they were like: why are they doing this to the Jews? and what's happening now? And that really showed me how people my age don't really know about what happened. And it's weird because I just answer first of all, look at the movie! And they just keep asking me these questions and it's really annoying, so I say 'just watch the movie, maybe you'll understand a bit more' and then I say 'go on Google and then you can search.' And then most of them did their own research."
Sophie said that she first learned about the Holocaust in sixth grade, "I read a book called Anna's suitcase. We learned about it in class a little bit. We watched a movie and read the whole book and did some exercises, and then we never learned about it again. I think we're going to learn about it when I get older,  like in 9th or 10th grade but I learned a lot just during the movie."
To prepare for her role, director Percival suggested several films for Sophie, and she watched: Schindler's List, The Boy in the Striped Pajamas, Life is Beautiful, The Reader, and The Pianist. Some of these have content that is quite weighty and perhaps a bit harsh (I'm thinking of The Reader) for a 13 year old to absorb. Then, making the film was an education in itself.
"Shooting in Berlin was really nice," said Sophie, "because you can go and see the Berlin Wall and then everywhere you go there's posters and walls telling you stories about what happened."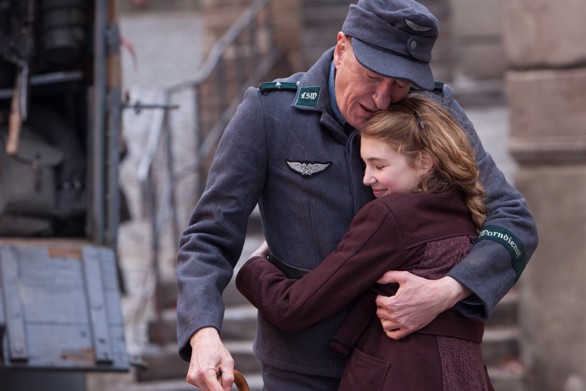 Growing up in Israel, or in Berlin for that matter, one is always aware of the Holocaust and World War II, education and environment providing one with documentation and testimony. Yet that is not the case for most children growing up in other parts of the world. As Percival noted, " I was really quite surprised when we started casting, when we started looking for our Liesel, just how many children or teenagers how little they knew, if anything at all, about what went on at that time."
It was even more surprising to learn, given her initial lack of knowledge, that Sophie has a direct connection to this traumatic history, which she discovered in the course of making the film.
"My Grandmother was born during WWII," Sophie recounted, "during the movie she told me a lot of stories about how it went and I think her grandfather and her great grandfather went in German concentration camps. Then she told me how her mom told her – and then she told me, and then I'm going to tell it to my children – she told me how they were sometimes hiding some Germans that didn't want to fight because they had this little farm, so they would go and hide them, and then one day these Germans just came and shot every soldier that was hiding in the house they just came and shot every one and left. And also my grandfather, he was in concentration camps, not German ones, but other ones, and he told me a little bit about his experience, but it was mostly my grandmother because my grandfather just cries every time."
The passage of time means that the generation of children now entering school are far less likely to encounter someone who survived the Holocaust; their own future children simply will not. The vast amount of materials will still be available, yet what will be the spur to read further, to investigate and learn about something so far removed from one's own life?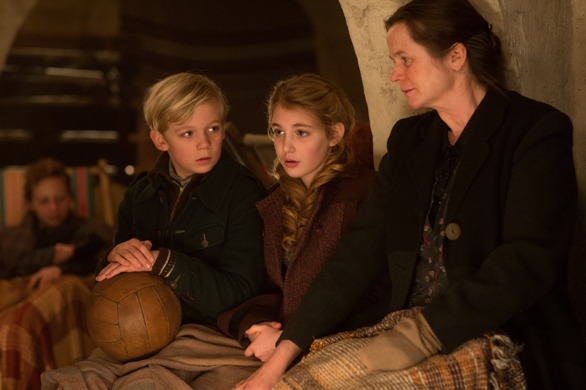 Perhaps a film that tells a story that is ultimately a hopeful one, about a girl who begins in ignorance and illiteracy, yet has the inner strength and will to learn, grow and thrive, a girl who despite difficulty receives the love and support she needs, and in turn helps others, may offer an entry point for young people because it is relatively optimistic.
As for Sophie Nélisse, she lights up the room with her presence, she is refreshingly direct and open in conversation, and displays an astonishing degree of common sense which should stand her in good stead in future years.
Looking towards the future, asked whether she would to win an Oscar one day, Sophie replied, "Well, I don't know actually any actors who don't want to win an Oscar. I think anybody that's an actor wants to win an Oscar. Yeah, I want to win an Oscar, but I want to win and I want to deserve it… if I win it I want to do like a great performance, not to get it just because of popularity."
The Book Thief (USA 2013, 131 min, English and German with Hebrew subtitles)
Director: Brian Percival; Screenplay: Michael Petroni, based on the novel by Markus Zusak; Cinematography: Florian Ballhaus; Editing" John Wilson; Music: John Williams; Producers: Karen Rosenfelt, Ken Blancato; Cast: Geoffrey Rush, Emily Watson, Sophie Nélisse, Ben Schnetzer, Nico Liersch, Barbara Auer, Levin Liam, Rainer Bock, Carina N. Wiese, Roger Allam.