New Israeli films are one of the pleasures of the Jerusalem Film Festival, and there is an intriguing line-up of features this year. Israeli cinema has become a player on the international scene and several of this year's films have been shown at the recent Cannes festival, but there's no place like home for a premiere!
The Jerusalem Film Festival will take place from July 10 – 20, 2014 at the Jerusalem Cinematheque, and other locations in Jerusalem. The festival will feature over 200 premieres of Israeli and international films. Looking forward to the festival, here are the films that will participate in the competition for the Haggiag Award for Best Full-Length Feature Film:
Gett, The Trial of Viviane Amsalem (France/Germany/Israel, 115 min, 2014, French and Hebrew)
Director: Shlomi & Ronit Elkabetz; Cinematography: Jeanne Lapoirie; Editor: Joelle Alexis; Music: Dikla, Shaul Beser;Cast: Ronit Elkabetz, Simon Abkarian, Menashe Noy, Sasson Gabay, Eli Gorenstein, Rami Danon, Roberto Pollak, Gabi Amrani, Evelyn Hagoel, Ruby Porat Shoval, Zeev Revah, Dalia Beger.
The final film in the Elkabetz trilogy, following To Take a Wife (2004) and Seven Days (2008), Gett takes Viviane (Ronit Elkabetz) and Shlomi (Simon Abkarian) through their divorce, a process which in Israel can only take place in the religious Rabbinic Court. An acquaintance with the previous two films and the stifling, loveless marriage is an enhancement to viewing although not essential – one can jump right in to chapter three. Viviane filed for divorce three years ago, but Elisha, her husband, has so far refused to appear in court. According to Jewish law, this leaves her stranded. The film focuses on never-ending court process, in which the husband has all the power: they cannot be divorced unless Elisha agrees to give Viviane the gett, the divorce.  Eli Gorenstein, Rami Danon and Roberto Pollak are the Rabbinical judges, Sasson Gabay as Elisha's older brother and Menashe Noy as Carmel Ben Tavin, Viviane's lawyer. Festivals: Cannes 2014 Directors' Fortnight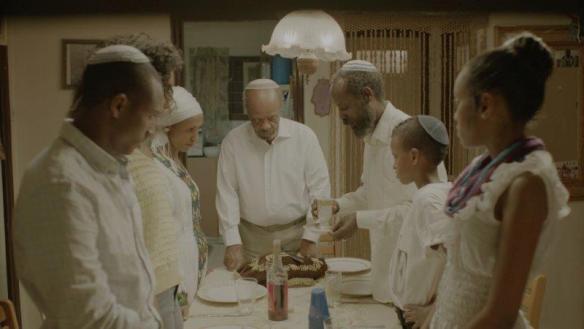 Red Leaves (Alim Adumim)
Director: Bezzi Getta; Cast: Debebe Eshetu, Hana Haiela, Meir Dassa, Ruth Asarsai, Solomon Mersha, Shula Moli.
Masagenu Tedela, an immigrant from Ethiopia, recently widowed, sells his home and spends his time between the homes of his children. A violent clash between the Ethiopian cultures and values he has kept devotedly and the cruel reality that confronts him bring him to a final confrontation with his family.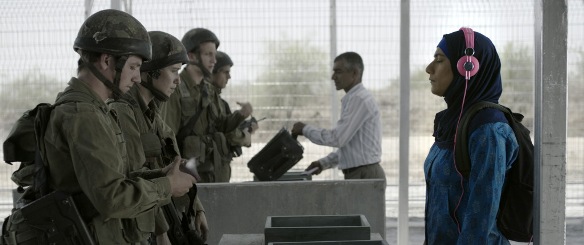 Self-Made (Boreg) (89 min, Hebrew, Arabic and French)
Director: Shira Geffen; Editor: Nili Feller; DOP: Ziv Berkovich; Music: Amit Poznansky; Cast: Sarah Adler, Dorraid Liddawi, Ziad Bakri, Samira Saraya.
The surreal fantasy that marked Shira Geffen's Jellyfish (2007), serves the director well in this film to depict the absurdities of the Israeli socio-political reality. Michal (Sarah Adler) is a well known artist living in Jerusalem who loses her memory following a bump on the head. This accident tangentially connects her to Nadine (Samira Saraya), an unmarried Palestinian woman, who lives in a refugee camp. Nadine longs to live the full life denied her by circumstance and inhibiting family pressures. Destiny brings these two women together at a military checkpoint, where another woman comes into the story: an Israeli soldier (Na'ama Shoham). Her mix-up sends Michal to the refugee camp, while Nadine gets a ride to Michal's home in Jerusalem. No one in their surroundings seems to notice, and literally living someone else's life gives each of these two women a sense of fulfillment such as she has never felt before. Festivals: Cannes 2014 Critics Week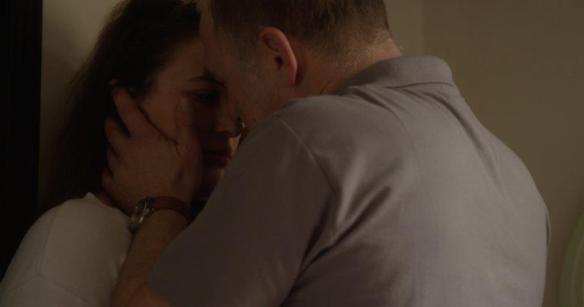 That Lovely Girl (Loin de Mon Pere) (Israel/France/Germany, 95 min, 2014)
Director: Keren Yedaya; Adapted from the novel Away From His Absence by Shez; Editor: Arik Lahav-Leibovich; DOP: Laurent Brunet; Cast: Tzahi Grad, Maayan Turgeman, Yael Abecassis
50-something Moshe and Tami, in her early twenties are a couple. Tami's life with Moshe is one of cruelty and violence, and it does not seem likely that she will be able to escape this relationship. One reason might be that Tami and Moshe are also father and daughter. Keren Yedaya's third film (Or 2004, Jaffa 2009) third film finds the director once more confronting a problematic social issue head-on. Festivals: Cannes 2014 Un Certain Regard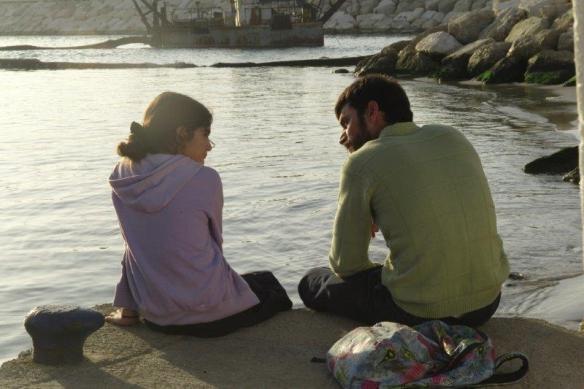 Ben Zaken (Israel, 90 min, 2014)
Director: Efrat Corem; Editor: Nissim Massas; Cinematography: Shafir Sarusi; Cast: Eliraz Sade, Rom Shoshan, Ronen Omer, Hani Elimelech, Batel Mashian
Shlomi Ben Zaken (Eliraz Sade) is a single parent who has been raising his daughter Ruchi since the day she was born in his mother's house in Ashkelon, eleven years ago. The family lives in a typical Israeli apartment building, the kind that's called "on pillars," because the building sits over a breezeway on pillars, with no ground floor apartments. The neighborhood is composed of generation upon generation of immigrant families in ties of painful dependence, struggling for survival and a sense of identity. These people are silent witnesses of all that surrounds them, becoming part of the landscape. But the conflict between dependence and autonomy, between immersion in the neighborhood enclave and individuation, is never-ending. Shlomi struggles with himself and his environment, striving to retain custody of his daughter, but he also acknowledges his inability to function as a father and give his only child the opportunity for a better life, the kind of life he would like to have too.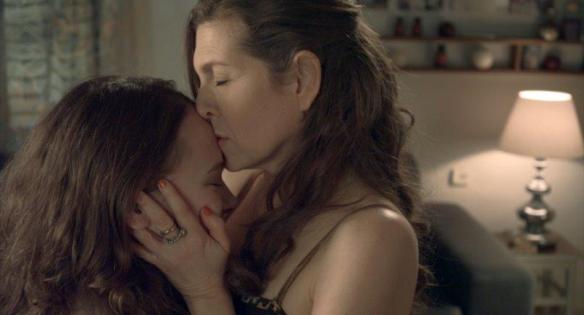 Princess (Israel, 92 min, 2014, Hebrew)
Director: Tali Shalom Ezer; DOP: Radek Ladczuk; Music: Ishai Adar; Cast: Keren Mor, Ori Pfeffer, Shira Haas, Adar Zohar Hantez
While her mother (Keren Mor) is at work, 12 year old Adar (Shira Haas) and her stepfather begin a role-playing game that slides into dangerous territory. Trying to figure out the conflicts at home, Adar meets Alan, a boy who looks just like her, and invites him to become part of the family. Adar embarks on a journey between childhood and adolescence, reality and fantasy, that will change the rule of the game at home – forever.
Jerusalem Film Festival and Jerusalem Cinematheque CEO: Noa Regev, Deputy Director: Nir Becher; Jerusalem Film Festival Program Director: Elad Samorzik.