Homo. That was the epithet of choice in the Jurassic Age when I went to high school in Israel. It's a word of many uses, a convenient derogatory term that can be hurled at anyone one doesn't like, anyone who is a little bit different, and of course: anyone who is gay. The dinosaurs have long been extinct, but homo was still alive and kicking when my own children went to high school, a fave bit of teen verbal abuse. Will it still be in vogue among the next generation?
Beer Sheva Theatre is currently running Jonathan Harvey's play Beautiful Thing, translated by Ido Ricklin and directed by Nir Erez. Originally produced in the UK in 1993, with a screen adaptation in 1996, the play is set in a working class neighborhood in London, in what are known as council estates. No one has it easy there, and the neighbors seem to take out their anger and frustration on one another. This production has kept the location, with a few visual markers to set the scene – the brick facade of the apartment building and the very British school uniform, but the particular geography is less important than poverty, alcoholism, drug abuse and other universal problems.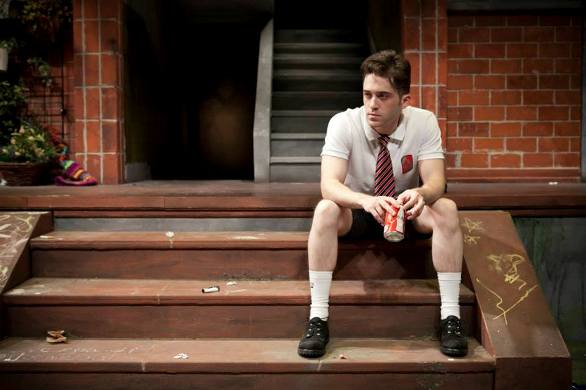 Jamie (Tom Avni) doesn't quite fit in with the crowd, and doesn't feel inclined to work on changing his social status, preferring to skip  gym class rather than work on his football kicks, much to the chagrin of his mother Sandra (Adva Edni). The very social Sandra, a single mom working in a pub and coping with revolving-door boyfriends, wishes Jamie would make more of an effort. Jamie, in turn, is none too pleased with Mom's constant stream of men, and there is quite a bit of friction between mother and son.
Loitering around the neighborhood is high school drop-out Leah (Meirav Shirom), who can't quite get it together to actually do anything about her life but sing along to Mama Cass Elliot and try her hand at getting the attention of Sandra's current beau Tony (Guy Loel). Tony seems to have pretty much all he can handle coping with his luxuriant 60s hairdo, but for all his ineptitude, is rather sweet, trying to be a father figure to Jamie and failing utterly. And what do we have behind door number three in this row of houses? Jamie's school friend Ste (Tom Hagi), short for Steven, lives with his alcoholic, abusive father and older brother, but he's a good sport about it, doing their laundry, cooking their meals, and trying to stay clear of the blows.
Somewhere in this urban thicket of weeds and woe, is the seed of a flower. The friendship between Jamie and Ste blossoms into something more, something that at first, they don't quite seem to know how to handle. How they handle it, and how the different relationships play out in the neighborhood, makes the heart of this story. It's a simple story, a love story, and love is a beautiful thing.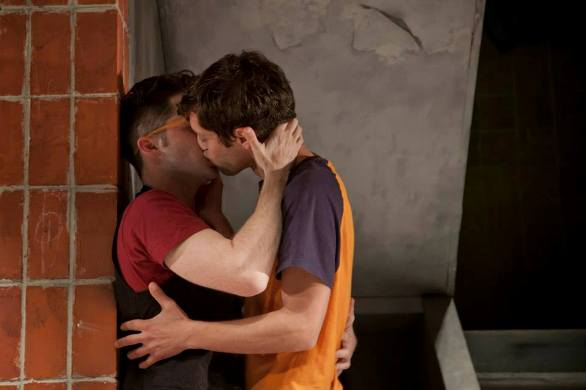 Yet it's not just a story about young love, this is a play with an explicit message of tolerance and acceptance, and it's a brave choice for Beer Sheva Theatre to present this production. I wish it weren't so, but I'm sure that on any given day there are calls of "homo" in the school yard, and as for two men (or two women for that matter) holding hands or kissing in public, well it's not as ordinary as it should be. I think things are better now than they were in '93, and certainly better than in my high school days, but there is a human tendency to think of the world in terms of "us" and "them" – picking on a characteristic by which others can be excluded and turned into a target. Even in this play, with its message of accepting differences, there were too many Mama Cass fat jokes for my comfort, with the Hebrew slang "Dabba" (meaning fat as a bear) used at least on one occasion. It's cool to be gay, but get thee away from me fat people! Shame on you, Jonathan Harvey, you could have done better.
Beautiful Thing
Written by Jonathan Harvey; translated by Ido Ricklin; directed by Nir Erez; Set design: Neta Haker; Costume designer: Dalia Penn Heller; Lighting designer: Keren Granek; Composer: Shahar Yampolsky; Cast: Tom Avni, Tom Hagi, Guy Loel, Adva Edni, Meirav Shirom/Maayan Turgeman.