Korean film director/screenwriter Park Chan-Wook presented a master class at the Jerusalem Film Festival yesterday evening. Yes – there was an air raid siren in the middle of the session, but speaker and audience were undaunted by the interruption, and after a short break, the conversation resumed, moderated by Pablo Utin.
Unlike some directors, who take an "they are all my children" towards their films, Park Chan-Wook had no hesitation is saying that Thirst (2009) is his favorite film. The film has a personal connection for the director, who said (in Korean, translated into Hebrew with the aid of an interpreter) "The film has a personal connection for me. I am not a Catholic now, but I was in high school."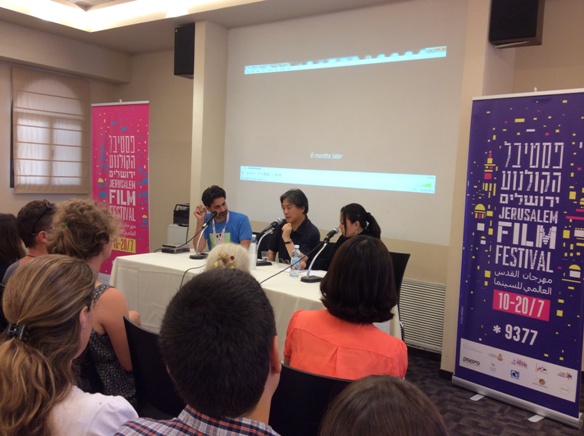 Showing the lighter side of the filmmaker known for films heavy on violence and vengeance, Park Chan-Wook took us all down the check-list of shared traits between the filmmaker and Thirst's protagonist, a priest who turns into a vampire: "He is very indecisive. If he is a vampire, he should live like a vampire, ruthlessly. He's always oscillating between killing and not killing. I think that character is similar to me. He has an attitude of constantly justifying himself, and that resembles me too. The priest talks nonsense very often, and I do too."
On a more serious note, he discussed an instance of his own self-justification during the 1980s in Korea when there were many student demonstrations for democracy. Park said, "Here I am, looking at those students who believe we have to fight, but then I feared the violence, I could get hurt… I would come up with excuses why I don't act."
Known for the powerful visual images in his films, Park said that in making his films, "an interesting story comes first, then I look for ways to deliver [the story] efficiently and economically. During that process images are made." Park illustrated this statement with an example from Thirst. The recorder played by the priest serves several functions: it expresses his kind, benevolent side; it serves as a way for the priest to suppress his sexual urges; and Park also used this image to give the ubiquitous person-transforming-to-vampire scene a different feel and look.
"When I was writing the script," said Park, "[I wrote] he will die by bleeding from every hole in his body. How can I show that when he is fully clothed?" Anyone who has seen Thirst knows that the recorder was indeed crucial in this scene, Park's comment elicited laughter all around as we all replayed the scene in our mind.
Park emphasized the collaborative aspect of his filmmaking process, saying that while he is still in the writing stage he starts talking to people about the film. Sharing his ideas with the cameraman, artistic director, production designer and his wife, creating a dialogue among them. "In this way," said Park, "people I work with understand my intention, my philosophy, and it is reflected in the film as a whole."
For a director who is known for some disturbingly tough scenes in his films, Park displays a very open and compassionate attitude. When asked about the way he works with actors on his films, Park emphatically stated, "I think it will be a great mistake to limit the freedom of actors. I usually have actors do a rehearsal and then I ask them whether the camera movements and composition are OK with them. I ask their opinion. If an actor tells me that he feels uncomfortable in a scene when he turns his body – I change my storyboard."
His advice to filmmakers? "Don't think about style first. [Think] How can I deliver my thought to you? I want to emphasize to filmmakers repeatedly: that accuracy is the most important. How to deliver the emotions of the story accurately, and find the tools to deliver them…it's not that difficult to express an emotionally charged scene. The most difficult is to capture everyday life, sitting and talking to friends."
Park Chan-Wook is in Israel for the first time as a guest of the Jerusalem Film Festival, with special screenings of his films Stoker and Oldboy in addition to open master classes. Undaunted by the rockets, Park expressed his pleasure in coming to Israel, and said, "I think that there are only two places on earth where people can still eat and drink while the rockets fall beside them – Israel and Korea."
There will be a master class with Park Chan-Wook today, Sunday July 13th at 16:00 in the Mediatheque, following the screening of Oldboy at 13:45.   Consult the Jerusalem Film Festival website for updates in case of a change in schedule.