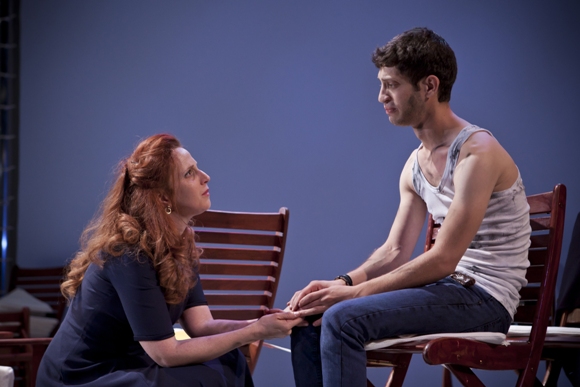 Scandalous in its day for speaking openly about sex, Ibsen's Ghosts still has a lot to say to contemporary audiences.  The Beer Sheva Theatre production, adapted and directed by Ido Ricklin, takes the play into a contemporary setting. Paris becomes New York, and the orphanage is a Rehab Center, but the essential elements remain unchanged: questions of deception and appearances, the choices and compromises one makes in order to survive, and their consequences.
Ibsen's women are wonderfully complex, and Helene Alving is no exception. Devoted widow, cool and confidant manager, doting mother – a venerable woman. Yet as the play progresses, and one begins to see further into the layers beneath the veneer of respectability and competence, questions emerge, that cannot be easily resolved. Elegant and restrained in dress and manner, Shiri Golan fills the stage with her presence as Helene, making it clear that this is a powerful woman to be reckoned with; making her vulnerabilities all the more poignant and perplexing.
On the surface, Ghosts is a classic drama, taking place over the course of one day, in one setting, following one central action: Helene's inauguration of a rehabilitation center dedicated to the memory of her dead husband Captain Alving. Yet one soon learns that nothing is quite as it seems, as the drama unfolds on the terrace just outside the new center, where the memorial statue of Captain Alving stands waiting for the unveiling ceremony, covered in a white sheet like a ghost. It's a gripping, emotional drama. Ricklin's adaptation is a somewhat pared-down, slightly more rational version of Ibsen's emotional terrain in this play, which verges on the melodramatic. The current version is to my ear better suited to our times and enables the contemporary audience to identify and empathize more readily with the protagonists.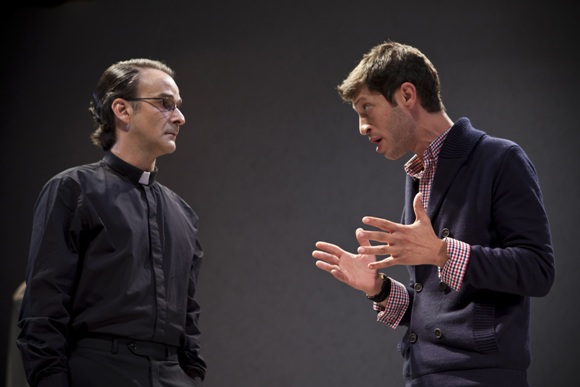 While much has been adjusted to suit the 21st century, there is one element that remains, perhaps surprisingly, unaltered. There is a hidden sexually transmitted disease in Ibsen's plot – Syphilis, a disease which one might think rather passé for our times, a ghost from the past. One might expect an update to a more contemporary epidemic, especially as the struggle against the spread of AIDS is far from over. Ricklin has chosen not to change this element, and this choice, while surprising (and perhaps because of the surprise), ultimately feels very effective. Like many people, I had thought that Syphilis was a non-issue, easily cured by antibiotics. After seeing the play I quickly checked up via Google, and learned a thing or two. For example: condom use is not 100% effective in preventing contagion. Worth knowing, yet more to the point, I think that in retaining Ibsen's original, Ricklin places the focus not on the particulars of one disease or another, but on the moral and philosophical issues.
The characters are all vivid and lively, the small cast is a microcosm of society, reflecting also the different roles and strata of society and their relationships. Nir Menki brings an endearing opportunism to workman Jakob Engstrand, his rough charm and easy street smarts offer some comic relief in this intense play. Inbar Danon is bursting with sex appeal and superficiality as Regina, which is pretty much as it should be. Amir Krief quietly shines as Pastor Manders, upholding the mores of the community and family values, and of course, always ready to offer help, advice and comfort to his parishioners. Yet despite his high standards, Manders is not so far removed from the pleasures of the flesh as to be utterly free of indulgence, enjoying a good smoke now and then as well as a sense of complacency and self-congratulation. Oswald, the artistic progeny of the Alving home, feels emblematic of today's generation as much as that of the late 19th century. Nature and nurture have both conspired to make him such as he is, charming and drifting, without the reassurance of belief, in a world of pleasures and dangers. Tom Hagi wears the role like a second skin, and it is his pain that digs and twists like a knife in the gut.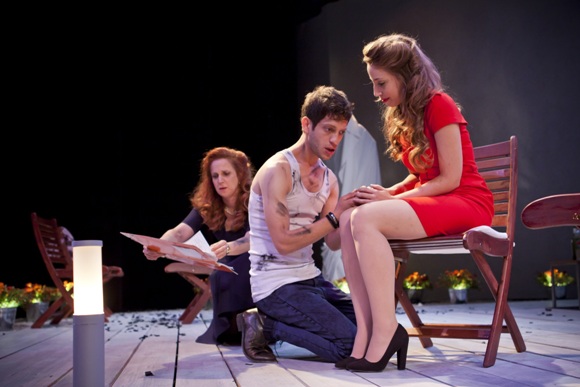 The poetry and elegance of Ibsen's symbolism has been retained, all the more resonant in the spare lines of this contemporary drama. For all those who might not catch it in the spoken Hebrew of the play, I leave you with Helene Alving's words:
"Ghosts! […] I almost think we are all of us ghosts. It is not only what we have inherited from our father and mother that 'walks' in us. It is all sorts of dead ideas, and lifeless old beliefs, and so forth. They have no vitality, but they cling to us all the same, and we cannot shake them off. Whenever I take up a newspaper, I seem to see ghosts gliding between the lines. There must be ghosts all the country over, as thick as the sands of the sea. And then we are, one and all, so pitifully afraid of the light." Henrik Ibsen, Ghosts, Act II
Ghosts by Henrik Ibsen
Adapted and directed by Ido Ricklin; Set design: Sveta Breger; Costumes: Oren Dar; Lighting: Felice Ross; Soundtrack: Ellyot; Multimedia: Gerard Allon; Video editing: Keren Allon; Cast: Shiri Golan, Inbar Danon, Tom Hagi, Nir Menki, Amir Krief.