You can't always get what you want, and that certainly appears to be true for Angelique. Party Girl opens with scenes of the bejeweled 60-something bar hostess on an ordinary night. Hanging out with her mostly younger demi-monde pals from the club, trying (and mostly failing) to get customers to buy her expensive drinks, dealing with the day after and its hangover – it does not seem like much of a party.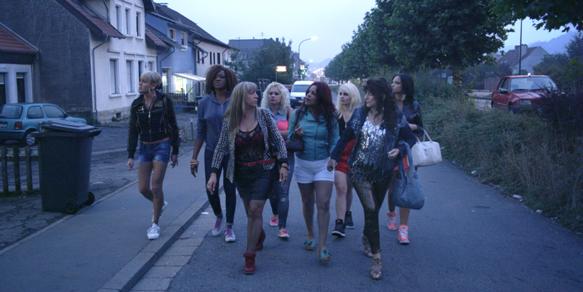 The debut feature directed and written by Marie Amachoukeli, Claire Burger, and Samuel Theis, looks at a life that is not often observed, whether in documentary or fiction: a woman's life led on the margins, outside the framework of traditional aspirations of home, family, community and career. If the camera looks at these women, their lives and choices, then it is typically preoccupied with their youth (Showgirls 1995, Striptease 1996) and their desires to escape the profession, augmented with ample documentation of gyrating bare bodies. There aren't many films that take an interest in the latter part of these career girls' trajectory.
Party Girl takes a closer look at this less traveled path, and regards it from an unusual perspective. The film is inspired by Angelique Litzenburger, the mother of Samuel Theis, who also portrays the role in the film. While the narrative is fictional, the character was developed from the woman and her life, and Angelique's four children in the film are portrayed by her real-life children – giving it all a strong sense of authenticity. Yet more profound is the choice made by these three writer/directors to depict Angelique at a turning point in her life, without an agenda or message, without passing judgment or jumping to conclusions.
Although I'm not entirely certain of the precise duties and expectations of a bar hostess, it obviously involves inducing customers to buy drinks. A taut, curvaceous body and ready smile are the tools of choice. Looks count for this job description, and there is no way around the disadvantages of age. Pension and benefits are not much to look forward to in this profession, so what's a girl to do?
Just as it seems that she is on a one-way ride to a dead end, Angelique is offered a way out, a chance to swerve to her own 'road not taken' and find refuge in the comfort and security of marriage and mainstream life. The film accompanies her on this path, through scenes with her children and Michel, the retired miner who loves her. Eschewing drama for low-key, casual scenes of family emotional clutter and surprising honesty, it's a touching film that engages one's thoughts as well as feelings.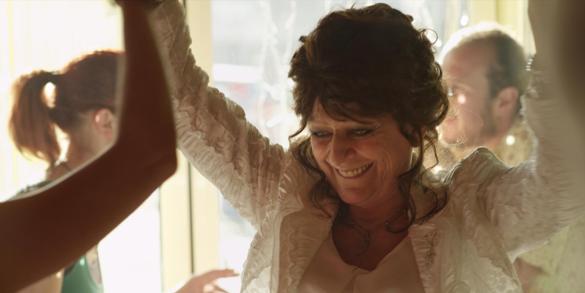 Angelique gives an affecting performance as a woman who must live with the consequences of her past choices, and is now making the choices that will determine her future. Evoking some of the issues dealt with in the documentary Meet the Fokkens (2011) and reminiscent of themes explored in Sebastián Lelio's popular feature Gloria (2013), Party Girl is a portrait in grays, a complex look at an older woman's sense of self and sexuality.
Party Girl will open in Israeli theatres on Thursday, September 25th
Party Girl (France, 95 min, 2014, French and German)
Directed and written by Marie Amachoukeli, Claire Burger, Samuel Theis; Based on an original idea by Theisl; Cinematography: Julien Poupard; Editor, Frederic Baillehaiche; Music: Nicolas Weil, Sylvain Ohrel, Alexandre Lier; Cast: Angelique Litzenburger, Joseph Bour, Mario Theis, Samuel Theis, Severine Litzenburger, Cynthia Litzenburger.