The Judge, directed by David Dobkin, will be a dramatic opening to the Haifa International Film Festival on October 9, 2014. City lawyer Hank Palmer (Robert Downey Jr.), a man who has put as much distance as possible between himself and his past, coming back home to Indiana for his mother's funeral, to find out that his father, Judge Joseph Palmer (Robert Duvall), is suspected of murder. Now he must defend his father against an aggressive opponent – prosecutor Dwight Dickham (Billy Bob Thornton). All three actors have a reservoir of fierce and crazy not too far beneath the surface, so I'm looking forward to seeing how this rumble turns out.
If you've been happily demonizing actress Kristen Stewart for her performance in the Twilight trilogy, you may want to rethink the snark. Stewart has a supporting role in Olivier Assayas' new film Clouds of Sils Maria, which will be participating in the Golden Anchor Competition at the festival, but she is one of the fun surprises in this self-referential film. The accomplished and charming Juliette Binoche stars as Maria Enders, a famous actress approaching the age when satisfying roles are harder and harder to come by. On her way to accept an award on behalf of her mentor, Wilhelm Melchior. Long ago Melchior launched Maria's career by casting her in his play Maloja Snake as the scheming young Sigrid, whose relationship with her boss Helena, culminates in the older woman's suicide. Where in all this is Kristen Stewart? She plays Valentine, Maria's PA, her constant companion who keeps her life running smoothly, gives her the lowdown on the latest gossip, and rehearses with her as Maria prepares for her role as older woman Helena in a remake of Maloja Snake. Dizzy yet?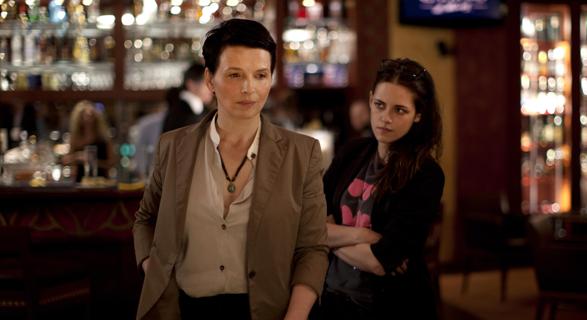 Amid the contemplation of perspectives on the acting life, age, balance of power and relationships, Val emerges as a very strong, likeable character. She may be struggling with her own demons, but she's not afraid to stand up to the elegant and formidable Maria. Conversations between the two women are the best part of this film. The in-jokes referring to Stewart's own acting career add an amusing touch.  Trying to convince Maria that rising enfant terrible Jo-Ann Ellis (the wonderful Chloë Moretz) is a good choice to play the role of Sigrid, she says that Ellis is very popular with the teen crowd. Maria just laughs, but Val retorts, "Watch out, there are a shit ton of them." Although just-on-the-brink of aging actress Maria is the focal point of the film, Val as played by Kristen Stewart provides much of the interest in a film so preoccupied with questions of image, quality, popularity and the choices one makes in building a career and finding one's direction. Is it possible to be taken seriously as an actress after mediocre performances roles in ridiculous films? The answer just might be yes.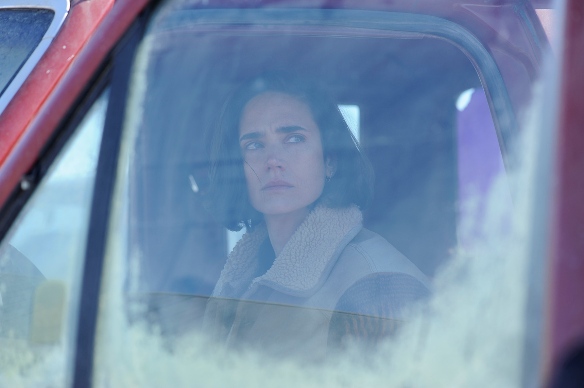 Past and present merge in another woman-centered offering in the Golden Anchor competition is Claudia Llosa's Aloft. Llosa's The Milk of Sorrow (2009) won the Golden Bear at the 59th Berlinale. Aloft is set in an unnamed rural community in the icy north, where Jennifer Connelly makes a strong impression as Nana, a single mother of two young boys leading a hard-scrabble life that seems inundated with loss. A mysterious thread of faith-healing runs through this film as it navigates back and forth in time, across the white plains near the arctic circle. Connelly's character possesses a bewildering mix of strength and weakness, driven by an almost obsessive devotion to her younger son, her attitude towards the older boy Ivan (very well performed by Zen McGrath) verges at times on callousness. Aloft just misses being a fascinating film. Connelly's character, her choices and relationship to Ivan as a boy and the man he has become (Cillian Murphy), as well as the question of faith healing, might have been the stuff of a compelling narrative, yet the alluring images and bleakly poetic atmosphere are not enough to support a story whose conclusion is, in hindsight, predictable.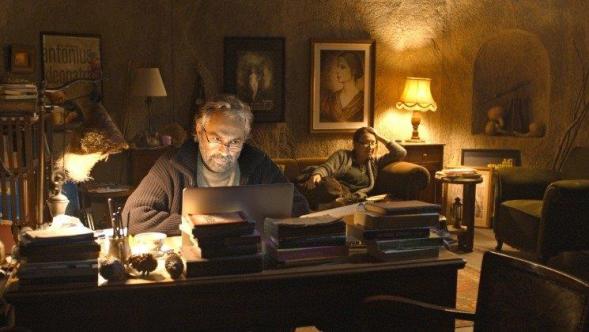 In addition to the Golden Anchor Competition, international films will compete in the Filmmakers of Tomorrow Feodora Competition. Among the films in competition is Corn Island, directed by George Ovashvili, this year's winner of the Crystal Globe for Best Film at Karlovy Vary. Take note of Cannes 2014 winners Winter Sleep, directed by Nuri Bilge Ceylan and winner of the Palm d'Or and FIPRESCI Prize, and Leviathan, winner of Best Screenplay, directed by Andrey Zvyagintsev, who will be a guest of the festival.