Britons of a certain age would remember Lionel Bart for being synonymous with light entertainment. He wrote hits for Cliff Richard, Tommy Steele, penned a James Bond theme tune, turned the West End into his playground with a string of hit musicals, starting with 1959's Fings Ain't Wot They Used T'Be. He was larger than life, flash and good fun; someone worked out once that for a while he was earning £16 a minute, following the success of his musical Oliver!. Not bad for the youngest child of a modest immigrant family from the East End of London. But it didn't last.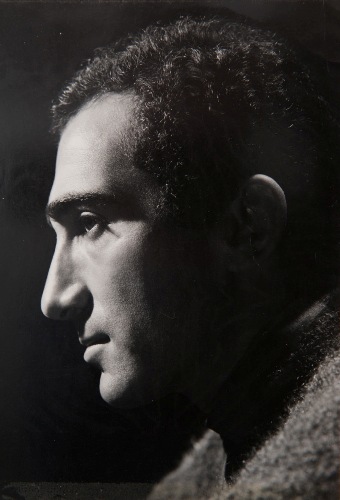 Lionel Bart: Reviewing the Situation, made by Mick Conefrey for British television a couple of years ago and screening this week at the Haifa International Film Festival, is brisk and business-like, yet  a touching testament to Bart's golden touch and poor judgement, a rags-to-riches-to rags, then finally redemption after a fashion.
Bart, born Lionel Begleiter in 1930, had the advantage of growing up in a family that appreciated the arts, despite their very modest means; sing-a-longs around the radio, Yiddish comedy theatre in his formative years. There was preternatural talent too: a teacher told his parents that he was a musical genius when he was six. (He never followed this, through; he abandoned violin lessons very early, and never actually learnt how to sight read.) At 14, a scholarship to study painting at St. Martin's College of Art offered another opportunity in the creative arts; again, he didn't follow the opportunity through, dropping the painting to work in a silk-screen printing work after his compulsory army service.
But there was still something, an ear for catchy lyrics spotted by the legendary – and eccentric – left-wing theatre impresario, Joan Littlewood. At the same time, he was knocking off hits for the America-inspired (America-copying, to be honest)  British pop scene. And it all came together, Bart's insouciant ease belied by the very hard work he had put in to make it happen.
It's hard to pinpoint what exactly brought Lionel Bart down. Generally, the failure of his Robin Hood musical, Twang!  – into which he was bold enough to put in a great deal of his own personal money – is cited as the proximate cause of his downfall. Bart was a perfectionist, writing and re-writing and tinkering at the edges, driving all his collaborators to distraction. There's also the matter of his homosexuality (illegal in the United Kingdom until 1967); living a closeted life would put a strain on even the most robust of personalities. But, there's also a matter of class: there's clip from the satirical talk show, <That Was The Week That Was>, where a supercilious David Frost skewers Bart. One gets the sense that people thought the "homosexual Jewish junkie commie" had grown too big for his britches; in time-honoured British tradition, a hero was built up just to be knocked down again.
Oh yes, the drink and drugs Bart embraced the highlife vigorously, doing neither his professional and personal selves any good. In the sixties, there an open top Bentley, a mansion in swanky Kensington, allegedly two urns on permanent offer to the steady stream of guests – one filled with cocaine, the other with money. He sold off the rights to his biggest hits to keep up the style of living to which he had become accustomed. The fall, when it came, was from a very high peak.
There is a slight whiff of revisionism in the final act of Reviewing The Situation; 'tis true that after more than a decade of anonymity and alcoholism, he made a tentative comeback in the late 1980s. It certainly didn't approach the success of his youth though, and was much more the product of an abundance of goodwill and fond sentimentality. (For example: Cameron Mackintosh, the theatre producer, agreed to put on a revival of Oliver! in the West End only if a proportion of the profits were paid to Bart. Bart had sold his rights to the musical away for a pittance, and later estimated that this folly cost him £1m, in 1960s money). But all that said, the film has a charm that matches that of its subject.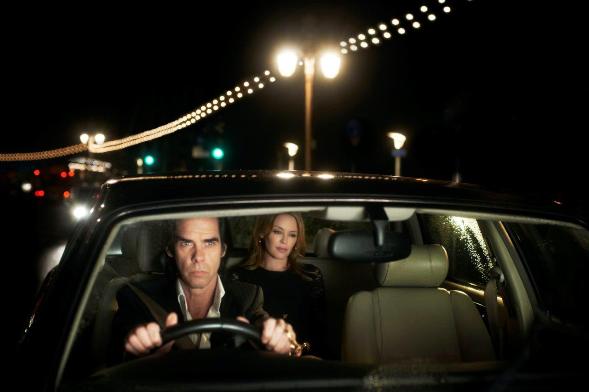 Whilst on the topic of sex, drugs and rock n' roll: Nick Cave has gone through quite a lot in the course of his 50-something years on earth. He has a number of superb albums, with the Birthday Party and then the Bad Seeds; a number of top rate film scores, an excellent script (The Proposition) and a novel add to his garlands. On the other side of the equation, for a long time in the 80s, he was essentially a high-functioning junkie; in the same week in 1991, he became father to two sons, from two women, on two continents. He's even had pop hits; he has even sung on Top of the Pops in England, performing a duet with (of all people) Kylie.
Most of this is now ancient history, though. 20,000 Days On Earth, directed by Iain Forsythe and Jane Pollard, is a curious thing, half contemplative retrospective of Nick Cave's life, half enigmatic art-house cinema. We sit in on him discussing his father with his analyst, discussing his career with Ray Winstone, Blixa Bargeld and Kylie. He muses over the complexities of narrative songwriting, chews the fat with his mucker-in-arms, Warren Ellis whilst recording his most recent album, 2013's Push The Sky Away. Then there's the voice-over, Cave's distinctive 'strine-inflected tones lending a slightly ghoulish gravitas to proceedings. "At the end of the 20th Century, I ceased to be a human being," he murmurs. "This is not necessarily a bad thing, just a thing…"
To my mind, the test that all bio-docs must pass is a simple one: would it hold any interest for the casual viewer, who knows not very much about the subject? Given that Nick Cave – magnificent though he is – still remains a (relative) minority taste, the surprising answer is yes. Smartly staged and scripted, the film is always captivating, even if it takes a while for the threads to come together.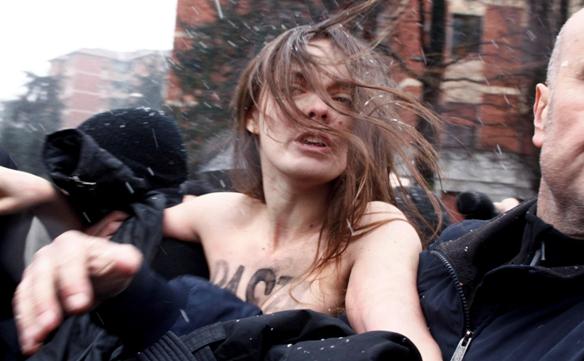 There are any number of reasons why I may not be the best placed person to write about Femen, but here goes. Watching I Am Femen, a documentary about the Ukraine-based (at the time – I'll return to this later) protest group, I came to a rather startling realisation. Femen is as much performance art as it is political protest. And, as is often the case, art not fully thought through tends to weigh itself down with all sorts of needless trouble.
For the uninitiated: Femen is a collective of female anarchists, whose principal tool against the patriarchy (a word we hear a lot nowadays: like many other catchphrases, it has taken upon a life of its own, with definitions to suit any number of circumstances) is to bare their collective breasts. Literally. Loudly. In public.
There are any number of political theorists that'll tell you that the end justifies the means, etc. I'm sure an equal number of PR cognoscenti will confirm that any publicity is better than no publicity. In the present age, the combination of loud half-naked women shouting slogans is bound to capture attention. The causes championed become almost incidental to the discourse, it seems.
Perhaps I am a little harsh. The film opens with a truly harrowing account of a young woman, raped  then set on fire, to hide the evidence. Unfortunately, she survived, just about, for a while longer; in the meantime, her alleged assailants seemed to be getting away with their crimes scot free. Onto the scene burst Femen, their verbal violence a counterpoint to their apparent physical fragility.
To be fair, the trouble is not Femen themselves, because we simply learn very little about them from I Am Femen. Director Alain Margot film is not merely sympathetic, but largely unquestioning. The women have the knack for reducing issues to simple propositions. With the rape and murder, this is fine; later, when they protest the closure of Kiev's zoo, one wonders whether they are succumbing to over-reach. (You don't have to look very hard, for example, to find people – often just as passionate – who will describe zoos as cruel.)
We do get a sense of their work: well organised, leaning heavily on strong, striking imagery, savvily marketed (branded sweatshirts, for instance). But, I think, they begin to fall victim to their own success. It's only natural to believe one's own hype, that column inches and an uncompromising persona equates with winning hearts and minds. The thing about favouring confrontation over compromise is that it only leaves space for one winner. Most of Femen are based outside Ukraine now. The government, it seems, lost patience with them. Technically, it would be correct to describe them as martyrs to their cause. But, since I Am Femen never quite gets round to articulating what this may be, we can only take this on trust.
Lionel Bart: Reviewing The Situation (2013), dir. Mick Conefrey, 60 mins.
20,000 Days On Earth (2014), dirs. Iain Forsythe and Jane Pollard, 95 mins.
I Am Femen (2013), dir. Alain Margot, 95 mins.