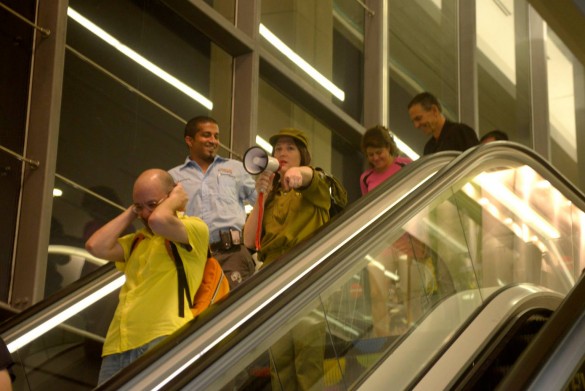 Looking for art in unexpected places? The Tel Aviv Municipality will be hosting a multi-arts event "Rega Ehad (one moment): Art in Unexpected Spaces" on Thursday, October 30th with music, theatre, art, discussions, exhibitions and more – on all floors of the Municipal building, and expanding out to the Einav Cultural Center and Gvirol Arts Center at 108 Ibn Gvirol Street.
***Important note*** admission is free, but because space is limited,  free tickets for each program will be available at the Information Desk (at the entrance), 45 minutes before the start time of the show. Events at the Einav Cultural Center and Ibn Gvirol 108 will not require tickets.
It will be a rich and exciting program, just to give you an idea, here are some highlights:
Starting at the top, singer Eran Tsur will be exploring the dark side, telling stories (Edgar Allan Poe in Hebrew) and singing originals as well as Brecht & others, on the Tel Aviv Municipality roof at 23:30.
Just below, on the 12th floor, The Stage will be presenting One-Act plays in English! For Whom the Southern Belle Tolls & Bulgarian Rhapsody at 20:00 & 22:00; Mere Mortals & You're Invited! at 21:00 & 23:00. For more details on these, contact The Stage: thestagetlv@gmail.com; or visit their website.
Take a tour of the municipality building that is like nothing you have ever experienced before with Jenny (Nadav Bossem) and Jana (Adili Liberman), the "Girls in Arms" trained (not) by the IDF Spokesman, these two are patriotism in its most hilarious incarnation. Seriously funny actors and observers of Israeli culture, they parody to perfection military and general Israeli tropes that will be hilariously familiar to most Israelis, and non-Israelis are sure to have a laugh too, even if they don't get every single in-joke. Tours start at 20:00, 21:30 & 23:00 from the upper lobby.
HaSimta Theatre will be featured on the ground floor with two plays: Atomic Threat, a comedy about relationships, at 20:00 & 23:00; and Life in a Can – the story of Sigi, the daughter of Filipino immigrants, at 21:30
Not too far away, at the Einav Center on 72 Ibn Gvirol, enjoy listening to jazz all evening long! Whether your fancy is American, Brazilian, instrumental or vocal – the evening, under the artistic direction and hosted by pianist, Head of the Jazz Institute at Rimon, and all around fun music man Ronen Shmueli, is sure to have something to please. The fun starts at 19:30 with the Great American Songbook, and will probably never end – after the scheduled concerts there will be an open jam starting around 23:30, so bring your instruments.
At 108 Ibn Gvirol Street – innovative theatre, including Project S2 – the ins and outs and ups and downs of sex by Theatre Can.
The full program in Hebrew is available on the facebook event page.