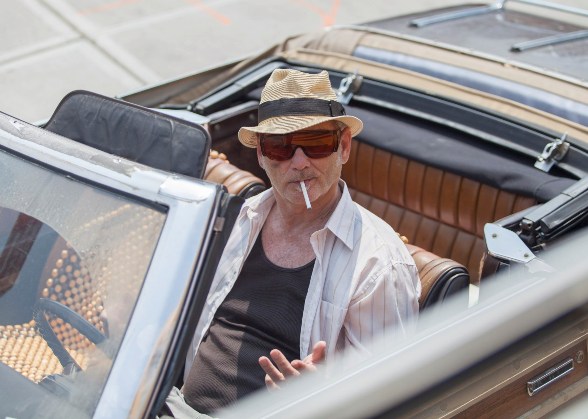 Bill Murray has made ornery an art form. Although the trajectory of Vincent MacKenna's descent into debt and degradation is perhaps predictable, Murray's portrayal of this damaged, aging, degenerate is one to savor. Director Theodore Melfi's debut feature is a feel-good film that actually did make me feel good, without that rancid aftertaste that often accompanies the more saccharine flavors of this genre. I not only recommend that you see this movie, I urge you to please, please stay until the very end of the credits, because Bill Murray sitting in a dilapidated folding chair with headphones on, singing along to Bob Dylan's Shelter From the Storm with a cigarette in his mouth, is one of life's small pleasures you don't want to miss.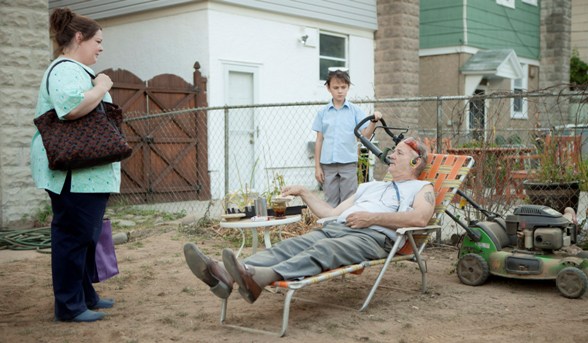 In straight-forward comedy style, the film brings together several unlikely characters to learn and grow while having wacky adventures. When it's done well, I love this kind of movie, and for the most part – Melfi does it well. An opening series of short, vivid vignettes reveals Vinnie as a loner, a balding, alcoholic gambler permanently down on his luck, with a filthy mouth and a house to match. Even sex doesn't really nudge him out of the disgruntled indifference verging on aggression that appears to be his emotional baseline, except when he dances drunk and alone, eyes closed, to Jefferson Airplane's Somebody to Love on the jukebox. The only incongruous element in his life is his fluffy white Persian cat, but all that is about to change.
Melissa McCarthy is lovely in a role that is far more subdued than the way she is usually cast. This is an actor who has much more to offer than the way Hollywood usually casts fat women. Here she plays Maggie Bronstein, who has just walked out on her cheating husband to find herself barely managing to make a living and care for her 12 year old son Oliver (Jaeden Lieberher), and living next door to Vinnie. Cue serendipity and hilarious adventures as Vinnie ends up babysitting for Oliver while Mom's at work. Obviously in real life no loving mother would entrust her child to the likes of Vinnie, then again, in real life, single mothers struggling to make ends meet often don't have much of a choice.
Jaeden Lieberher is a great onscreen kid precociously smart and vulnerable all at once, yet utterly convincing. It's fun to see his Oliver, a small skinny boy who has led a rather sheltered life, timidly enter this new, noisy, city; even more fun to see him relish the questionable new experiences that Vinnie has to offer. The chemistry between Vinnie and Oliver really makes the movie, the boy's sweetness and innocent honesty meshes well with the old rogue's acidic recklessness.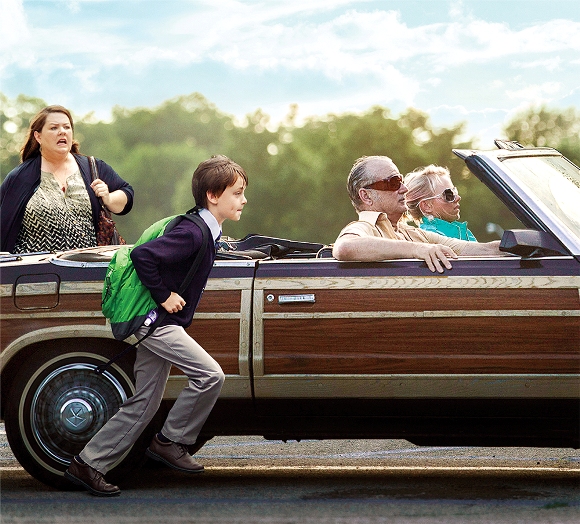 The only part that felt a bit off to me was Naomi Watts' pregnant Russian prostitute, and not because of the portrayal. This film is really too good to stumble with such a superficial and needlessly offensive stereotype. On the other hand, the Catholic school scenes were refreshingly amusing, and Chris O'Dowd is not bad at all as a teacher who cares about his students.
I wouldn't go so far as to call Vinnie a saint, but Bill Murray is devilishly good.
St. Vincent
Directed and written by Theodore Melfi; Cinematography: John Lindley; Editing: Peter Tescher, Sarah Flack; Music: Theodore Shapiro; Music supervisor: Randall Poster; Cast: Bill Murray, Melissa McCarthy, Naomi Watts, Chris O'Dowd, Terrence Howard, Jaeden Lieberher, Lenny Venito, Nate Corddry, Dario Barosso, Kimberly Quinn, Donna Mitchell, Ann Dowd, Scott Adsit, Reg E. Cathey, Deirdre O'Connell, Ray Iannicelli.