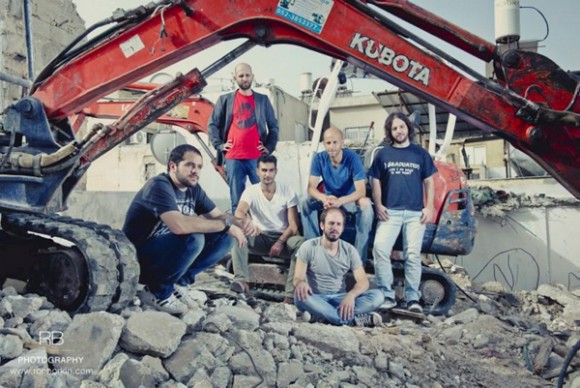 In all the crazy mix that is life in Israel, with its beauty, impossibility and contradictions, no one sings it like Shmemel. Looking for love, looking for fun, looking for work, trying to make the money last until the end of the month, wondering what it would be like to live somewhere else, where you don't need to think about war, and still you stay here, because this is where you found love, and this strange place is home. Shmemel is a big band with an irresistible groove that makes every concert an amazing party.
Yes, I'm a huge fan! At the launch of their first album, Helium for the Masses, in 2011, they played a new song called Istanbul, which became an instant favorite of mine. If anyone can turn Israel – Turkey relations into a dance song, it's Shmemel. The song is written from the perspective of the confused traveler (aren't we all?) confronted with the uncanny familiar feel of everything Middle Eastern, concluding: Istanbul is here!
I've been waiting ever since for Shmemel to record Istanbul, and now it's happening! The band's second album is finally out, and very aptly called: 2011 – 2014. It's a funny, romantic, groovy chronicle of the past three years, encompassing everything from the social protests of the summer of 2011, to the outrageous hike in the price of Arak, constant construction (destruction?), Istanbul, Berlin, and the scarily complacent/escapist silence of the oh-so-silent majority (umm, yeah, that would be most of us) here, living the "sitting down" life.

Are you living the "sitting down" life? Stand up and dance with Shmemel! This is the band that will put Ness Ziona on the map! Read more about Shmemel and the full, official Midnight East version of their origins story in this interview with Dror Waidman and Yaniv Raveh here, listen to the controversial song Berlin and read more about it here, and dance in the new year with Shmemel!
Concert schedule:
Saturday December 13th – Yellow Submarine Jerusalem
Tuesday December 16th – The Barby Tel Aviv
Thursday December 18th – Tzlilim BaMidbar Festival Kibbutz Sde Boker, admission free
Friday December 19th – HeHalutz 33, Beer Sheva, afternoon concert
Saturday December 27th – The Jam, Acco
Thursday January 8th – Wonderbar, Haifa
Links: Shmemel website, facebook page
Songs: Yashvani, Berlin, Istanbul, Shir Ahava Hevrati, Al Tigu Lanu Ba'arak