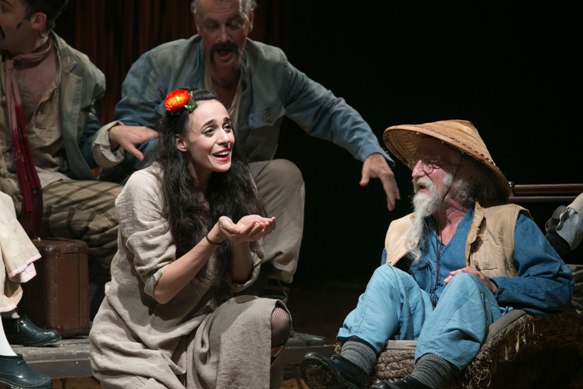 Finding a good person in this world may be a daunting task, but even if you have given up on that, when it comes to finding good theatre, there's plenty of hope. Gesher Theatre's The Good Person of Szechwan, directed by Yevgeny Arye, is an outstanding work of theatre, replete with sensual pleasure and philosophical pain. The beauty, artistry and craft of this production provide a striking counterpoint to Bertolt Brecht's parable on the difficulty of leading a good, moral life in a society powered by greed, brute force, and selfish concerns.
Gazing toward the stage, a vast scroll depicts a scene of bustling human life in delicate black brushstrokes; life as viewed from a distance, a Brechtian distance. The play is set in China, and this creative production makes excellent use of the cultural treasures inherent in this reference, yet the plot is not dependent on a particular culture or geography, it is universal. Brecht wrote this play around the years 1938 – 1941, when Europe was in turmoil and the question of evil was immediate rather than philosophical.
Fusing the poetic and comic, the first character one encounters in this fictional universe is Wong, the water seller, standing out in the rain. Played with loose limbed comic physicality by Alon Fridman, this endearing, if less than perfect narrator announces the arrival of three gods who have come to seek out a truly good soul. No one can spare a bed, and only Shen Te (Noa Spiegelman) the prostitute, is willing to take them in for the night. They reward her kindness with enough money to set up a small business, and admonish her to be good – and one can be sure that no good will come to Shen Te in her endeavor to follow their instructions.
The world Shen Te must contend with is treacherous. The marvelous set and sound convey this theme with theatrical flair. The stage is covered with sand, and it is perpetually raining. Long dark cords like an ever-present torrent of fateful calligraphy hang down at the back, while clear, shorter cords hang at the front. Actors walk on boards set up along the sand, to keep from sinking – although metaphorically, they are all sinking. Most gleeful is the soundtrack of rain and squishy footsteps in the mud! Set, original music by Avi Benjamin, sound, costumes and movement are excellently conceived and executed, making this one of the most fun productions set on so grim a theme.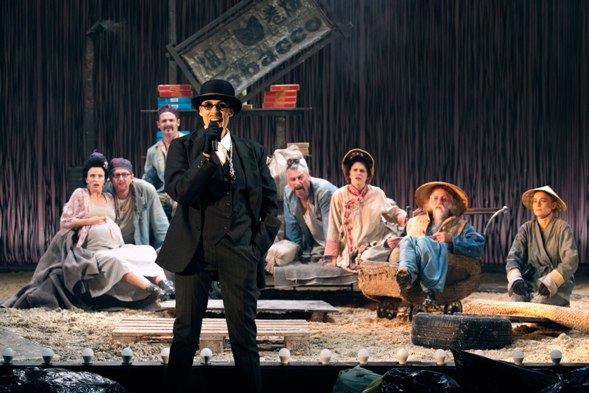 Shen Te follows her conscience and her heart, leading her deeper and deeper… into the mud. She cannot be herself and survive, so she must be other than herself. She creates a new character for herself: Shen Te's male cousin Shui Ta, who is as coldly rational and Shen Te is kind.  Noa Spiegelman really shines in this dual role, Shen Te is tender, honest and achingly vulnerable, while Shui Ta's bold ruthlessness makes one want to stand up and cheer as 'he' comes in to save the day time and time again.
Yehezkel Lazarov not only created the entertaining choreography for the play, as Yang Sun he is the very essence of a bad-boy lover with a decadent, drunken, song and dance sequence that's sure to arouse a sigh or two. The entire cast delivers a wonderful performance. The three gods – Italian, Jewish and Hindi, as they wake up in Shen Te's home singing, respectively, Ave Maria, Shma Israel and Hare Krishna; the tribe of people mooching off Shen Te eating rice in unison; the religious official who flips through his holy text with chopsticks; the ridiculously ineffectual policeman on his bike; the devoted diminutive barber who worships the gangly Shen Te; and the punk girl singers in red and black tulle belting out "Bertolt Brecht we love you!" – every moment of this play is full of exquisite detail and myriad pleasures.
Yet at the heart of the play is the character of Shen Te, and the questions she raises regarding good and evil, gender identity, the price of survival, and what it means to win or lose in life. Though her choices may bring her pain and suffering, they are made in full consciousness, according to her values. As Shen Te says: "Listen to me, you are losing a great deal if you do not love."
The Good Person of Szechwan
by Bertolt Brecht, translated into Hebrew by Shimon Zandbank
Director: Yevgeny Arye; Music: Avi Benjamin; Dramaturgy: Katya Sassonsky; Set Design: Michael Kramenko; Costumes: Stefaniya Gaurogkayte; Light Design: Igor Kapustin; Choreography: Yehezkel Lazarov; Voice and speech: Yonny Lucas; Assistant Director: Daniel Styopin; Executive producer: Roman Kvetner; Cast: Wong – Alon Fridman; First God – Yuval Yanai; Second God – Mendi Kaan; Third God – Vitali Fux; Shen Te/Shui Ta – Neta Shpigelman; Yang Sun – Yehezkel Lazarov; Mrs. Yang – Fira Kanter; Mrs. Shin – Svetlana Demidov; Woman/Whore/Singer – Noa Koler; Man – Nikolay Tuberovsky; Nephew – David Ziselson; Sister-in-law/Whore/Singer – Karin Seruya; Brother – Eddi Alterman; Boy – Lucy Dubinchik; Grandfather – Yevgeny Terletzky; Carpenter – Paulo E. Moura; Mrs. Mi Tzu – Natasha Manor; Policeman – Shir Shenar; Mr. Shu Fu – Alexander Senderovich; Orchestra: Avi Benjamin – piano; Boris Portnoy – viola; Ilya M – guitar; Mit Zamir – bass guitar; Alexander Dun – percussion; Igor Mamonov, Vassilina Smirnova – sound effects and voices.