"'tis a pageant/To keep us in this false gaze." Othello I.3.18 – 20
The Tragedy of Othello, A Moor of Venice, turns on the rupture between appearances and truth, "this false gaze." Othello (Mickey Leon), a general in the Venetian army, is the title hero of this play, yet it is Iago (Sasha Demidov), a soldier who has been overlooked for promotion in favor of Michael Cassio (Avi Azulay, on night viewed), whom we hear and see first. It is Iago who spins out the stories that move events to their tragic conclusion, and declares: "I am not what I am."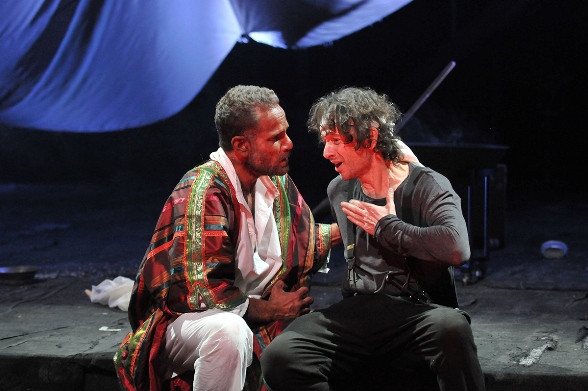 Othello is different, other, black. This, along with the reputation and rank that his abilities have garnered him, creates an undercurrent of tension and resentment. He is a welcome guest in the best homes, such as that of Brabantio, a senator of Venice. But marry  their daughters – that is a serious transgression which brings the racism to the surface.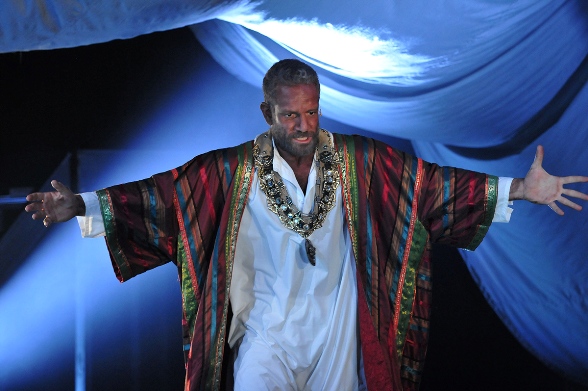 The word "black" has a negative connotation in Western culture, often associated with evil. Yet Othello is, certainly at the start, not a bad man, but rather honest, brave, and a loving husband to his new young wife Desdemona (the lovely and lively Bar Sade). Written in Elizabethan times, did Shakespeare have racism on his mind? Critics such as Marjorie Garber have pointed out that black people did live in London during Shakespeare's time, in parallel to the burgeoning slave trade, which might be one indication that the playwright was aware of the issue. Yet perhaps stronger proof is in the text and the ways in which Shakespeare uses language to make his point. The prostitute is named Bianca, thus associating "white" (a term that often connotes purity and goodness) with the lowest class individual in the play. When Iago and Roderigo (Or Yaniv) warn Brabantio that Desdemona has eloped with Othello, they call Othello an "old black ram," "the devil," and other racially charged epithets. Issues of racism and discrimination are taken up in Shakespeare's play, and come through in a very subtle, yet definite way both in the translation by Dori Parnes and the direction.
The tension between the revealed and the concealed is well expressed in the Gesher Theatre production directed by Lena Kreindlin. Michael Kramenko's set involves a series of stairs and open ironwork balcony that runs the width of the stage, enabling different vantage points and places to hide in plain view of the audience. Iago (Sasha Demidov) is almost always present, either front and center provoking the current unsuspecting victim, or lurking somewhere, unseen by the other characters. A vast, parachute-like fabric is employed to great effect in diverse ways – a storm at sea, a military tent, and the more symbolic effects of a sense of concealment, and an ominous cloud looming over all. And it is no coincidence that Othello and Desdemona don masks as they elope. Ultimately, it is Othello's reliance on the evidence he is shown, rather than on what his heart should know to be true, that is his downfall.
Kreindlin's interpretation of the play emphasizes the symbolic and the sexual to good effect, her Othello is entertaining, visceral, and thought-provoking. Ruth Rasiuk does double duty as Bianca and provider of sexy musical interludes, and Lillian Ruth is such an earthy, direct, bawdy, Emilia that it is a delight every time she appears onstage. The bedroom scene between Desdemona and Emilia has the kind of contemporary estrogen charged humor  and insight that has one wondering if Shakespeare was indeed a woman. Mickey Leon is a grand, commanding figure as Othello, literally consumed by jealousy, his embodiment of this role elicits one's empathy, even as he becomes all that one would loathe. Sasha Demidov lures all into his snare of stories, fooling everyone with his innocent gaze and slippery, razor-sharp tongue. His delivery is so entertaining that he has the audience in thrall too, lulled into laughter, until that irreversible moment, when this story comes to an end.
Othello
By William Shakespeare, Translated by  Dori Parnas
Director: Lena Kreindlin; Set Design: Michael Kramenko; Costumes: Stefaniya Gaurogkayte; Music: Yuval Yanai; Light Design: Igor Kapustin; Sound: Michael Vaisburd; Choreography: Yehezkel Lazarov; Voice and speech: Yonny Lucas; Assistant Director: Yuval Yanai; Stage-managers: Tatiana Sukhanova; Executive producer: Roman Kvetner; Cast: Othello – Mickey Leon, Desdemona – Bar Sade, Iago – Israel (Sasha) Demidov, Emilia – Lilian Ruth, Cassio –  Henri David/Avi Azulay, Roderigo – Ori Yaniv, Brabantio – Gilad Kletter, Doge of Venice: Boris Akhanov, Bianca – Ruth Rasiuk.