Kinneret, Kinneret, the Khan Theatre production of Nathan Alterman's play edited and adapted by Shahar Pinkas, and directed by Shir Goldberg, is inspired by history, and is itself a part of Israel's theatre history. The play is set in 1912, more than a hundred years ago, an almost magical distance. Time enough to create an elaborate mythology, and time enough for the myths to unravel.
But first and foremost – Kinneret Kinneret is theatre, a striking, moving, thoughtful, funny, and entertaining work of art.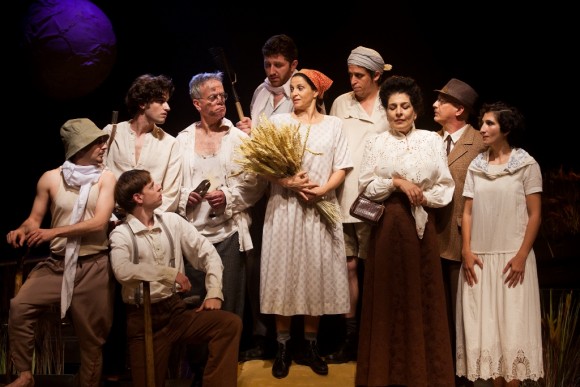 The play looks at a group of young idealists who left their homes in Europe to experiment with communal living in the Jordan Valley, near the Sea of Galilee, whose name in Hebrew is Kinneret. Historically, there was such a group of young people, who founded a training farm in 1903, that evolved into a small collective known as Kvutzat Kinneret (literally – the Kinneret group). Believing in an egalitarian society in which all material goods are shared, they valued physical labor, truth, justice, and mutual responsibility, as well as a strong connection to the land of Israel. They related to Judaism and religious observance as part of their past, a relic of the Diaspora, and saw their future and redemption through work and the land. These people became mythological figures, their passions and struggles became part of the epic lore of the land, chapters in history books, and endless material for political discussions and deconstructions.
The Khan production of Kinneret Kinneret utilizes the passage of time, the different perspectives and different versions of the same events to its advantage. The play first premiered in 1961, for the inauguration of the Cameri Theatre's new venue at Frishman and Dizengof, there was already quite a distance between the pioneering youths eking out a hardscrabble existence in the Jordan Valley, and the Tel Aviv audience in the theatre, and Alterman's text reflects this distance. Yet there is also a vast distance between that early 60s audience and our current post-millennial cynicism and ideological exhaustion on the one hand, and the zealous pursuit of mythology on the other. The Khan Theatre production premiered at the Israel Festival 2015, a most fitting and auspicious occasion.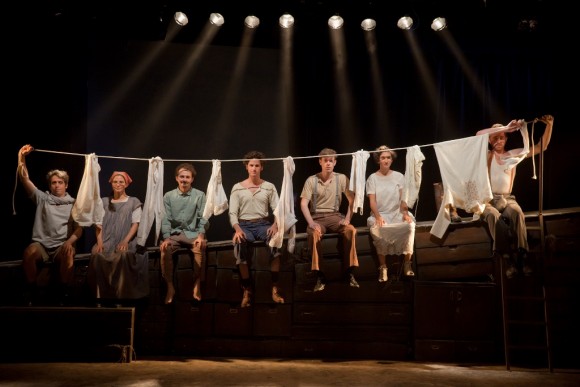 The play is infused with vivid imagery, song and playful movement, that establishes an immediate connection to this lively collective. Regardless of individual politics and ideology – we are swept away by this dream come to life. The theatrical language of this production is so creative, fun and communicative that you don't need to know anything about the history to understand these young people and their way of life. Opening with the cast sitting up on a ledge, their faces are hidden by laundry hanging on the line – individuality hidden behind items of clothing, and the clothes on the line all look pretty much the same. Then they push them all away, revealing their faces, the music begins, and with bounce and rhythm they hang the moon and set the stage, working together as a collective. Yet now that we see their faces, we will also get to know these young people as individuals – their hopes, loves, disappointments and fears.
Pulling long, thick ropes of rags sewn together the length of the stage from back to front with a shout of "hey hop," they dance the choreography of physical labor, drinking from their canteens, wiping the sweat off their brows and do a little stomping dance in these fabricated furrows in the field. The rich visual environment, with imaginative set and costumes that allude to the period yet are never encumbered by it, is augmented by music, sound and movement used in innovative ways, allowing the viewer to experience the people, and their place in time. The Hebrew of the text is very formal and as such, antiquated, establishing a humorous, nostalgic, yet also critical distance between a contemporary audience and the play. The entertainment value of the distance is enhanced by the occasional translation of terms such as the all important "locomobile" and the emotionally charged "desertier."
Trying to live by lofty ideals, the lives of these very young people (some came to Israel alone while still in their late teens) were as much determined by a torrent of emotions as by intellectual reasoning. The play reflects this in a touching and poignant way, both in the larger themes of love triangles and early death which might or might not have been a personal sacrifice for the good of the group, and in smaller moments, as in the letters they send to their loved ones far away. The ferocity of desire to live by ideals is embodied in the splendid (albeit brief) appearance of Yasnagorski, a man literally split in two (portrayed by Eddie Alterman and Itay Szor) as a result of his internal conflicts – so funny! Reflecting on the hardships endured and the internal conflicts – between the desires and expression of the individual and responsibility to the group and shared goals, between the pragmatic and the moral, and differences in defining morality – and regarding it all with humor and affection, Kinneret, Kinneret allows us not only to see this group of young idealists and their time, but to regard ourselves and our own struggles and values from the perspective of this somewhat amused, yet sincere, distance. Perhaps most important, to understand that much as we may try, we cannot fully see or understand – either their time or our own. As the character of Tel Aviv artist Bezalelnik (Nir Ron) says in the play: "I can't make a portrait of our time… I have no sense of perspective, and when we'll have perspective we'll no longer be here."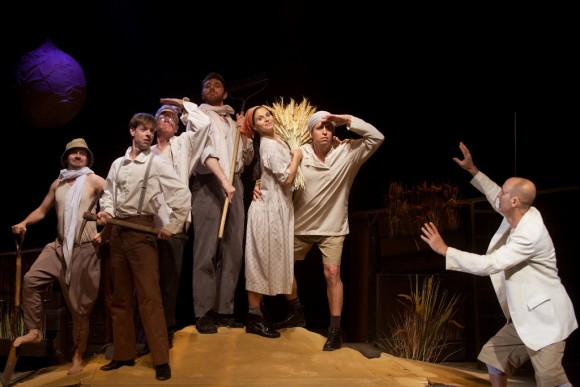 In an age when the concept of the collective has become a museum piece, Kinneret Kinneret is a magnificent work of ensemble acting. The Khan Theatre works consistently through the years with an ensemble of actors who all work together, taking on different roles in the various productions, yet maintaining the sense of an ensemble with a distinctive approach to theatre.
As someone who was raised in the 60s by a mother who was raised on these values in the 30s, one of my favorite moments in the play was when Zerah (Itay Szor) complained that life just isn't hard enough for him in the Kvutza, and is reassured by Eliezer (Ariel Wolf): "Call me an optimist, but I think that we will have plenty of troubles here."
Kinneret, Kinneret
Directed by Shir Goldberg; Adaptation and editing: Shahar Pinkas; Set design: Adam Keler; Costume design: Ofra Confino; Lighting design: Roni Cohen; Music: Daniel Salomon; Mask design: Amira Pinkas; Dialogue coach: Noga Yetomiomi; Cast: Nir Ron – Narrator, Bezalelnik, Mendel the Rooster; Yoav Hyman – Yehuda; Guy Gurevich – Mordecai; Yehoyachin Friedlander – Feitelson; Ariel Wolf – Eliezer; Itai Szor – Zerah, Yasnogorski; Eddie Alterman – Yekutiel, Yasnogorski; Carmit Mesilati-Kaplan – Riva, Zlatina; Natalie Eliezerov – Tanya; Erez Shafrir – Haim Baruch, Liova's Father; Odelya Moreh-Matalon – Liova's Mother.
Performance dates and ticket information are available on the Khan Theatre website.